Golden boy
Isco's performances have lit up this season's UEFA Champions League. Adam Bate looks at why the Malaga midfielder is attracting the attention of the world's biggest clubs.
Last Updated: 03/04/13 10:30am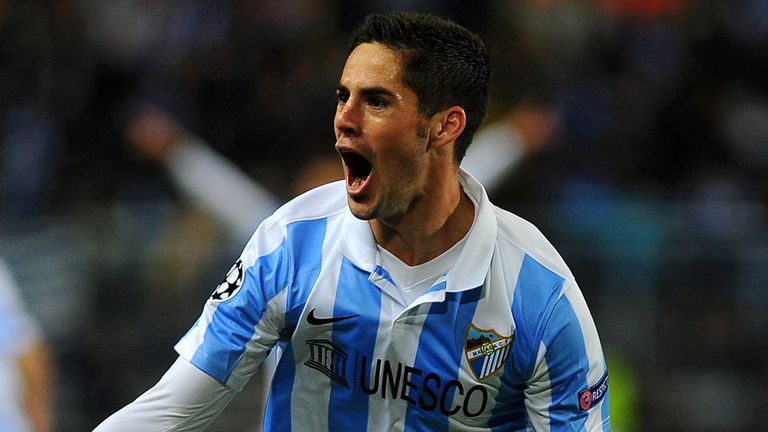 As with so many of the great players, it was all there in the first movement. The drop of the shoulder to create the space and then the expert touch to keep the ball under control. The fact that he then fired the ball into the top corner of the Porto net only confirmed what some already knew. "Those games, you have to have great players to unlock them," said Malaga team-mate Jeremy Toulalan. "Barcelona have Messi, we have Isco."
The Spanish youngster has been tipped for the top from a young age. He starred at the FIFA Under-17 World Cup and made his Primera Liga debut for Valencia at just 18 years old. Cut-backs at Los Che saw the midfielder sold to home-town club Malaga for a bargain price of €6million in 2011 and the return to his Andalusian roots has been a success.
Much of last term was spent understudying Santi Cazorla - "I always say that Santi Cazorla is someone for me to look up to," notes Isco - but it is this season that he has truly made good on that early promise. Eight goals in La Liga hint at the potential. And yet, even more encouraging is the fact that his best displays have been saved for the biggest stage, culminating in the goal that set Malaga on their way to the Champions League quarter-finals.
Toulalan's decision to mention his young team-mate in the same breath as four-time Ballon d'Or winner Lionel Messi naturally invites scepticism. But while Isco is unlikely to fare well in any head-to-head comparison, the comments are not so ludicrous. Only Messi has played as many accurate through-balls as Isco in this season's Champions League and the Malaga man has produced more key passes per game. Only Shakhtar's Fernandinho has completed a successful dribble as often as Isco.
Lionel Messi v Isco - Champions League 2012/13
 
 
Discipline
Messi
Isco
Goals
7
3
Assists
2
3
Key passes per game
1.9
2.2
Dribbles per game
2.0
3.7
Accurate through-balls per game
0.8
1.0
Add to that the fact that the 20-year-old ranks in the top 20 in the competition for both goals and assists - Chelsea's Juan Mata is the only other to do so - and a picture builds of a youngster who is proving both entertaining and effective. For that, Malaga coach Manuel Pellegrini deserves ample credit. "Pellegrini has been the most important person," Isco told AS. "I arrived here at 19 years of age, as an unknown, and he began to put me in game by game. He put all his confidence in me."
The confidence has been justified. The experienced 59-year-old boss has worked with some of the finest talents around in spells at River Plate, Villarreal and Real Madrid, so he knows an extra-special talent when he sees one. "Isco is a player who has a great future and who is starting a great career," explains Pellegrini. "No-one knows what his limit is."
Potential
It may be true that nobody knows the full extent of Isco's potential. But that doesn't mean there aren't people out there who are anxious to put a price on it. Despite Malaga's impressive Champions League run, the financial stability of the club remains in doubt and his long-term future is likely to lie elsewhere. As a result, the speculation is endless.
"Isco is a player who always gives one pause for thought," former Real Madrid sporting director told Spanish radio station Cadena Ser. "He is perfectly assimilated in the Spanish style. I think he should leave Malaga and move to a higher-level club. It's time to leave and move on for him to reach his highest potential."
Former Malaga president Fernando Sanz has also talked up the interest from big clubs on the continent. "He is rated very highly in European football, not just in Spain, but also in England for example," Sanz told Goal. "His performances in Europe in the Champions League have not gone unnoticed elsewhere. Additionally, his debut with the national team has only further increased his reputation.
"He is a player who only needs time and experience at the highest level. He already proved his worth in his first year at Malaga, and has made another step up this term. He is Malaga's star man." Sanz added: "It is hard to say what a young player like him can achieve, but he really has all the qualities to become a star. He will become an important part in the history of the national team and Spanish football."
That role with the national team seems imminent despite the modesty of the man himself. "In truth, my position is difficult to compete for. The best players in the world are here," Isco acknowledged. But that didn't prevent him making his international debut against Uruguay in Doha in February. Crucially, Vicente Del Bosque is a fan. "We are very confident in Isco," the Spain coach told reporters. "There is tremendous competition but he deserves to be with us."
Surprise
Given that Spain's starting line-up for the final of Euro 2012 included 10 players contracted to either Real Madrid or Barcelona, with the other employed by Manchester City, it seems that the big move beckons. So it was something of a surprise that Isco agreed a new deal at Malaga in January. Sporting director Mario Husillas is bullish about the club's chances of holding onto their prize talent.
"There have been some informal conversations, as well as more serious talks, with some of the biggest clubs in the world getting in contact every few weeks," admitted Husillas. "However, Isco has been wise, and has never contemplated a renewal with a future sale in mind; a clause in the contract protects us from this situation.
"He's a world-class player and flies the flag for Malaga. If I had to sum up Isco's contract renewal in one word, it would be 'trust,' both in terms of the faith we have in him as a player, and the trust he has in Malaga as a club, disregarding his other options and putting us first." Isco is more equivocal. "If a team does come to pay a lot of money for me, it will definitely be a big club," he told AS. "Then, if it helps Malaga, I would have no problem in leaving if it was good for both of us."
Another big performance against Bundesliga champions Borussia Dortmund in the quarter-finals of the Champions League and that exit could yet come sooner rather than later.