Real Madrid would consider Tottenham star Gareth Bale an 'investment'
Real Madrid president Florentino Perez would class any bid for Tottenham star Gareth Bale as an 'investment'.
Last Updated: 04/06/13 8:55am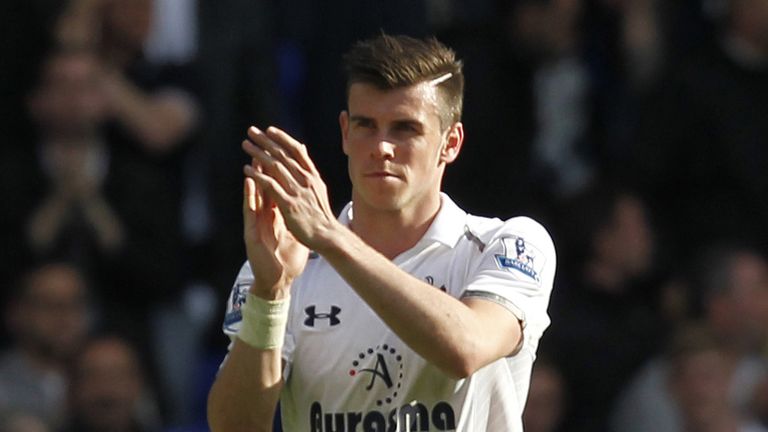 Speculation has claimed that Real are willing to offer Spurs more than the £80million the club paid to Manchester United for Cristiano Ronaldo in an attempt to sign Bale.
Spurs chairman Daniel Levy is determined to hang on to Bale and there have been rumours of talks over a new contract for the Footballer of the Year.
Perez has claimed he spoke to Levy last year and reiterated that Real would be interested in bringing a player of the Wales international's calibre to the Santiago Bernabeu.
"He's one of the big players out there in Europe and Real Madrid always likes big players," Perez told Punto Pelota.
"I met Tottenham chairman Levy last year and he has an obligation to defend their interests.
"Regarding the figures spoken about Bale, players are neither cheap nor expensive, but an investment. Most expensive players are those that can be classified as an investment because, if they are very good, they produce a return."
The Real chief also played down speculation that he is planning a bid to sign midfielder Thiago Alcantara from arch-rivals Barcelona.
He added: "Thiago is a good player, but I do not know if they want to sell and we are not going to pay the release clause of anyone."
Perez confirmed there had been no discussions either regarding a deal for Malaga attacker Isco, who is widely expected to follow Manuel Pellegrini to Manchester City.
"Isco's father was in the club's offices recently, accompanying a representative of Malaga," continued Perez. "I had to do some business related to La Liga. We have not spoken to him or Malaga."