Malaga's Isco has vented his anger at the Court of Arbitration for Sport
Playmaker Isco has vented his anger after the Court of Arbitration for Sport dismissed Malaga's European ban appeal.
Last Updated: 11/06/13 5:20pm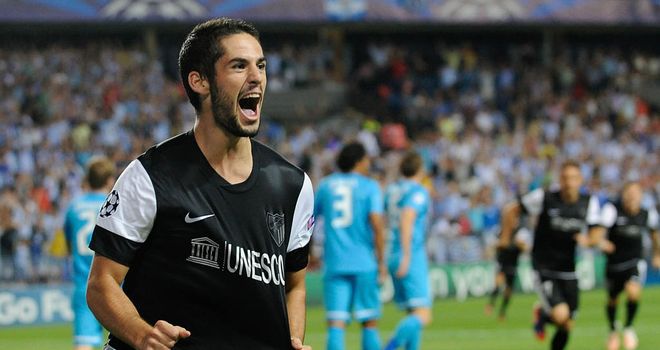 Malaga, whose sixth-placed finish in the recently-completed Primera Division season would have earned them a Europa League qualifying berth, were handed a one-season European ban by UEFA in December due to outstanding debts.
They were also threatened with a further year's suspension unless they proved they had no debts to other clubs, players or the tax authorities by March 31.
UEFA last month revoked that provisional sanction, but Malaga were still waiting to hear if their appeal to CAS to overturn the remainder of the ruling had been successful.
That decision came today but CAS ruled in favour of UEFA, leaving Malaga out of Europe for next season.
A CAS statement read: "CAS has dismissed the appeal filed by Malaga against the decision taken on December 21, 2012 by the Adjudicatory Chamber of the UEFA Club Financial Control Body decision.
"As a consequence, the Spanish club is excluded from the UEFA Europa League 2013-14 and will have to pay a fine of 300,000 euros."
Spain international Isco, who helped Malaga reach the quarter-finals of their maiden Champions League campaign before being knocked out by eventual finalists Borussia Dortmund in April, this afternoon took to Twitter to express his anger at the situation.
He tweeted in Spanish: "Shameful, lamentable, unfair that we're looked at (Malaga fc) in a completely different way to other teams with much more irregularities and debt.
"Once again they take away what we've earned on the pitch! Neither the players or fans deserve this! I have nothing more to say."
UEFA, meanwhile, released a statement this afternoon signalling its support for CAS' ruling.
It read: "UEFA is pleased that the Court of Arbitration for Sport in Lausanne today confirmed the decision of the UEFA Club Financial Control Body (CFCB) adjudicatory chamber regarding the requirement to comply with the UEFA Club Licensing and Financial Fair Play regulations in the case of Malaga CF.
"The Spanish club is therefore excluded from the 2013/14 UEFA Europa League and will be replaced by the next best-placed club in the Spanish domestic league, provided this club has been granted a licence and fulfils all the admission criteria. The fine of 300,000 euros imposed on Malaga CF is also confirmed."
Rayo Vallecano, who came eighth in the Primera Division, were in line to benefit from Malaga's ban but they have been denied a European licence by the Spanish FA, although they too have hinted at an appeal to CAS.
It means, as it stands, two of Malaga's Andalusian rivals will be the biggest beneficiaries.
Sevilla, who finished ninth, will take their place in the Europa League third qualifying round while seventh-placed Real Betis will now go directly to the Europa League play-off.