Hoffenheim midfielder Boris Vukcevic is no longer in critical condition following car crash last month
Hoffenheim have confirmed the condition of Boris Vukcevic is no longer critical after he was involved in a car crash.
By Thomas Zocher
Last Updated: 15/10/12 1:03pm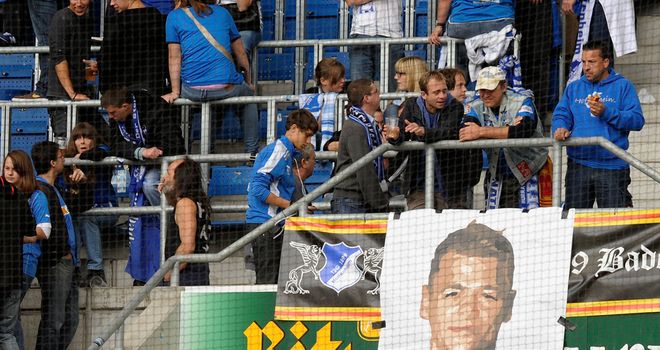 The 22-year-old remains in a coma at a Heidelberg clinic following the accident, which occurred when the player's car collided with a lorry while he was on his way to training on September 28th.
The Bundesliga club released a statement on their official website saying Vukcevic's condition has taken a positive turn.
It read: "Boris Vukcevic is no longer in a life-threatening condition.
"According to information from Heidelberg University Hospital, where the 22-year-old is being treated following his car accident on September 28th, Vukcevic has made it through the critical phase and his condition has stabilised further.
"The Hoffenheim player remains in a coma and the prognosis of his recovery time is not known at the moment."
Hoffenheim manager Markus Babbel voiced his delight at the news, adding: "First and foremost, we're delighted for Boris and his family at this piece of news.
"It's clear that there's still a long way for him to go, but the news gives us strength and will make it a little easier to return to our normal daily routine.
"It will also help us focus on our tasks in the Bundesliga."