Street fighting man
Peter Fraser thinks Sir Alex Ferguson's instincts will help Man Utd regain the top title.
By Peter Fraser - Follow me on Twitter @SkySportsPeteF
Last Updated: 02/02/13 7:24pm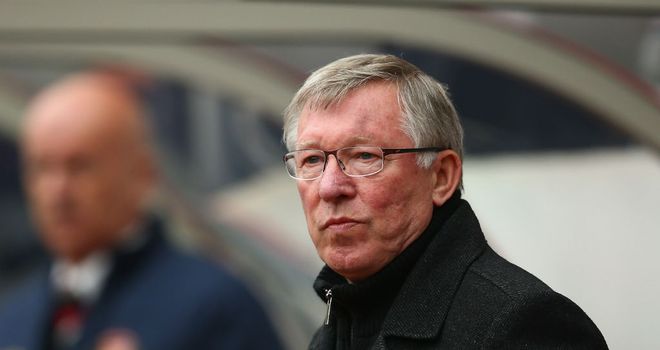 It was an eerie scene as Manchester United stood on the Stadium of Light pitch. Away fans - who had previously cheered and danced to almost every update from events back in their club's home city - players and coaching staff waited in an almost paralysing silence. They were willing one last update from the Etihad Stadium. But then it came - 3-2.
The hush was replaced by disbelief among the travelling supporters. Sunderland fans celebrated to taunt their visitors. Manchester City had dramatically snatched the Premier League title from the hands of their derby rivals after the most remarkable conclusion to a season. City's win left United's players shattered, walking like zombies.
But amid Sunday's heartbreak, agony, despair and battered chewing gum - 'football, bloody hell' - United manager Sir Alex Ferguson remained dignified. Having double-checked the score, '3-2?', with his backroom staff, the Scot applauded and directed his distraught players towards the away end to thank their followers.
It was an unusual circumstance within which to see Ferguson. Those of a certain generation are accustomed, almost nurtured, to seeing United succeed amid pressure. When the big occasions arrive, United have tended to rise to the challenge. This season has been different. But from the wreckage of a devastating title loss, Ferguson, although he will not want to, can at least take some pride.
There were major occasions in a league-wide season of pure entertainment when United made a mess of things. Last October's destruction derby humiliation at Old Trafford at the hands of City; a failure to take their chances at home against Newcastle in November; December's lack of defensive organisation in the defeat by Blackburn; a thumping, error-strewn New Year loss at Newcastle; the notorious failure to kill off Everton in the 4-4 draw at the end of April; a shock loss at Wigan; a 1-0 defeat by City when cautious tactics backfired at the Etihad Stadium.
But Ferguson still deserves credit. It is a remarkable feat of football management to have guided one of the weakest United squads in his 26 years to within goal difference of the title.
Masochistic
A collection of players, such as Chris Smalling, David de Gea, Phil Jones and Danny Welbeck, acquired with an eye on the future, with comparative inexperience, came within seconds of the title. And this was a squad also robbed through periods of the season due to illness and injury of the services of captain Nemanja Vidic, key midfielder Darren Fletcher and attacking livewire Antonio Valencia.
Ferguson's tactics can at times still confuse United's fans. The selection of Nani ahead of Valencia at the Etihad, for example, and throwing away an eight-point lead with six games to go seemed self-harm at its masochistic worst. It is something United will never forget. It will never be allowed to leave their minds by their 'noisy neighbours'.
But the sheer force of nature that is Ferguson still motivated his players with a combination of aggression and composure to a painfully narrow failure. It is the characteristics of probably the greatest manager in history that brought United so close to what in all contexts would have been an unlikely 20th league title.
Ferguson has admitted the reinvigorated rivalry with City has made him feel younger than his 70 years of age. It is in situations like this that his fighting characteristics come to the fore and he will now relish the chance to battle back at City in the next season.
From his days growing up in the Govan district of Glasgow as a shipyard apprentice, Labour-supporting Ferguson has harboured a steely motivation for hard work, determination and remembering the basics in life. He said in April when backing Glasgow Labour leader Gordon Matheson's campaign in the council elections: "I tell young players that being a footballer is a tough job. But it is not nearly as tough as managing a family household on a tight budget."
Having done things the hard way from his tough upbringing in Scotland, to becoming a world-renowned football manager and multi-millionaire, Ferguson knows everything there is about building legacies. Having sampled success at East Stirlingshire and St Mirren, he went on to Aberdeen, where he won three Scottish top-flight titles, four Scottish Cups, one Scottish League Cup, the Cup Winners' Cup and the Super Cup. Arriving at United in 1986, he went on to famously knock Liverpool off their perch.
Structure
It is an appetite for a scrap and a challenge which sparks Ferguson's competitive nature. He has previously spoken of the gang rivalries of his childhood in Scotland, chasing pigeons on church roof tops, accepting dares to jump 'dykes' (small ditches). He has said: "All we ever did was play football and fight. That's what you did in these areas."
Ferguson has also always been a natural-born leader. From his apprenticeship as a shipyard shop steward, he headed strike action in 1961 and was then promoted to the toolroom steward in just his early twenties.
It is all of these traits which mean Ferguson will now be planning for a long-standing rivalry with City. He has acknowledged City deserved their title. This is different to the threats he has faced from Leeds, Blackburn, Liverpool, Arsenal and Chelsea. There is a sense that Sheikh Mansour's wealth, the internal structure of City, the presence of Roberto Mancini, and, of course, the locality means the new Premier League champions are a sustained force to be reckoned with.
But Ferguson is not planning to roll over. He said on Sunday in his post-match interview at the Stadium of Light with reference to City: "I think we have a rich history, better than anyone, and it'll take them a Century to get to our level."
Any thoughts of retirement have long since been rubbished. Plans have been under way to find some dynamism in midfield. Amid a club riddled by debt, which stood at £439million at the end of the financial year of 2011, Ferguson needs to convince United's owners, the Glazer family, to invest in either a transfer budget or salaries.
Decisions need to be made on the current playing squad. It remains to be seen, for example, how Tom Cleverley and Paul Pogba will be managed next season. Elsewhere, the full-back areas seem to be of particular concern and there could be renewed interest in Everton's Leighton Baines.
But it is a situation for which Ferguson seemingly has a lifetime-honed skillset. Working on a smaller budget, fighting with local rivals, aggressively leading those on his side towards success. The 2011/12 campaign was a painful setback for United and their manager, but do not be surprised if they are back on top this time next season.