Canterbury
Norwich-turned-Newcastle fan James Pipe, frontman of Canterbury, shares his earliest football memories.
By Rachel Griffiths - Follow me on Twitter @SkySportsRachG
Last Updated: 11/07/12 3:16pm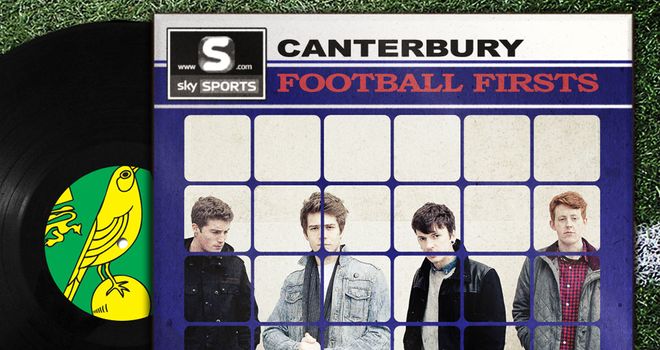 Indie-pop four-piece Canterbury release their second album 'Heavy In The Day' this month. Frontman James Pipe changed his allegiance from Norwich to Newcastle with the arrival of Alan Shearer in 1996. Here, he shares his earliest football memories with Sky Sports.
Norwich City
My first team was Norwich. I lived in Norwich when I was about seven years old, which was also the time I first started playing football, so it seemed logical to support the team of the town I lived in. This didn't last long as I moved away from the area after about nine months and with that moved away from Norwich football club.
Norwich 0 Wolves 1
My first game was also a Norwich match; I'm pretty sure it was Norwich versus Wolves, which we lost 1-0. My uncle took me to the game and we sat behind the goal on a cold Norfolk night. It was an extremely uneventful game and I remember leaving feeling slightly underwhelmed.
Alan Shearer
It had to be Shearer. His record breaking £15million deal with Newcastle was easily enough to make me jump ship from Norwich straight to Newcastle, although at the time I lived in Devon and Newcastle was possibly the team furthest away from me in the country. I wasn't bothered because I supported the team with the best player in the country - 148 goals in a 10 year reign over the Premiership.
Gareth Southgate
I hate to say it now, but at the time it was Gareth Southgate. His penalty miss in 1996 was unforgivable and one of the weakest penalties anyone had ever seen at the most crucial time to miss one. My opinion of him has changed since he's left the field but back in the day he was the one and only villain.
FA Cup final, 1998
It was the '98 FA cup final against Arsenal. After becoming a 'true' Newcastle fan I was super excited for what I thought would be an FA cup victory - how wrong could I have been? Marc Overmars' first-half goal followed by Nicolas Anelka's second-half nail in the coffin actually made me cry. Something neither my Mum or Grandad understood at the time.
Barnstaple Town
The first club I played for was Barnstaple Town FC under-11s and we were the best. Cup winners and league winners in the same year - I knew how it felt to do 'the double'.
Newcastle, 1995-97
It was a Newcastle home kit with the Brown Ale logo on it. There was a market stall in Barnstaple with all sorts of kits for a fiver each and obviously I had to have the Newcastle home kit. Looking back I'm not sure how official or genuine it was, but either way I was happy wearing it.
The Beautiful South - Quench
This is a bit of a blur to me. I'm sure once I had bought a CD player from Woolworths I bought a load of albums and I'm pretty sure the first was The Beautiful South's 'Quench' purchased on cassette.
Canterbury's new single 'Saviour' is out this week, while the band's second album 'Heavy In The Day' hits the shelves on July 9th.