Too stingy for Shinji
Gary Neville told MNF that Man United failed to bring the best out of Shinji Kagawa against Everton.
Last Updated: 21/08/12 11:55am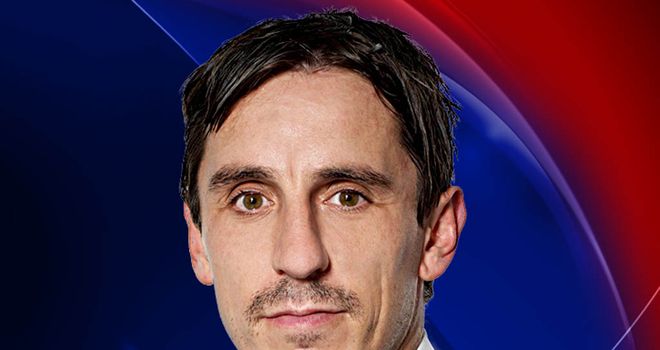 Gary Neville says Man United failed to utilise new signing Shinji Kagawa effectively as they slipped to defeat at Everton on Monday night.
The Japanese international started the Red Devils' Premier League opener in the attacking midfield position that he flourished in for previous club Borussia Dortmund.
And while Sky Sports pundit Neville was impressed by parts of Kagawa's play at Goodison Park, he says the 23-year-old's team-mates did not provide him with enough opportunities to test Everton's backline.
"United kept possession at times but I don't think there was a rhythm in their play and I don't think they got the ball into Shinji Kagawa enough," the former Old Trafford star told Monday Night Football.
"Kagawa was in good positions but United just didn't pass the ball through to him, instead they took the safe option and passed it out wide; they were a bit sluggish.
"It was only after Everton's goal that he came into the game; he then showed qualities that weren't in evidence earlier in the match, through no fault of his own.
"Kagawa was a plus for United as he was always available and continually wanted the ball throughout the night. He has got an awareness and showed a level of quality when he did have possession
"He brought players into the game with his interplay and was not shy of taking the ball in tight areas. He looks like he will be a good player."
Serve
Kagawa's fellow United new boy, Robin van Persie, entered the fray as a second-half substitute, but Neville feels the Dutchman will fill United's central striking berth from now on, forcing Old Trafford talisman Wayne Rooney to play a "selfless" role.
However, the former right-back feels that Rooney will relish his new task and form a lethal combination with Van Persie as United look to wrestle the Premier League title back from bitter rivals Man City.
"Rooney has not always been the man since he came to Man United," added Neville. "He has had Cristiano Ronaldo, Carlos Tevez, Ruud van Nistelrooy, Henrik Larsson, Dimitar Berbatov and Louis Saha, who was the top man in terms of positioning himself as the furthest forward of the front two.
"Wayne has made a success of every single partnership that he has had at United and if he has to play a different role he will; he is a great player that recognises the importance of the team and will not feel threatened by the arrival of van Persie.
"I don't think Fernando Torres and Didier Drogba could play together at Chelsea, I don't think Van Persie and Emmanuel Adebayor were that great together [at Arsenal], but Rooney is adaptable and serves other players.
"He plays that number 10 role, drifting into pockets between the opposition's midfield and defence. The players he plays with always score goals - but so does he, and he will get his fair share again."
Gary also gave his views on some of the other big footballing stories, including:
Everton match-winner Maroune Fellaini
"People sometimes ridiculed his £15million price tag in his first couple of years at Everton, but we are starting to see him become one of the best midfield players in the Premier League.
"Don't get conned and think this is just a guy you lump the ball up to; he brings other players into play and looks over his shoulder. He has got good feet, is comfortable on the ball, and has an impressive physical presence, and he stood out from minute one against Man United.
"He gave makeshift centre-back Michael Carrick a tough night but I don't think the best two centre-halves in the world would have found it easy to cope. He is a top player and Everton will do well not to get a bid for him in the next few weeks."
The strengths of David Moyes' side
"There is no better example than Everton of a side that represents their manager and fans. Year in, year out they fight and show spirit. They are resilient at the end of matches when they need to be but they have quality as well.
"There isn't a great deal of change from season to season and the fans respond to the players and trust the manager. There is a togetherness right the way through; Everton are a real family club."
Young English talent
"The better techincal players in the Premier League at the moment are the foreign ones; it is bred into them as they grow up to play off the space and rotate in midfield.
"But there are some English ones developing with the likes of Jack Wilshere, Alex Oxlade-Chamberlain and Tom Cleverley and I think Daniel Sturridge has got capabilities, too. The more the English kids in the Premier League get exposed to this type of football, the more they will learn and emulate the foreign players."
What Liverpool should be looking to achieve this term
"We shouldn't be patronising here; this is Liverpool Football Club and they should be winning Championships. I grew up - painfully, I might add - watching Liverpool win Championships so is success now finishing in the top six? I'm not sure about that.
"Brendan Rodgers has to be looking towards Champions League football. It will be a huge ask to achieve that with Man City, Chelsea, Arsenal, Man United, Tottenham, Newcastle, while Everton look well-drilled."
Whether Andy Carroll can succeed at Anfield under Rodgers
"It would be dangerous to dismiss him and if Liverpool let him leave they will have to get someone pretty good in to replace him. He really came to the fore in the last few games of last season well as in the summer with England.
"It has been suggested that he doesn't fit in to Rodgers' style and you would tend to agree with that, but Rodgers had Danny Graham, who is a bit of a point man, at Swansea and Carroll is capable of playing the role that Fellaini played for Everton against Man United if he stays in those positions between the centre-backs."
Michael Laudrup's terrific start as Swansea boss
"Has there ever been someone as famous Michael Laudrup come into this league with so little pomp and ceremony and no fancy interviews?
"If you look at his stats he has managed five teams in four countries; British managers seem to get discarded if they fail once, but in Italy and Spain it is seen as part of the learning curve and clubs take people who have failed once or twice before.
"Laudrup has played for Barcelona, Real Madrid and Ajax - the ambassadors of great football, if you like - and Swansea have tried to emulate that."