Relief for Red Devils
Michael Carrick shone but United nearly paid the penalty for a sloppy spot-kick, says Dwight Yorke.
Last Updated: 20/09/12 9:18am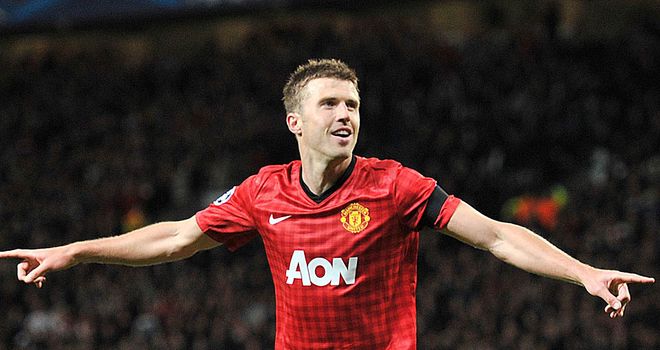 Dwight Yorke praised Michael Carrick's display against Galatasaray but believes Manchester United were fortunate to get all three points against the Turkish champions.
The England international's goal on seven minutes was enough to earn Sir Alex Ferguson his 100th Champions League win but the United boss will be disappointed with his team's performance, believes former Old Trafford ace Yorke.
"The gaffer will be pleased they got the three points but he won't be happy with the performance, certainly in the second half," Yorke told Sky Sports.
"In the first half, for the first 20 minutes, they played extremely well and it looked like they would go on to dominate the game, but they didn't do so.
"Galatasaray deserve a lot of credit for their performance and the manner they went at United and all credit to them.
"But teams are now coming to Old Trafford and playing with a confidence you wouldn't have seen in the past. They've been encouraged by some sloppy play in the middle of the park. When you encourage away teams they're only going to take the initiative and United were fortunate to come away with the three points.
"Galatasaray will be bitterly disappointed they didn't get something from the game. They had nothing to lose as the underdog and they broke with pace and precise passing and were very unlucky considering the opportunities they created all night."
However, Yorke did applaud the efforts of Carrick who, despite being brought down by keeper Fernando Musiera, had the composure to slot the ball into the net for the decisive goal.
"I thought Carrick was brilliant," said Yorke. "He marshalled the troops in the middle of the park; United needed some stability and his experience showed.
"On top of that he scored the vital goal which got them the three points. There was some great build up play but Carrick did the keeper like a kipper, could have gone down and got the penalty but showed great determination and finished the move - and probably saved the keeper from a red card."
Penalty problems
However, Yorke was critical of Nani's penalty miss on 52 minutes, which could have eased United nerves and said the Red Devils must improve their penalty taking.
United have missed three penalties already this season - equalling the total they missed through the entire 2011/12 campaign.
"It's unheard of for them to miss three penalties in quick succession," he said. "I think Wayne Rooney coming back will solve that issue but it surprised me Robin van Persie didn't step up and take it. Great strikers like Ruud van Nistelrooy wouldn't shy away from taking the next one after missing one.
"I've seen Nani take a few penalties in training and he doesn't seem convincing to me. I wasn't surprised the keeper saved it but it's something I'm sure Sir Alex will look to address. I think it's something the players probably take lightly in training but they need to go back and practice those on a consistent basis."