Diamond display
Alan Smith explained how Sir Alex Ferguson pulled off a tactical masterstroke against Newcastle.
Last Updated: 08/10/12 7:22am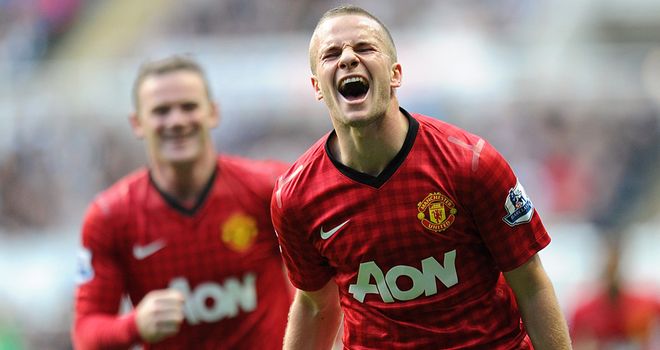 Alan Smith says Sir Alex Ferguson pulled off a tactical masterstroke by employing a diamond formation against Newcastle.
Manchester United came into the Super Sunday clash on the back of a home defeat to Tottenham and an unconvincing midweek Champions League victory over Cluj, but produced an impressive performance as they claimed a 3-0 victory at the Sports Direct Arena.
The Sky Sports pundits attributed the win to Ferguson's midfield system, which saw Wayne Rooney at the forefront of a diamond ahead of Michael Carrick, Tom Cleverley and Shinji Kagawa.
And Smith said the tactics allowed them to pack their much-criticised midfield, as well as getting the best out of Rooney.
"It's a good way to come to come to grounds like this and it's a good say to shore up that midfield with bodies," he told Sky Sports.
"We were wondering after the Tottenham match how they were going to cope with the power of Newcastle and protect the defence a little bit more.
"I think it was an inspired team selection by Sir Alex Ferguson and Wayne Rooney, at the head of that diamond, makes everything happen for them with his work rate.
"All the other boys had a good game. Tom Cleverley and Michael Carrick hardly put a foot wrong, so they all played their part.
"They were all fired up to do well today, as champions are, after getting a bit of criticism.
"They weren't overly convincing and conceded a soft goal to Cluj in midweek, but came out here determined to put things right.
"That system did it for them. So often when Sir Alex is under fire he comes out and goes on the front foot.
"I wondered whether they'd be a bit more conservative, sit tight and counter. They did do that, but they took the game to Newcastle and they were too good."
Sealed
Manchester United's win was sealed with a long-range goal from Cleverley and he later insisted he had intended to curl it into the top corner.
But Smith was unconvinced and suspects he was attempting to cross the ball to Robin van Persie at the far post.
"It doesn't matter, it ended up in the net," he said.
"When he looked up and set on the ball he seemed to be looking for Van Persie, but he'd have been delighted to see it float over Steve Harper.
"Clearly he's not prepared to admit it. He might have admitted it to his team-mates when they went in for the huddle, but he'll say it was a great finish.
"He played well though."
Newcastle thought they had pulled a goal back through Papiss Cisse in the second half, but Smith agreed with the decision of the officials, who insisted David De Gea had saved it before the ball had crossed the line.
However, he felt Manchester United benefitted from a stroke of fortune in the first half when the home side's penalty claims were turned down.
Patrice Evra appeared to clearly pull the shirt of Cisse in the penalty area and Smith was surprised that referee Howard Webb didn't spot the infringement.
"You could imagine Sir Alex if they had conceded a penalty," he said.
"Patrice Evra took a huge chance in taking a fist full of Cisse's shirt. I don't know what he was doing because the shirt was being pulled away from the body.
"Howard Webb might have seen that and I'm surprised he didn't, to be honest with you. It wasn't a bad angle for him and he was looking right down at it.
"He was pulling the shirt and it is a penalty. They were lucky, Manchester United."