Gary Neville criticises the officials after Manchester United beat Chelsea
Gary Neville was critical of referee Mark Clattenburg after Chelsea lost 3-2 to Manchester United.
Last Updated: 29/10/12 6:42am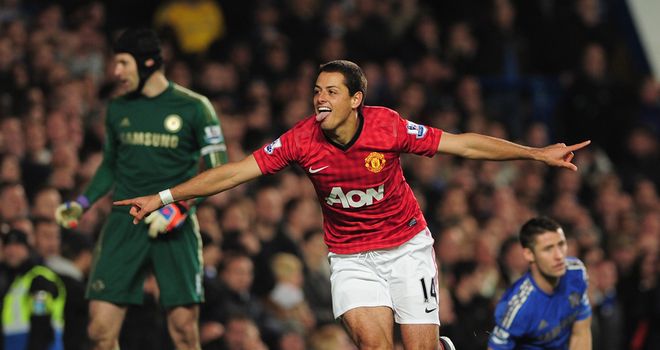 Chelsea were level at 2-2 when Branislav Ivanovic was sent off for taking out Ashley Young as the United man raced through on goal.
The Blues went down to nine men when Fernando Torres received a controversial second yellow card for diving and with 15 minutes remaining Javier Hernandez grabbed the winner from what appeared to be an offside position.
Neville said Ivanovic was unlucky but rightly dismissed for his foul on Young but was bemused by Torres' second yellow card, although he did say the Chelsea striker deserved to be sent off for his first half challenge on Tom Cleverley.
Neville told Sky Sports' Super Sunday: "We have seen different types of dives today. Even if Torres doesn't get clipped I think he is entitled to go down.
"He had Johnny Evans, 6ft 1in, coming towards him with an aggressive tackle, I think Torres may be thinking he has to get his leg out of the way and go down because Evans is going to do him.
"Referees are getting themselves in a mess on this because everyone is talking about diving. There are different types of diving.
"He may be able to stay on his feet there but you can't say that was a yellow card. That is not a yellow card."
Two wrongs
Asked if the decision inadvertently made up for failing to send off Torres in the first half, Neville responded: "Two wrongs don't make a right. I think that the referee got the first one wrong and he got the second one wrong.
"He got both wrong and it is not good for the referee either way. The first one could have been a red card and the second one was not a yellow.
"The first one in any shape or form is seen as violent or dangerous play. It was a nearly neck-high challenge.
"The referees are getting in mess about this issue because the public are saying they are all cheats. They are not cheats. At times they might be anticipating a challenge.
"Sometimes there are cheats, sometimes there are bad dives. It is an impossible and good luck to them, they take it on."
Unsighted
There was a further bitter twist for Chelsea as Hernandez struck the winner and Neville insisted the United striker was offside and the goal should not have stood, though he had some sympathy for the linesman.
"There are offside decisions which are tough to give and there are ones that are easy to give," Neville said.
"I think that is a really difficult one because Hernandez is coming back onside. He gets it wrong the linesman.
"There are that many bodies that he can hardly see and make a decision. I have got some sympathy with the linesman for that one even though he got it wrong and he is offside."