Samir Nasri not tough enough in big games for Manchester City, says Gary Neville
Gary Neville says Samir Nasri "goes missing" in big games and may keep costing Man City points.
Last Updated: 11/12/12 10:40am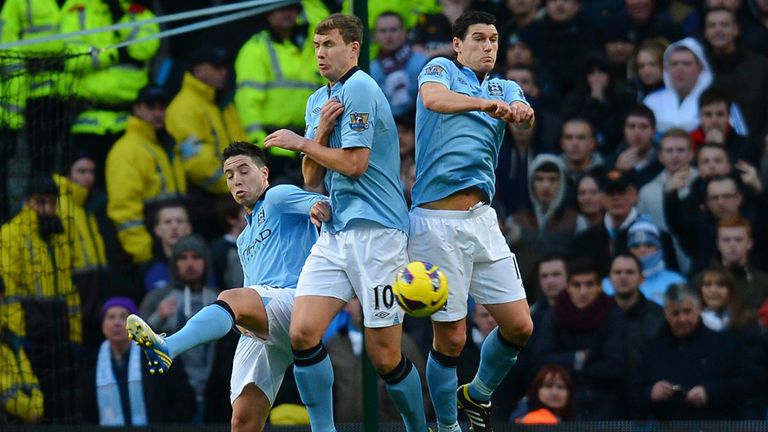 The Monday Night Football pundit faced the Frenchman during his playing days and while he acknowledges his skill levels he says he doesn't work hard enough, especially when the even more talented David Silva is in the side.
City Striker Mario Balotelli was substituted at half-time during Sunday's 3-2 defeat to Manchester United at the Etihad Stadium, but Neville felt the lacklustre Nasri was the weakest link in the team.
"There was another player on the pitch who could easily have been taken off before Mario Balotelli," Neville said.
"I think he goes missing in big games for City - and he's the only one - and that's Samir Nasri.
"For me, he doesn't put a shift in. When they play with David Silva and Nasri, you expect the brilliance of Silva and you need somebody more solid on the other side now.
"By the way, I played against Nasri three or four years ago at the Emirates Stadium and he pulled my pants down for 60 minutes and I got subbed because he absolutely battered me.
"This is a player you'll see when the 'ole's' are coming out, but when the going gets tough I'm not sure he fancies it that much."
Neville also said Nasri was at fault for Manchester United's winning goal, as replays clearly showed him ducking out of the way of Robin van Persie's free-kick as it sailed into the far corner.
It proved to be a hammer blow for City - the injury-time strike was scored only minutes after Pablo Zabaleta's had seemingly given the home side the initiative - and Neville said Nasri's lack of desire cost his side a precious point.
"It's difficult to describe," he added.
"Carlos Tevez was furious. You could see him arguing with Nasri and saying 'what's happening?' Why did he turn his back?
"Pablo Zabaleta had just scored and wanted to score that winner. There was 44,000 Manchester City fans in that stadium who would have taken one flush in the face. Pablo Zabaleta and nine of his team-mates would have taken it flush in the face - and then you've got Samri Nasri.
"The football match has been won by what Samir Nasri did in that wall. It really has cost his team.
"That was the difference on the day."
Gary's take on some of the other talking points
Gary on what the players will think about the coin thrown at Rio Ferdinand
You can't accept that things will be thrown at football players. These people will be banned and the authorities will get involved; it's completely unacceptable and you can't condone it in any way. You shouldn't be throwing things onto the pitch at any football ground, whether it's Manchester City, Manchester United or any ground. They should be banned for life; it's as simple as that.
Then there's the footballers' take on it. I noticed Sir Alex Ferguson's reaction after the game; he said it shouldn't happen, but he wasn't talking about it because he's getting on with the football. Rio Ferdinand laughed it off and said he wishes it was a £1 coin. The reason why? When you play in that shirt for United and you go away from home to Leeds, City or Liverpool - and it's the same when they come to your ground - you expect to be abused, you might get things chucked at you. Whatever happens in that football match, you cannot let it affect you.
Gary on the impact of Mario Balotelli for Manchester City
There's been a lot of headlines around Mario Balotelli. We see pictures of him waving his arms around, but that's not the game I saw. In the first 10-15 minutes I thought he looked pretty good with Sergio Aguero. I'm not arguing that Tevez shouldn't start with Aguero, but I'm arguing that every time this kid plays there's a drama. We talk about balancing the positives and negatives with him, but if you want to talk about the football side of it, if you'd asked me at half-time who I would have taken off then it could easily have been Samir Nasri. You could have put Carlos Tevez to the front and put Balotelli on the left.
Gary on why Dimitar Berbatov was the star of the show for Fulham against Newcastle
There was a player on the pitch, who was head and shoulders in terms of quality above everybody else on the pitch. Some of Dimitar Berbatov's touches were absolutely fantastic; he does things in his own time and you can't pin him down. He pops up in every part of the pitch, he drifts in and out of the game and every time the ball comes to him there's a level of quality that's difficult to represent. He's a real coup for Fulham and he's the one that will basically mean they won't get dragged into the bottom three.
At Manchester United he wasn't egotistical with respect to his team mates or anything like that, but what he did like to do is play at his pace. You have to play through him and use him all the time; he expects you'll play through him. Manchester United like to counter-attack all the time and at times when he laid it off he wouldn't sprint forward - but Manchester United knew what they were signing and I think he could have been a signing for one of the top six clubs. When you talk about a pool of strikers, Liverpool are short, Arsenal are short and Chelsea are short; he could play at any of those clubs as part of their pool.
Gary on Tottenham throwing the game away late on against Everton
From Tottenham's perspective those lost points would have made a massive difference to their season, just by a little bit more leadership and a little bit more composure in the defending; not flapping at clearances and not swinging at things. They need to get out of their own box at big moments; Andre Villas-Boas likes his defence to push up that pitch and it's costing them in those big moments. I spoke to my brother who watched the game yesterday; he said Sandro and Dembele were fantastic in midfield. There are things that can easily be coached at Tottenham and the next time they get in front with 10 minutes to go they need to get out of the box, squeeze throw-ins and do the things that they'd do normally in the first 10 minutes of matches. They mustn't get into that mentality of dropping deeper and almost hanging on, rather than taking the game forward. Tottenham can have a real positive season if they can get that change into their game.
Gary on the state of the title race
There's no way Manchester United will be caught by 18 of the teams, but with Manchester City I would never get carried away at this point of the season. They were neck and neck last year and City were five points ahead at one point early in the season, so if you're a Manchester United fan, manager or player you wouldn't be getting carried away. Manchester City are capable of going on long unbeaten runs, I don't think they've hit their best yet and there's a long way to go. I wouldn't read too much into the six-point gap; it's a good position for United to be in, but for City I don't think all is lost.