Wrong selection
Graeme Bailey looks at what went wrong for Liverpool as they came up short at Old Trafford.
Last Updated: 14/01/13 8:30am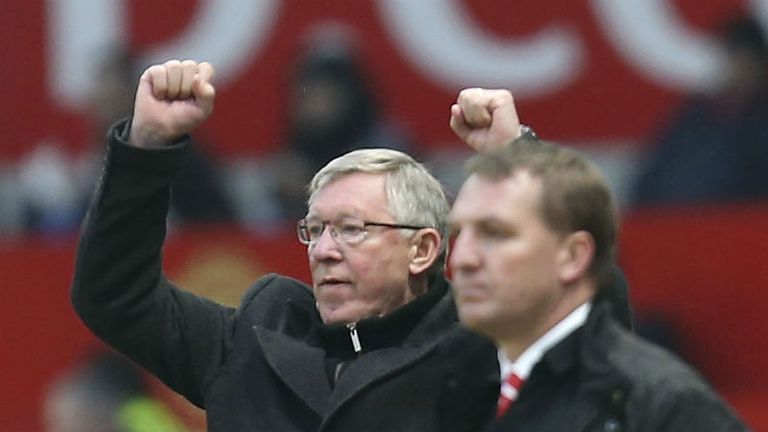 Brendan Rodgers took Liverpool to Manchester United for the first time on Sunday and he is sure to have learnt an awful lot about his squad.
His side were out-played in the opening 45 minutes with his midfield struggling to touch the ball.
They were 2-0 down before they woke-up courtesy of Daniel Sturridge - who was a half-time substitution, but Rodgers will feel he got this wrong today.
Selection
Sir Alex Ferguson produced a real shock when he named Danny Welbeck in his starting XI to partner Robin van Persie.
Nemanja Vidic and Rio Ferdinand also re-formed their central defensive partnership for the first time since September.
There was also a bit of a shock for Liverpool as Sturridge returned to the bench despite scoring on his debut in the FA Cup.
Joe Allen was also recalled ahead of Jordan Henderson in the centre of midfield, with Stewart Downing again keeping his place.
Tactics
United looked like they would be going 4-2-3-1 - but it soon become apparent that it was a straight 4-4-2 - with Shinji Kagawa wide on the left and Welbeck sitting up front. Carrick and Cleverley did run the show, as the system worked with both Kagawa keeping his shape and Ashley Young doing similar having started on the right. With Kagawa cutting inside, that gave Patrice Evra the licence to get forward.
Liverpool had Sterling and Downing playing either side of Suarez - but both played on the opposite to their natural side, which forced each of them to come inside in almost every instance. Lucas was given the role of man-marking Robin van Persie - with Allen and Steven Gerrard tasked to dictate play. The result was that Van Persie scored with his first real chance and Allen barely touched the ball.
Main Men
Simply having Vidic and Ferdinand in central defence helps inspire United, they looked shaky towards the end but that was in no small part to the fact their captain was forced off. Robin van Persie was far from his best but still continued his goalscoring form and caused problems - but the main man in the whole game was Carrick who made United tick with sublime passing, but he also worked his socks off tracking runs from midfield.
Liverpool were shocking in the first half and were carrying the likes of Allen, Sterling and Downing. Their main man Suarez tried as ever, but he was given little change. Glen Johnson was excellent from left full-back but there is only so much you can do from there. Gerrard kept the ball ticking over - and his presence was felt more in the second period.
Substitutions
Both sides made three changes - mainly in reaction to what was happening on the pitch.
United were forced to take off Ashley Young at half-time with Antonio Valencia coming on, but that was like for like and if anything the Ecuadorian offered more. Kagawa was taken off with 15 minutes left with Phil Jones coming on to add some steel to the midfield as Sir Alex tried to stem a Liverpool flow which had built up momentum. Chris Smalling also had a late role as he replaced Vidic, who looked like he had picked up an injury.
To be fair to Brendan Rodgers, he used his subs well - especially at half-time, as his decision to replace Lucas for Daniel Sturridge threatened to turn the game on its head. Sturridge made an immediate impact and was a constant threat, and he and Suarez looked intent on forging a partnership. Sturridge also picked up the goal which brought Liverpool back into the match. Jordan Henderson and Fabio Borini were also introduced and they did okay - and were an improvement on the players they replaced - Allen and Sterling.
Referee
Howard Webb did not have many key decisions to make - indeed he refereed the always volatile affair very well. Johnson maybe could have been red-carded late on for a second booking, but the officials had no bearing on the result which is always the best outcome.
Looking ahead
United did not hit top gear here - but they did no need to. Again they looked far from secure at the back, but still they held firm. This win took them 10 points clear, albeit only for a few hours, but that is a fearsome signal for the rest of the league.
Again Brendan Rodgers will take positives from this, as he does every Liverpool performance - but he has every right to on this. They were very poor first half but Sturridge and Suarez struck up a real understanding in the second half, but more importantly a willingness to play together - the catalyst for any good partnership. That bodes well for Liverpool indeed.