Manchester City can still catch Manchester United in Premier League title race, says Alan Curbishley
Alan Curbishley told Sky Sports News the next few weeks will be crucial in the Premier League title race.
Last Updated: 14/01/13 1:18pm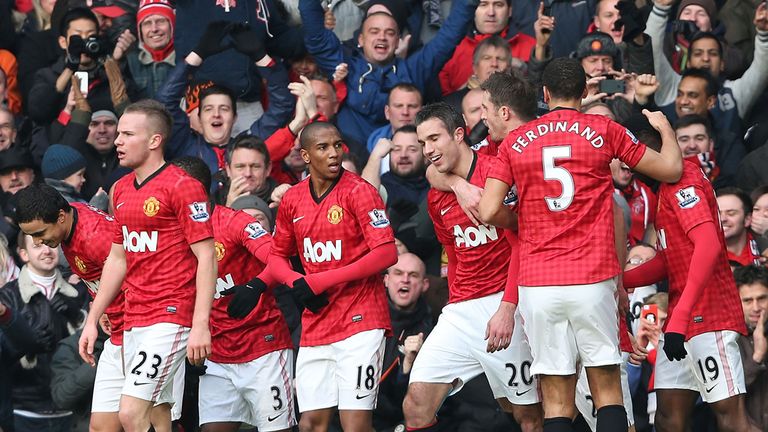 Manchester United briefly opened up a 10-point gap at the top of the Premier League on Sunday following their 2-1 home win over Liverpool, but second-placed City immediately responded with a 2-0 victory against 10-man Arsenal to reduce the deficit.
Curbishley believes Roberto Mancini's side still have a chance of catching their neighbours, but must not let the gap widen before the two teams clash at Old Trafford at the start of April.
"Yes, there still is a race," the former Charlton and West Ham boss told Sky Sports News.
"I think that it's vital Man City won yesterday especially after Man United went 10 points clear effectively, so they got their result so it's still on.
"I think that game [the Manchester derby in April] could be the pivotal game if Man City keep up their pursuit but there's so many interesting games leading up to when they play each other starting with Man United at Spurs this weekend because that's going to be a tough game.
"Obviously people will talk about the sending off and how it affected the game, but Man City started ever so well yesterday, they looked as if they were really up for the game and won it by two, could have been a few more and it was a decent performance.
"I think that Man United [will win it] at the moment with a seven-point gap and getting players back to full fitness.
"I think that this next month is important for Man City, they've got players off at the African Cup of Nations, injuries, may have suspensions, they've got to stay in the race these next three or four games until they get their players back and Man United just look that much stronger at the moment."
Selection
Manchester United dominated much of the game against Liverpool with goals from Robin van Persie and Nemanja Vidic putting them in control before Daniel Sturridge's strike set up a tense finale.
However, Curbishley felt Sir Alex Ferguson won the tactical battle against Brendan Rodgers, nullifying the threat of Liverpool's forwards until the closing stages.
He said: "I was interested in the team selection from Man United because Alex changed it around and played Kagawa on the left and Ashley Young on the right who's not suited on the right but the man Van Persie scored and settled them down.
"Liverpool came back strong in the second half. Brendan Rodgers made some changes - Strurridge came on and they went three up front, which occupied Man United's back four, which is what you've got to do; we know they can concede and they got themselves back in the game, but it was a bit too late.
"After the start Man United got on top and Evra and Rafael got forward like they like to and they left Suarez isolated on his own up front with Vidic and Ferdinand marking him; they were comfortable.
"I think that when it got changed and Sturridge came on and Borini came on and it was three up front, then the two fullbacks for Man United were occupied and had to start defending and that's what got Liverpool back in the game."
Gap
Chelsea remain 14 points adrift of top spot with a game in hand following Saturday's impressive 4-0 victory at Stoke, but Curbishley feels they have too much to do to catch the Manchester clubs.
"I think the gap probably is too big," he added. "They needed to win [against QPR].
"They've still got this game in hand but it's incredible how they're scoring and look comfortable away from home.
"We do know with the squad Chelsea have got that they are capable of doing this. That's why I think Rafa Benitez will be looking at the last two home games, against QPR and Swansea in the Captial One Cup, and thinking, 'how did that happen?'
"But I just think that the gap is too big. I know they've got a game in hand but it may be just too big."