Sky Sports Scout - Ben Amos
Sky Sports Scout is where we scour the globe looking for the best talent. Next up is Ben Amos.
By Sky Sports Scout - Tweet me: @skysportscout
Last Updated: 21/05/14 11:38am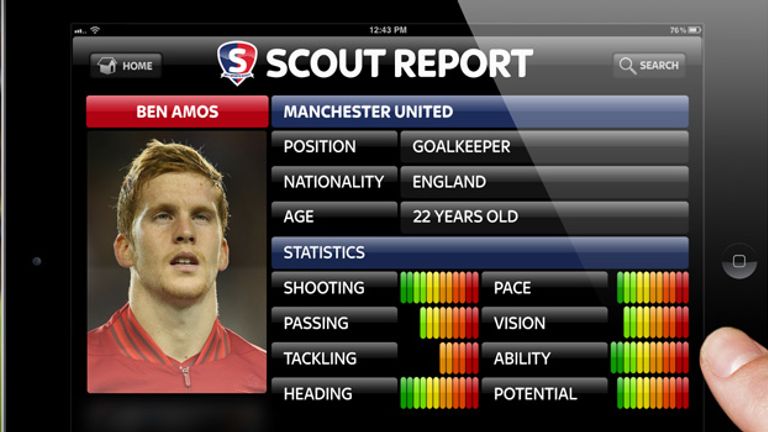 Sky Sports Scout is our exciting feature where we scour the globe looking out for the best talent and bring you a report on what we find.
Our Scout will report back and you can comment on what you think of our appraisal.
Also, in association with Football Manager, we give all readers the chance to win a copy of the latest game by nominating a player.
You can only nominate a player by emailing here, including the word 'Scout' in your subject line and please check to make sure we have not already covered the player.
Should your player get reviewed by our scout, and you were first to send in his name, then you will win a copy of Football Manager 2013.
You can also now interact with the scout via his all new Twitter feed! You can get in touch with him and interact here or just search for @skysportsscout!
Latest under our scout's gaze is Manchester United's Ben Amos.
The scout reports...
We are back on the goalkeepers this week and we look at Ben Amos, who is the latest young Englishman to impress.
Amos has been with United since the age of 11, but they were not his first club having spent time with Crewe's Academy prior to that - but he was released just a year before sealing a deal with the Red Devils.
He has emerged through the system and in 2008 he was making his first-team debut for United, in a League Cup clash against Middlesbrough.
The following year he was sent on loan for the first time, having spells with Peterborough and Norwegian side Molde.
Amos returned to United, but remained on the fringes of the first-team and following Anders Lindegaard's arrival 2011 he was loaned to Oldham for half the season - where he was first choice and made a big impression.
2012 saw him make his league debut for United, as well as three further appearances in the League Cup as he continued to impress Sir Alex Ferguson and his coaching staff.
Amos's form did not go unnoticed and he was snapped up by Hull City at the start of the season, and became first choice under Steve Bruce.
However, after 19 matches and playing a major role in Hull's bid for the top-flight - United were forced to recall Amos after an injury to Lindegaard.
Amos is now back as third choice at Old Trafford - but clearly there is more to this young keeper than sitting on the bench. Having proven himself at the top of the Championship, he could perhaps be one of the first keepers to make the breakthrough under Sir Alex Ferguson.
The scout says...
Recognised by England at every level from Under-16 to Under-21, Amos is rated highly by a number of people.
His performances for Hull have highlighted what level he is already at, unfortunately for him it looks increasingly likely he may have to leave United to maintain his aim of Premier League football.
The Scout rating...
Handling: 8 out of 10
Kicking: 7 out of 10
Agility: 8 out of 10
Judgement: 8 out of 10
Positioning: 7 out of 10
Shot-stopping: 8 out of 10
Current ability: 7 out of 10
Potential ability : 10 out of 10
OVERALL SCOUT RATING: 63/80
Current value: £3million
Potential value: £20million
Your opinion...
You have read our opinion of Ben Amos - now we want your views. Have you seen Amos in action? Do you agree with our assessment? Do you think he will make it?
Get in touch, either using the form below, email or the scout's Twitter feed - @skysportsscout
And if you have spotted anyone you think we should feature then please get in touch using the same form. We will look to send out the Scout to follow up your leads.