Evans above
Jonny Evans wasn't always seen as the man to break up the famous partnership of Nemanja Vidic and Rio Ferdinand. Adam Bate looks at how the Manchester United defender has forced people to rethink their opinion.
Last Updated: 05/03/13 10:58am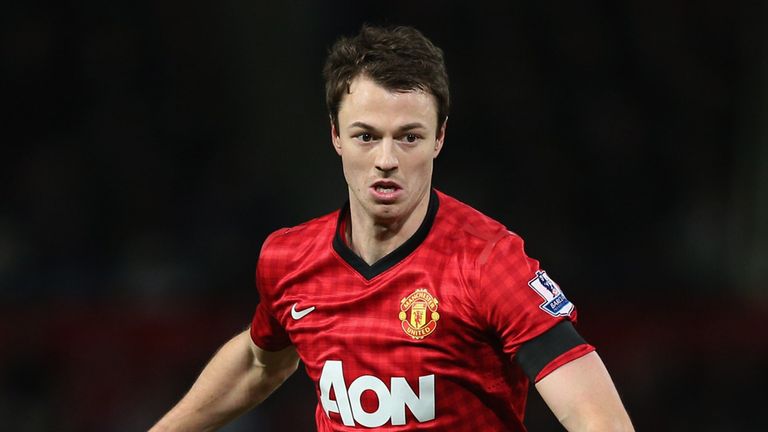 The scene was a snowy Upton Park in late November 2010. The competition was called the Carling Cup. And appropriately enough, Jonny Evans was doing a passable impression of a drunk meandering back from an East End public house in icy conditions.
Manchester United were beaten 4-0 by Premier League bottom-club West Ham with Carlton Cole bullying Evans with alarming ease. So much so that the Northern Ireland international was withdrawn in favour of Wes Brown to spare him further punishment. Later that week, one major news organisation ran an article under the headline: "Sir Alex Ferguson is hurting the club by keeping Jonny Evans."
Just two seasons on and the 25-year-old centre-back's future at Old Trafford looks very different. The bumbling at the Boleyn Ground has given way to brilliance at the Bernabeu as Evans produced a strong performance to earn a deserved draw against the attacking might of Real Madrid. Perhaps most significantly, he was not filling in for an injured team-mate or there as part of a squad rotation system. This was Jonny Evans of the Manchester United first-choice XI.
Shock
There was a degree of shock among pundits when United skipper Nemanja Vidic was overlooked for the Real game. But entrenched views should be challenged. Assessments of footballers must always remain fluid. And one of Ferguson's key qualities is that he picks his teams on performance rather than a fixed notion of his best line-up. He had identified that Evans' partnership with Rio Ferdinand had become an important asset for the side.
"[Vidic] and Rio Ferdinand had become the cornerstone of our defence, but Rio responded brilliantly, despite his back problem, and has now struck up a fine relationship with Jonny Evans," Ferguson had told United Review way back in April, during a sequence of results in which United picked up 10 wins and a draw from 11 Premier League games with Ferdinand and Evans in tandem. "There is no doubt that he (Evans) has been helped playing alongside the experience of Rio and he is now arguably the best defender in the country."
Manchester United centre-backs - PL 2012/13
 
 
Player Name
Appearances
TICB* per game
Nemanja Vidic
13
14.4
Jonny Evans
18
12.9
Rio Ferdinand
21
12.0
*TICB = Tackles, interceptions, clearances & blocks
The 'best in the country' argument is a tricky one. But while defensive performance remains an aspect of the game that is difficult to quantify with statistics, the number do look good for Evans. United have won 15 of the 17 Premier League matches that he has started this season. Evans is also outperforming Ferdinand in terms of total tackles, interceptions, clearances and blocks - traditional measures of a defender's ability to win individual battles.
Of course, the 'less is more' explanation can be used to justify the greatness of high-profile defenders. Paolo Maldini didn't need to tackle did he? Ditto Ferdinand. But having at least one centre-back willing to hurl themselves in the way of the ball remains vital. And while Vidic remains the stand-out performer in this regard, Evans also has the ability to use the ball effectively once he has it.
Ferdinand plays more long balls than both Vidic and Evans, with a greater accuracy too - finding his target with 73 per cent of his passes from distance. But it is Evans next on the list with 65 per cent long-range passing accuracy compared to his captain's 63 per cent. What's more, he has played seven key passes to Vidic's one. Evans is effectively a hybrid of the two - he has shown he can be combative and distribute the ball impressively too. As Ferguson told Inside United: "Jonny's one of the best in our defence at coming out with the ball. He's a terrific user of the ball and he's quick."
Consistent
And Evans is now doing it consistently. This is something that can often be a problem for young defenders. Ferdinand had his moments with both West Ham and Leeds, while Vidic was perhaps fortunate to be out of the spotlight in Easter Europe until the age of 24. In contrast, Evans has, for the most part, done his growing up in front of the Old Trafford supporters - complete with knee-jerk reactions should the side fail to meet expectations.
"The thing about young players, particularly defenders, when you get consistency from them you know you're on the right track with them," Ferguson told The Sun. "I think Jonny has shown great consistency in the last year." It's that consistency that is likely to see the United boss once again turn to Evans when naming his team for Tuesday's crunch clash with Real Madrid.
"When I think back to the time when so many critics were ready for me to move Jonny on, I hope that they're questioning their judgement," Ferguson noted in United Review this time last year. Twelve months on and it seems the appetite is finally there to acknowledge just why Jonny Evans is now a fixture on his manager's team-sheet for the biggest games.