Ole's #One2Eleven
Ole Gunnar Solskjaer names the best Manchester United XI he played alongside in his career.
Last Updated: 11/03/13 1:38pm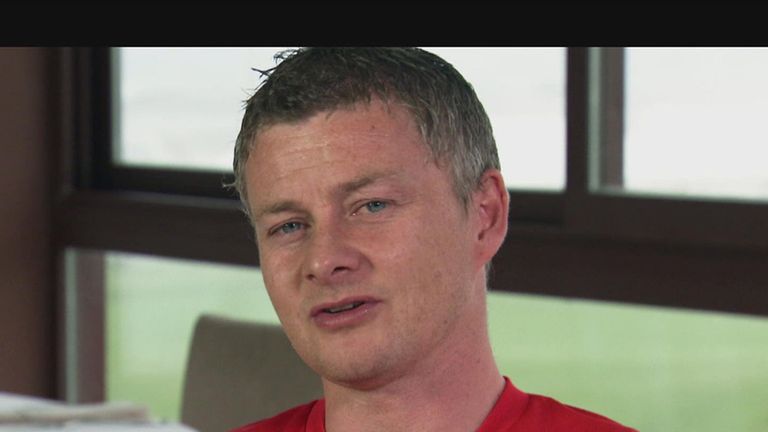 Ole Gunnar Solskjaer was part of the Manchester United squad that dominated English football in the 1990's and 2000's.
But who were the best players he played with in his decade at Old Trafford?
The former Norway striker - and current Molde manager - chose his the best XI of players he's played alongside on the Fantasy Football Club...
GOALKEEPER - Edwin van der Sar
There's two options; at the start of my career I had Peter Schmeichel and at the end of my career I had Edwin van der Sar keeping goal, so it has to be one of them. Peter was one of the best in the world definitely, but I think I'd pick Edwin as the number one goalkeeper. When he came to United all the players got what we had waited for since Pete left.
RIGHT BACK - Gary Neville
It's got to be Gary Neville, by a mile the best right back. He was always consistent and always reliable. He's very opinionated, but I think he has a good opinion of football.
LEFT BACK - Denis Irwin
I've got to pick Denis Irwin with his consistency and his goals from penalties. I cannot recall seeing him miss a penalty and he scored from free-kicks as well before Becks started taking them.
CENTRE-BACKS - Jaap Stam and Rio Ferdinand
Japp Stam was as big as a mountain, wide as a house and as quick as a Ferrari. If you're doing one against ones and you face up to him, I can't recall ever going past him. I've got plenty of partners that could go with Jaap, but I'll pick Rio Ferdinand. I remember the first day in training with Rio and we pinged the ball in his feet and he had a bad touch and I had a little remark 'how much did we pay for you again?' I think he still remembers that one. He was the hardest player I ever played against; quick, strong, read the game and came out with the ball.
RIGHT WING - David Beckham
I've got to go with David Beckham. If you saw Becks put his head down and get his left arm up you knew he was going to cross it, so as a striker you just had to make a run. He did the "graveyard shifts" as the gaffer always used to say. Wide right and wide left for United he was up and down and in and out and Becks did it all the time. With Gary behind him he was unstoppable.
LEFT WING - Ryan Giggs
I've got to complement Becks on the right with Giggsy on the left. There's nothing I can say that hasn't been said about Giggsy. One of my favourite goals at Old Trafford was when Giggsy played it in behind Sol Campbell and I brought it down and scored. He had so many assists for me and I had a good understanding with him. Giggsy, for me, is probably the best player that's ever played for Man United.
CENTRAL MIDFIELD - Roy Keane
I want to play 4-4-2 with two centre mids, so you've got to have two players in central midfield that are really complete. My first choice is my captain - and the one player I would pick over anyone if I could just pick one - and that's Roy Keane. Me and Roy have become good friends and we shouted a lot at each other and because he shouted at me, I realised he had an affection for me. He wants me to do better because he knows I can do better. I learned a lot and I grew a lot and I think I became a more mature player after meeting Roy.
CENTRAL MIDFIELD - Paul Scholes
Alongside Roy I will pick Paul Scholes, the little magician. He's the complete midfielder that cannot run, he's not quick, he cannot head, he cannot jump, he's not the fittest but he's still the complete midfielder. We all know he can't tackle either! I would have picked him every time if I was the England manager, but he had Frank Lampard and Steven Gerrard and if you're going to play with two central midfielders then you've just got to make a choice. As a nation you never really got the best out of one of your best players ever.
STRIKER- Eric Cantona
When I came to United there was The King and I've got to pick Eric Cantona as one of my strikers. He was almost like a father figure, a coach on the pitch and when he came into a room the whole room changed. That was the person he was. I still remember the last time he was a United player and we had a party all night because we'd just won the league and I went to London and on the way back from London I heard on the radio that Eric had retired without saying one word to us! We'd had a great party, a good time and he never mentioned it. That was Eric!
STRIKER- Ruud van Nistelrooy
I have to pick Ruud van Nistelrooy, as he was the best finisher I worked with. My philosophy as a striker when I played was to know what to do, practise what to do and then do it on the pitch by instinct - and Ruud was exactly the same. He was 100 per cent concentrated on just hitting that ball exactly right every time he had a chance.
MANAGER - Sir Alex Ferguson
I only had one and I'm so happy I only had one because I learned from the best. I've made a point of never calling for advice because now you're on your own. Yes, when I worked underneath him as a reserve team manager I would go into his office and ask, but I don't like calling him for advice. I'd like to do this by myself.