Manchester United's win at Stoke was perfect following derby defeat, says Gary Neville
Manchester United hit back perfectly with victory at Stoke, Gary Neville told Sky Sports.
Last Updated: 14/04/13 5:29pm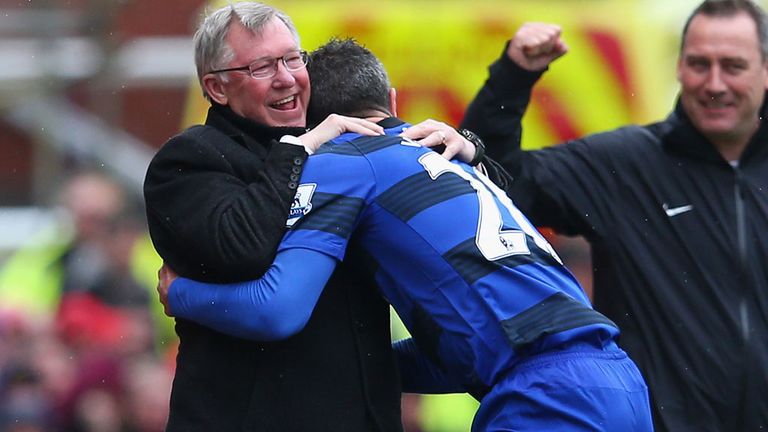 United dominated throughout Sunday's Premier League contest at a blustery Britannia Stadium, winning 2-0 thanks to an early toe-poke by Michael Carrick and a second-half penalty by Robin van Persie.
While Sir Alex Ferguson's team took a giant step towards the title and helped erase some of the memories of losing to Manchester City last week, Stoke fell to within three points of the drop zone.
"United controlled the match after their early goal and that really deflated Stoke," Neville said.
"After losing to Manchester City, the response by United has been emphatic. In the early part of the match Wayne Rooney - who was playing in a central midfield role - just took the sting out of it. Some of his passing slowed the tempo down and particularly in the second half when they really needed it.
"United's back four and Carrick did extremely well with Rio Ferdinand and Nemanja Vidic looking solid as usual playing together. But Rooney was my man of the match.
"Stoke would have been expecting the crowd to really get behind them and support the team but that never materialised. United got the goal and they know how to finish games with experienced players running the clock down."
Carrick needed just four minutes to open the scoring after a scramble from a corner around the penalty spot and it seemed to knock the wind out of the hosts' sails.
It was the worst possible start for Stoke, who would not have enjoyed watching Sunderland's 3-0 win over Newcastle in the earlier kick-off, boosting Paolo di Canio's hopes of avoiding the drop with his new team.
"Pulis will look back and see the first 20 minutes as a killer period," Neville added. "Conceding from a set-piece after four minutes was not what they would have been expecting.
"When you come to the Britannia, teams usually have to defend against waves of free-kick after free-kick, throw-in after thrown in. Stoke players have been famed for their fight and battle in the past but it just never happened."