Brits abroad - Jimmy Ryan
Manchester United stalwart Jimmy Ryan discusses his experiences playing for Dallas Tornado as well as his time in the United coaching set-up and the benefits of sending youngsters to Antwerp.
Last Updated: 23/04/13 8:00am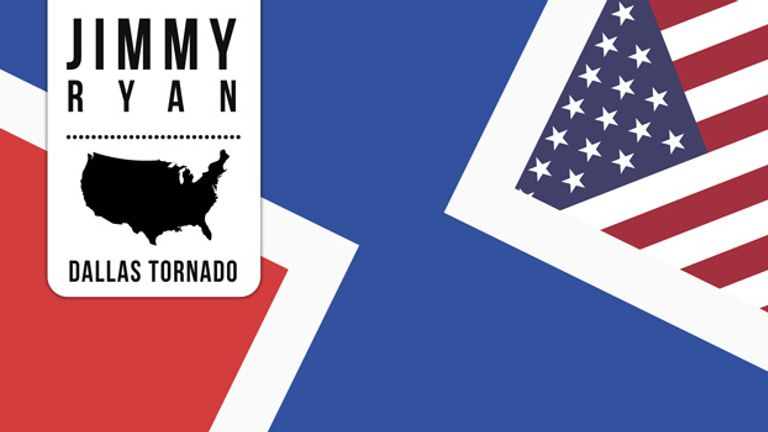 Jimmy Ryan had played alongside the likes of Sir Bobby Charlton, Denis Law and George Best as a youngster at Manchester United before moving on to spend six years with Luton Town. As his time at Kenilworth Road drew to a close, the Scot turned his attention to a new life in the United States and the razzmatazz of the North American Soccer League. A brief stint ended up lasting eight years before he returned to pursue a coaching career that included more than 20 years back at Old Trafford. Adam Bate caught up with Ryan to discuss life in the States and the benefits that a spell abroad can have for youth development.
How did the move to Dallas come about?
All the big newspapers had written stories about players going over there for the summer. And so, halfway through the season I just went and asked the (Luton) manager if he'd let me go and play over there. I had no contract (these were the days before the Bosman ruling) but they still didn't want me to go. Eventually they had a board meeting and decided it was OK.
So I started asking around to find out if there was anybody interested out there. Within about a week there was interest from Chicago and Dallas. I had no particular desire for Dallas but I had a choice to make and decided to go there. I just thought it would be nice to go to another country for the summer.
What were your first impressions when you got out there?
It was hotter than hell! My first impressions were good. The weather was lovely. In fact, it was too hot for me. But what was good about my time there was that one day after I arrived we played a friendly game against the New York Cosmos and Pele was playing. For me as a football fan it was a dream come true to play against Pele.
It must have been an exciting time to be involved?
It was exciting on two fronts. Firstly, you were in a foreign country experiencing a different culture. Secondly, there was the fact that every other week you were playing against famous players.
It was a curious mix of superstars and more ordinary players. How did you find the standard?
The standard was probably not as tough as English football. Obviously the idea there was to have a marque player - a big-name - at each club. We didn't actually have that at Dallas as we had a core of British players with some young American boys. But most teams had that. Los Angeles had Johan Cruyff and there were some big-name German players around.
Crowds were at their highest in Dallas in the four years you were there between 1976 and 1979. Did you feel as though football was taking off in the United States?
To be honest, I didn't really feel that. I enjoyed it and to play in the sun was something I enjoyed. But you know, a lot of the time the gates were bigger because tickets were given away to schools and things like this. So although we did have good gates and football has grown tremendously in that area now, I never really felt it was catching on because people didn't really understand the game.
Do you think that's why NASL didn't work out in the end?
Yeah, there were a lot of problems underneath the surface. Money was obviously a problem. Players' wages and their contracts were terrible. Not for players from Europe but for the American boys who were playing there, you know. They could be traded without even asking. That part was wrong and the union was only in a fledgling state.
But there is a legacy there with Major League Soccer?
Yeah I think what happened is that it died for a while, stumbled and then managed to get back up on its feet again. It's maybe a better foundation now than the way it was with NASL. I mean, to buy all those players must have taken an awful lot of money - Pele, Cruyff, Beckenbauer, Best. I don't think it could really afford to do that because the games weren't really on television.
And if sport isn't on television in America it's got no chance because it doesn't sell beer. All the beer companies and the car companies advertise on the basketball, the baseball and the American football because they know the audience are their customers. Soccer wasn't on television so they couldn't really afford to have the big names there.
But none of that detracts from the fact that it was really enjoyable for me to play there against those players. The highlight for me was playing against so many of the greats. I'd played with George Best when we were kids at Manchester United and he was out there playing for Los Angeles and later San Jose. So I thought it was fantastic to be playing against these kinds of names.
I swapped shirts with Franz Beckenbauer - I say I swapped shirts with him but what really happened was that I asked him if I could have his shirt afterwards! It was kind of an incentive as well because I really enjoyed going on the field against these players. It motivated you to try and play well and really be competitive.
And you must have enjoyed life off the field because you ended up staying eight years?
Well I only stayed because I kept getting offered a new contract! I'd initially signed a two-year contract and had two small children so the thinking was that we'd go over for a couple of years and then come back to play in England somewhere. But then they offered me another contract so I stayed again and then I got offered a contract to play indoor football in Wichita...
How was that experience?
In some ways it was better than the Dallas experience. When I went up there it was the first season they'd started playing indoor football in Wichita. In the first game, they played against the previous season's champions New York and the arena held about 10,000 but they only had 3,000 in there despite all the publicity and the freebies. So I know speaking to the people there they were worried.
But by the end of the season they were scalping tickets outside the stadium. They were selling them for double the price! They'd got this rivalry going with St Louis that you just didn't seem to get in the NASL. It was one city, one team. But the rivalry with St Louis got a bit of nasty at times and I'm thinking this is great for football in America. It was a proper derby.
Is it a completely different game, the indoor football?
Yeah, it's just five-a-side football on the pitch the size of an ice rink.
Did it feel strange to be paid to play five-a-side?
Absolutely! It was very good for me coming near the end of my career because the distances to run were smaller. We only played for an hour and you swapped all the time. You had a player who played in the same position as you and you swapped back and forth. So actually, while you played at high intensity, it was for a short period. At my age I could just about manage that!
When you did finally return to Britain to begin you coaching career, do you think your time in the States was a help to you?
I didn't learn anything from the coaching or the playing side. But once you go to live somewhere else you realise they look at things from a different point of view. This might sound pompous but your mind broadens out. You see the way things are done abroad and living there for a long period makes you more open-minded to new ideas.
Is that part of the thinking behind sending young players to Belgium when you were the reserve-team coach at Manchester United?
The Belgium thing came about because the reserve league that had always been full of senior players started to become very young. So what happened was that, in the reserve league, young players were still just playing against players their own age. What was good about the old reserve league was that you were sometimes playing against internationals.
I remember going to Aston Villa with the likes of Scholes and Beckham. It was fantastic. They only had a couple of players who'd come through the system - the rest they'd bought - and we had Danny Wallace and Brian McClair so it was a proper man's game and the standard was high. So Belgium was an attempt to get them to lift their competitive level at that time of their development.
But being abroad helps you develop on and off the field...
Yeah, I think having to go and live in Antwerp for six months is important. They look after themselves, they live in a foreign country. We hope it helps broaden their horizons. You look at players like Ryan Shawcross and Jonny Evans and I'm sure it helped them.
So you'd recommend the experience of playing overseas?
I'd recommend it to anyone. The advantage of living there is that the culture comes over you. If you go abroad you have to look into how they do things. It's very different going there for a month to going there for two or three years. You soon find out and after a while it's very easy to understand how they think about things. It's great to sample a different culture.