Gary Neville hails David De Gea's "arrival" after Andy Carroll battle
Gary Neville says David De Gea may be the league's best goalkeeper after his battle with Andy Carroll.
Last Updated: 18/04/13 9:09am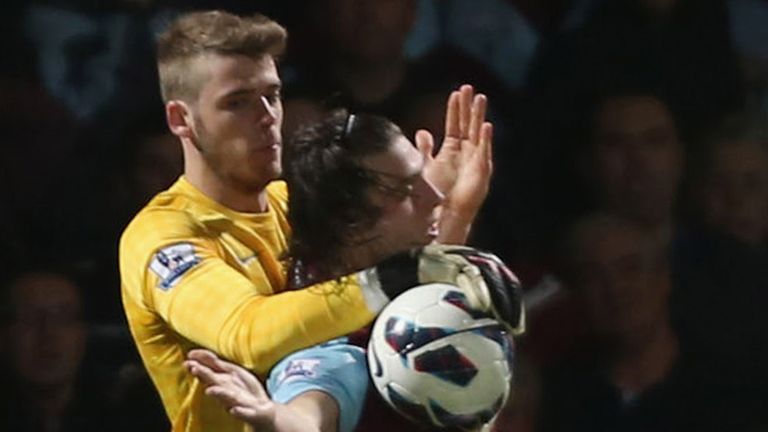 The Sky Sports pundit has criticised the Manchester United goalkeeper at times this season following a number of high-profile mistakes, including one that allowed Tottenham's Clint Dempsey to score a last-minute equaliser in January.
But Neville feels the 22-year-old has improved in recent weeks and after keeping a clean sheet in the 2-0 win at Stoke on Sunday, he coped admirably with the pressure put on him by West Ham's Andy Carroll in Wednesday night's 2-2 draw.
"For me tonight, the biggest thing is that David De Gea has come through a massive test," he told Sky Sports.
"He was clattered by Carroll and he got a couple in the second half. He's definitely improved hugely.
"The mistakes that David de Gea was making two, three or four months ago were ones where the ball was put on top of him in the box with people around him.
"He has improved immensely. He's now looking like a strong, confident goalkeeper who has got all aspects of his game in play.
"I never thought they would sell him, even at the points around Christmas where he did make two or three mistakes. They do live with young players and let them grow at Manchester United.
"He's looking like the top goalkeeper in the league at the moment, to me. He's looking absolutely fantastic.
"That's the biggest change. To go to Stoke on Sunday, which is hellish for any goalkeeper and to go to a physical West Ham team who are doing things like that, that's the coming of him in the last few days.
"They are the tests you want to go through. Playing in the Real Madrid games where you make magnificent saves, he's always been capable, but these two games are almost the arrival of somebody who can handle the pressure."
Has David De Gea outperformed Joe Hart this season?
Flattened
De Gea was flattened by Carroll at a first-half corner, an incident which left Manchester United manager Sir Alex Ferguson calling for a red card for the West Ham striker.
Neville agreed that the Liverpool loanee could easily have seen red, but said his former club did well to cope with the physical challenges thrown at them as they moved a point closer to a 20th league title.
"I don't think he'd got any chance of getting the ball really," he said.
"He was well behind the ball, so I'm not quite sure what he was doing. He was obviously trying to put pressure on De Gea.
"I've never seen a challenge like that, really. You couldn't complain if it was a red card, but on the other hand you'd either think it was an accident or a deliberate assault in some ways.
"Andy Carroll is that type of player; he's mad when he goes up for a header. He jumps from 10 yards away and throws his head at it in such an aggressive manner.
"They were fighting all night tonight, him and Nemanja Vidic. There were elbows flying and he admitted it himself.
"That's the way he plays the game, it's a physical battle and United withstood it at times tonight."
Wednesday night's other talking points
Neville on Robin van Persie's equaliser, which was clearly offside
We want referees and linesmen to get every single decision right. I sometimes have very little sympathy for linesmen and referees with certain decisions, but I had a little bit of sympathy for this one because of Winston Reid in the middle. Van Persie looks massively offside, well offside, but from the moment it leaves Shinji Kagawa's foot Reid is moving back towards Jussi Jaaskelainen. So as the linesman flicks his eyes from that position I've got some sympathy with him on this particular decision. If Van Persie stands in there and Reid runs the other way then he'd look a mile offside, but because Reid runs back it does give him a difficult decision. Some decisions are really difficult and that's a difficult one. They are trained to get those right, so you have to say it's a big mistake because it's affected the game, but I have a level of sympathy.
Neville on why Chelsea may struggle to reach the top four, despite their win over Fulham
I think Chelsea are going to need the one-point cushion that they've got. It might not look like much of a cushion, but with the games they've got coming up - Manchester United away, Liverpool away, Villa away and Tottenham and Everton at home are five of their last six - they could easily drop many points in those games in any season and particularly at a point like this where they're under pressure. We've got some massive games coming up and the Tottenham v Chelsea one that's been sandwiched in on May 8 could decide everything. Chelsea needed that win at Fulham; that was a big one for them.
Neville on Manchester City's flat display in their 1-0 win over Wigan
When you play in an FA Cup semi-final on a Sunday at Wembley and then you play on a Wednesday night in a game that hasn't got the greatest significance for Manchester City, it's always going to be flat. I've played in those type of games myself and it's never easy to get yourself up when the big games have been previous. Roberto Mancini mentioned a lack of energy and legs, but I'm sure they'll get that back.
Neville on FA Cup Finalists Wigan's survival hopes after losing to Man City
Wigan are probably going to need to win [against West Ham] on Saturday. They've got tough games such as Tottenham and Arsenal, but Wigan are capable and they've got to take their chances when they get them. It's going to be tough for Wigan, it really is, but one thing I would say is they've not been distracted in the immediate game after getting to Wembley. People asked if it would play on their minds having a massive game in their lives and playing in an FA Cup Final, but tonight they played really well and showed they're not going to be distracted in what is a really important six games for them.