Arsenal tipped for top four, despite draw with Manchester United
Arsenal failed to bury a sluggish Man Utd, but remain on course for the top four, says Graeme Souness.
Last Updated: 28/04/13 7:47pm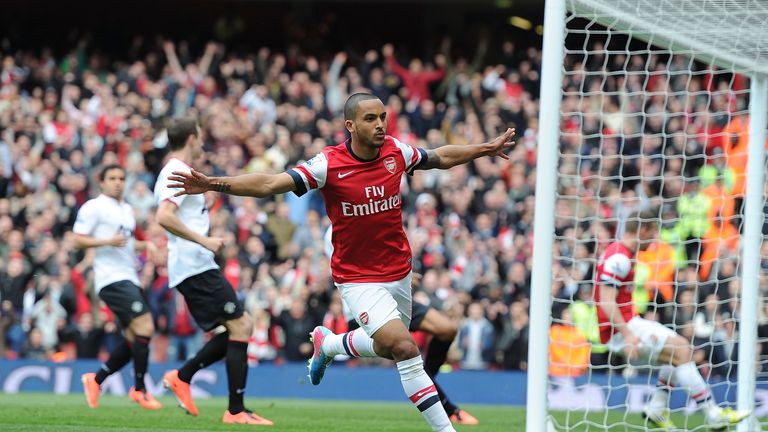 The Gunners led a lacklustre United after just two minutes thanks to a strike from an arguably offside Theo Walcott.
However, they were unable to double that advantage against the newly crowned champions - who were possibly feeling the effects of celebrating their title triumph this week - and the visitors struck back with a Robin van Persie penalty.
"Arsenal needed the second goal when they were so dominant in the first half," said the former Liverpool midfielder Souness.
"You felt United needed to get a good half hour under their belts to get whatever celebrating they'd done this week out and then the true Manchester United came out.
"United were off the pace at the start, got five bookings because they were late in every challenge and just weren't at it.
"It was quite predictable and very hard if you're Sir Alex Ferguson to have a go at your team who have just won you the championship yet again. But you know there will have been celebrating and they may be 2% off - and at this level, against Arsenal who are desperate for the points, it showed.
"But in the early period, where Arsenal were fabulous, first to everything, more aggressive in the challenge, completely on the front foot and had United rocking, they needed the second and it didn't come."
Chances
Although United did pull level and stepped up their game, the hosts still enjoyed plenty of possession in the second period and, after seeing former Gunners captain Van Persie smash in from 12 yards, Gary Neville suggested the Dutchman was just the kind of player Arsenal were missing.
"Arsenal had some decent play in United's final third but they lack Van Persie or the quality of someone like Thierry Henry," said the former United defender.
"With that possession, in years gone by, they would have created more in the second half than they did."
However, Neville was critical of Arsenal defender Bacary Sagna, who brought down Van Persie in the box to give away the crucial spot-kick.
"At the end of the game 1-1 is a fair result but Arsenal let United get three or four chances before half-time and let them get back into the game with a really poor mistake," he said.
"It's actually a double mistake from Sagna - he made a bad pass but then he thought 'I have to win it back' and he was rash and emotional and he gave himself no chance."
But, all in all, Neville reckons a draw - which puts Arsenal two clear of Spurs in fourth - has aided their challenge for a Champions League qualifying spot.
"I think it's a good point for Arsenal," he said. "They have the better fixtures, although they have one less than Chelsea and Tottenham. I think they are in a good position."
And Souness agreed: "I still make Arsenal's favourites to get into the top four."
Reading 0-0 QPR
Earlier in the day both Reading and QPR were relegated from the Premier League after their goalless draw at the Madejski Stadium.
For last season's Championship winners Reading, it is a swift return to the second tier. With Nigel Adkins now in charge, though, they will hope the man who guided Southampton to the Premier League via automatic promotion can mastermind an immediate response.
However, both Neville and Souness fear for QPR. Neville pointed to a disrupted dressing room as a key factor in their relegation, while Souness suggested it will not be easy for the club to offload high earning players who have failed to deliver during this campaign.
Neville:It's obvious what's happened at QPR: they've had a group of players who got them up from the Championship, with a manager who had a spirit about him [Neil Warnock], but then the whole club has changed over night into a club that's spent huge money on players with huge wages and it's disrupted the whole spirit of that dressing room as it existed when they were getting up from the Championship. It's taken the identity and soul away. They've got to get that back somehow. You can't understand what's happened there, you really can't.
Souness:Harry Redknapp has been there five months and he'll have worked out the players he wants to keep and the ones he wants to show the door. But showing them door and getting them out are two different things. They'll be on big money, they've not performed in this league - so who else is going to take them in the Premier League? You're stuck with players in the Championship with Premier League wages. It's not an easy job Harry's faced with in the next 12 months. He's renowned for doing good business but I'd suggest this is the most difficult job he's faced in football.