Former Everton star Kevin Kilbane tips David Moyes to thrive at Manchester United
Former Everton star Kevin Kilbane insists David Moyes is the man for the Manchester United job.
Last Updated: 11/05/13 12:08pm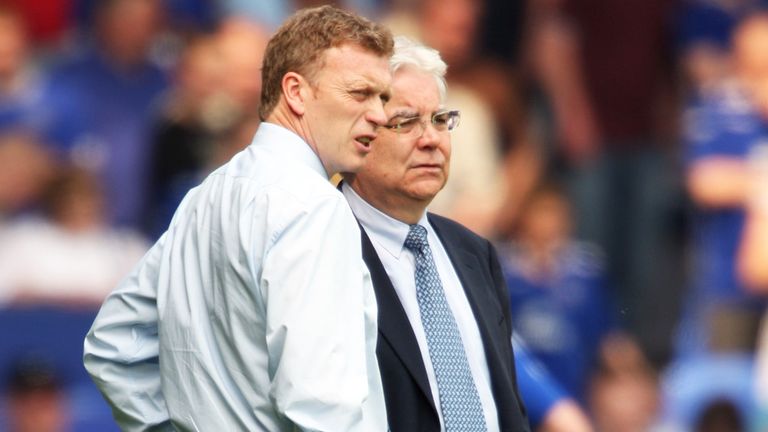 Red Devils legend Ferguson confirmed on Wednesday he will bring the curtain down on his time at Old Trafford after 26 years and 38 trophies, and Moyes is now set to succeed his compatriot.
There were further ructions at United on Thursday when it emerged England striker Wayne Rooney, who played under Moyes at Everton before a £25.6m switch to the Theatre of Dreams in 2004, has once again requested to leave the club.
Kilbane told Sky Sports of the news: "I think when Wayne left Everton nine years ago or whenever it was, there was a little bit of a bust up because he'd written things in his book about David Moyes. But with Moyes going in there, I thought that might mean that Wayne was really key to United's long-term plans.
"The revelations that have come out this morning have surprised me. Moyes respects Rooney and knows all about him if he was going to take the role, so that revelation from Rooney really surprised me."
Progression
Kilbane, who racked up over 100 caps for Republic of Ireland having begun his career with Moyes at Preston in 1995, is confident the United job will hold no fear for his former team-mate and manager.
The 36-year-old said: "When he left Preston over 10 years ago, it was a huge step up to deal with the Everton players. Now this is a huge step up from there to deal with Manchester United, a club on a global scale - but he'll handle it. He definitely will.
"He's a wonderful man-manager, a wonderful coach and certainly a good tactician. Once the players recognise what he's going to bring to the club, they'll start to respond to that too.
"It won't be a problem. He's the sort of manager that will have covered his tracks by watching all sorts of different standards of football. He understands the game as well as anybody I know, so with him making the step up with the calibre of players he'll have, again it'll be the players responding to him. He'll relish the chance and the step up to Champions League football.
"I've known him for 20 years since I was 16 and a young boy at Preston. I played alongside him for four years there and he helped shape me and my career. When he came back and signed me at Everton, it was a privilege to play under him.
"There was a bit of a lean spell when he first got there and there was pressure on him, but he handled that really well and progressed. He's brought the club through and stabilised the club. Everyone talks about the limited budget but he had some real characters and leaders in that dressing room. He nurtured them.
"With the jobs he's done at Everton and at Preston, it's a natural progression but he's ready to take a job like that on board."
Vacancy
Should the 50-year-old Moyes opt to leave Goodison after 11 years at the helm, Toffees chairman Bill Kenwright will be left with a similarly difficult appointment as he attempts to fill the void.
Wigan manager Roberto Martinez, whose side play Manchester City in the FA Cup final on Saturday but are facing relegation from the Premier League, has been installed as favourite by the bookies to inherit Moyes' job.
Kilbane added: "The future is the key for Bill Kenwright and for every Everton supporter. It was the highlight of my club career, playing for them. Kenwright has a huge task if Moyes decides to move on. He's got Everton at heart and he'll have a huge job in replacing him.
"Martinez would be a good fit. I think Kenwright wouldn't go for a manager without Premier League experience. Martinez has got lots of experience of the English game, he's managed throughout the leagues. He's done a really good job at Wigan and got them to the FA Cup this final.
"I'm sure Dave Whelan at Wigan will have something to say about it. There'll be a lot of bases to touch before an appointment is made but I'm sure if Kenwright decides to appoint Martinez it'll be a good fit at Goodison Park."