Stick with Shinji
Pete Hall believes that Borussia Dortmund boss Jurgen Klopp's high praise for Shinji Kagawa proves that Manchester United should show patience with the Japan midfielder.
Last Updated: 22/05/13 5:40am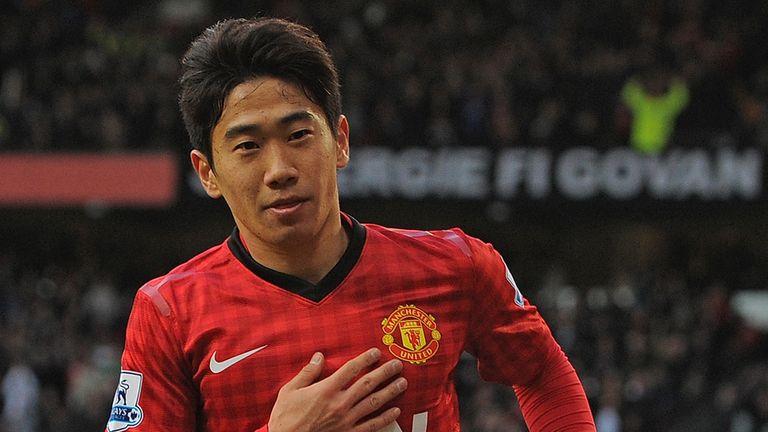 In the build-up to the upcoming UEFA Champions League final the charismatic Borussia Dortmund boss Jurgen Klopp singled out Manchester United midfielder Shinji Kagawa for special praise.
He described the Japan international as being one of the 'best players in the world' - high praise from a manager that taken his current crop of talent all the way to the Champions League final.
After a somewhat low-key introduction to life at United, playing only a bit-part role, Kagawa could well find himself a key component of the Premier League title defence under David Moyes, especially with reports of the rumoured departure of Wayne Rooney gaining momentum, and he possesses all the natural ability necessary to take on that creative midfield mantle with aplomb.
"He's an offensive midfielder with one of the best noses for goal I ever saw. But for most Japanese people it means more to play for Man United than Dortmund. We cried for 20 minutes, in each other's arms, when he left," Klopp admitted, as he waxed lyrical about his former employee.
The enigmatic BVB boss' extravagant description of Kagawa may come as a surprise to many who have seen him play in his debut season in the English top flight, with first-team opportunities limited, and when he has started the creative midfielder has often been substituted, leading to questions over his fitness from fans and pundits alike.
But for someone like Klopp, who has an obvious eye for talent when he sees it, to have such a strong opinion of a player who was instrumental in Dortmund's rise to the lofty heights that they are currently enjoying, we could well be yet to witness the true potential of Kagawa.
Signed for a very modest fee from Japan, Kagawa was an immediate hit in his first season in Dortmund, but missed much of the 2010/11 campaign through injury.
Demolition
He came back stronger and fitter for the start of 2011/12 and helped steer Dortmund to a German league and cup double, scoring one and assisting another in the famous 5-2 DFB Pokal final demolition of rivals Bayern Munich.
It was this performance, watched in person by Sir Alex Ferguson, that helped secure his dream move to England.
The Red Devils' problem this season has been where to play the meandering Kagawa. He has been shoved out wide, in the trequartista role just off Robin van Persie and deeper in the middle of the park. But wherever he has been asked to play, the 24-year-old has still been effective.
Those who have been lucky enough to see him play on a regular basis have witnessed just how majestic Kagawa can be, no occasion more so than his sublime hat-trick in the Premier League champions' victory over Norwich in early March.
The coolness of his three finishes was exquisite, and showed just how comfortable the Japanese star is on the big stage, and what he is capable of.
What the United faithful have to appreciate is that Kagawa wasn't signed with the intention of making an immediate impact. Van Persie was, and brought instant success, but Kagawa, with age on his side, is allowed a period of transition, to adapt to life in another foreign land, and take his time to find his feet.
And to silence those still who are still not convinced that the outgoing Ferguson made the correct decision in snapping up the flamboyant midfielder, his record compared to other more celebrated Premier League stars is mightily impressive.
Natural ability
Kagawa has more league goals (six) than David Silva (four), Jack Wilshere (none) and Samir Nasri (two) despite playing fewer games than these established top flight players.
He also has a better pass completion rate (90%) than Phillippe Coutinho (74%), Steven Gerrard (86%) and Marouane Fellaini (78%).
What's more, Nani, Ashley Young and Antonio Valencia, the latter being United's Player of the Season last time out, have only contributed, scored and assisted 13 goals between them in the top flight all campaign, compared to Kagawa's nine.
He hasn't set the world alight just yet, but the stage is set for Klopp's former protege to use his vast amount of natural ability to help solve that perennial midfield conundrum at United.
It always seemed to be Ferguson's blind spot; finding that perfect creative partner that midfield anchor Michael Carrick so craves.
And as Klopp has masterminded a team of immense talent to the brink of Champions League glory, whilst still missing his former midfield dynamo, then that is testament to what Kagawa is capable of.
Rooney might want out, but with the right additions around him, that number 10 role just off the prolific Van Persie could well be the Japan international's to make his own to help Moyes take United forward into another era of Premier League success.