Ray Wilkins
Football Expert
David Moyes needs to win a single trophy to make a successful start, says Ray Wilkins
Ray Wilkins says that winning any trophy will give David Moyes a successful start to life at Old Trafford.
Last Updated: 01/07/13 8:15pm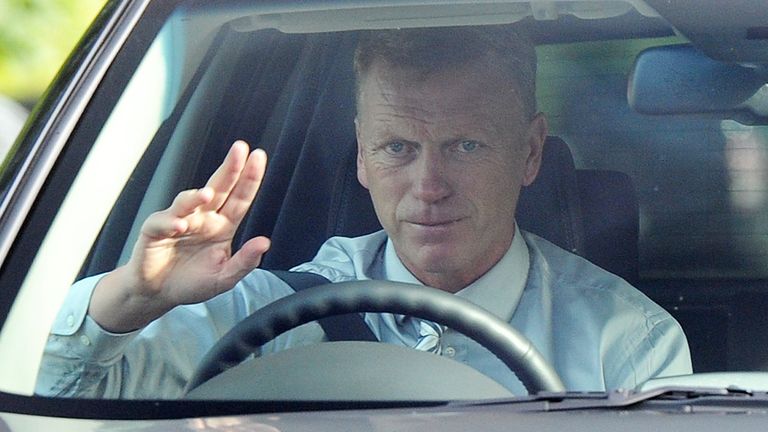 The new Manchester United manager arrived at Carrington this morning to start his six-year deal, replacing Sir Alex Ferguson and taking charge of the Premier League champions.
And former United midfielder Wilkins says that Moyes needs to win a trophy of any kind to ease the pressure that is already building following his decision to leave Everton and move to Old Trafford.
"Everyone has to understand that there will be new players coming in and players will go out and David will have to put his imprint upon Manchester United," he told Sky Sports News HD.
"But if he can win a cup this season - or even the Premier League - I think the supporters will say 'good first season, lets crack on.'
"I wouldn't say anything derogatory on the Capital One Cup because last year we had some fantastic games in it, but Moyes certainly needs to win a trophy.
"It is a tough task but is one that everyone would want. If you're looking at being at the top of your job, to go to Old Trafford would really be one of the jobs you wanted."
Obstacle
Wilkins also believes before a ball is even kicked, Moyes needs to resolve the Wayne Rooney issue, one way or the other.
Ferguson's parting shot was to reveal that the England striker wanted to leave Manchester United this summer, rather than team up again with his former Everton boss.
Wilkins admitted he wouldn't be surprised if Rooney left but warned Moyes that if he does sign for another club, it cannot be one in England.
"I think it's a major obstacle that they have to overcome," he said.
"But I've got to say if I was David Moyes from a purely selfish situation, as far as Manchester United are concerned, I would sit down with Wayne Rooney and say 'if you really want to leave then you can leave, but if you think you are going to stay in England you've got another thing coming. You are going to have to leave the country.
"I wouldn't have Rooney going to the likes of Chelsea, Arsenal or Man City so that he can wreck United's chances of winning the Premier League.
"I don't want to see it happen because we need the best players and the best coaches in our league but certainly I would want him to leave the country rather than play for another club here."
Employment
Wilkins did back Moyes's decision to let some of Ferguson's most successful signings - his backroom staff - leave the club.
The new Manchester United boss has brought former Everton employees Steve Round (assistant manager), Chris Woods (goalkeeping coach) and Jimmy Lumsden (assistant coach) with him, meaning the likes of Mike Phelan are without a job as the countdown to the new season starts.
Wilkins was full of praise for Phelan in particular but believes while it is going to be impossible to "draw a line in the sand" and forget what Ferguson and his staff achieved, bringing his own men was at least a step in the right direction.
"I think he's made the right choice to bring them along," he said.
"I don't think they needed much persuading to follow him because it is a fantastic football club and they're looking to get better and better as well. It's a delight for him (Moyes) to have them join him.
"I think David was always going to bring in people he knows and that's the way it works. Sir Alex had his options to bring in his men and he used them to the best he could.
"I sincerely hope that the guys that have left, like Mike Phelan, will find employment somewhere else because they have done a fantastic job as the backroom staff to Sir Alex over a number of years.
"I really hope these guys can be employed again because it will be a really big loss to our game if these guys aren't employed elsewhere."