Man Utd stats
As we continue the build-up to the forthcoming Premier League campaign, with help from Opta, Sky Sports picks out some key stats for Manchester United fans to consider ahead of the new season.
Last Updated: 24/07/13 9:46am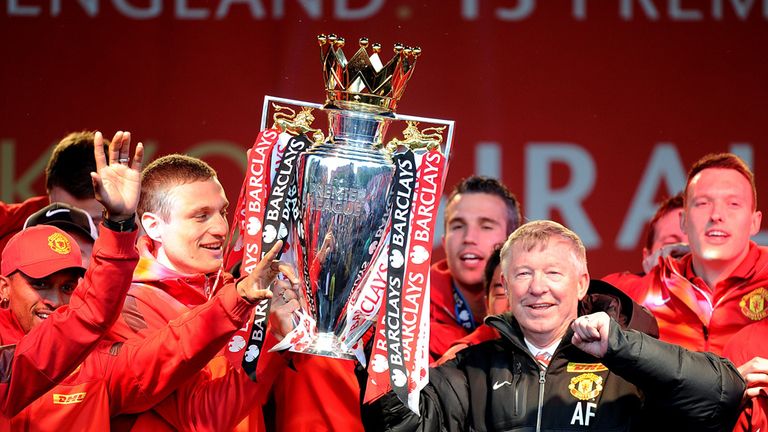 Sir Alex Ferguson's final season as Manchester United boss could only finish one way. A comfortable title win, regaining their crown after the last minute agony of the season before. It seems strange to say about a team who cruised to the title, but for long spells of the 2012-13 campaign United didn't look all that impressive. We are often told that the sign of a really top side is to win when you aren't playing well; Ferguson's side did that and were deservedly crowned champions for a record 20th time.
There will certainly be things that the new man in the hot-seat, David Moyes, will want to address as he takes on the unenviable task of replacing his fellow Scot.
One area that Manchester United fans have been crying out for improvement in for a number of years is the centre of midfield. Michael Carrick was widely praised last season as he patrolled in front of the back four for the Old Trafford outfit and kept things ticking over in the middle of the park as United looked to build attacks.
The England playmaker was able to show off his range of passing as he got his side on the front foot by playing more passes into the final third of the pitch than any other player in the league during 2012-13.
Passing - PL 2012/13
Player
Passes into final third
Player
Passing acc. final third (min 1000 passes)
Michael Carrick
487
Mousa Dembele
87.02%
Steven Gerrard
480
Samir Nasri
86.86%
Bradley Johnson
432
Mikel Arteta
85.86%
Asmir Begovic
431
Shaun Maloney
85.13%
Mikel Arteta
417
Tom Cleverley
84.10%
He was often paired with another England man, Tom Cleverley, and the youngster proved himself capable of performing for a top Premier League side and his ability to find a teammate in the final third has been particularly impressive.
Whilst the duo have done well, Carrick in particular, it is no secret that Moyes is looking for a new midfield man. A player who can provide a goal threat and regular assists from midfield could help take United to another level and having missed out on Thiago to Bayern Munich, the Red Devils will be keen to move quickly to find an alternative with both Cesc Fabregas and Marouane Fellaini reported targets.
Goals (open play) - PL 2012/13
Team
Goals (open play)
Man Utd
52
Liverpool
50
Tottenham
46
However, whether they lacked the necessary creativity last season or not, the champions scored more goals than any other side in the league and importantly, more from open play than any other Premier League team.
That was largely due to the exploits of front man Robin van Persie. The Dutchman arrived from Arsenal and lived up to expectation by claiming the Premier League golden boot. The striker is cpable of scoring various types of goals but it was his ability to sniff out a chance in the box that most helped Ferguson's United. He netted more goals from inside the penalty area than any other player during the 2012-13 campaign and will hope to continue that sort of form under his new manager this time around.
Goals (inside box) - PL 2012/13
Player
Team
Goals inside box
Robin van Persie
Man Utd
23
Luis Suarez
Liverpool
18
Michu
Swansea
17