Premier League: David Moyes coping well with tricky United baptism
David Moyes is coping well with what is a tricky baptism at Manchester United, says Jeff Stelling.
Last Updated: 17/08/13 2:10pm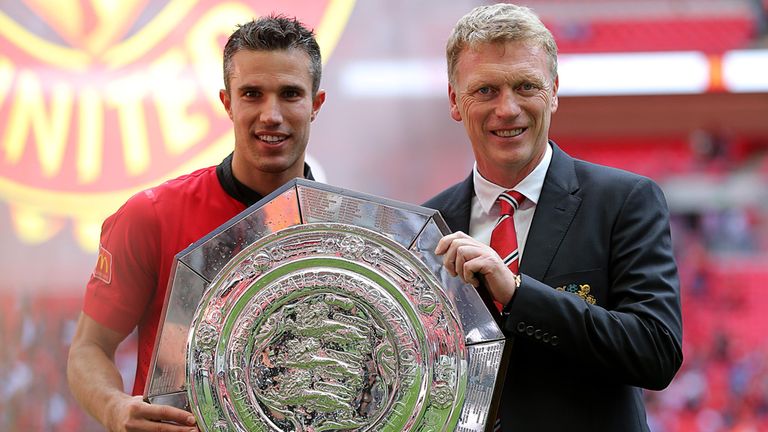 This weekend's Soccer Saturday will be the first featuring Premier League clubs when Sir Alex Ferguson hasn't been in charge of United and you can bet that all eyes will be on Moyes' first team selection for the Saturday Night Football game at Swansea, on air from 5pm on Sky Sports 1 and 3D.
Taking over from Sir Alex was always going to be a tricky baptism but so far I think Moyes has coped with the challenge exceptionally well. It feels like hardly a day has gone by where I haven't seen him pop up somewhere on TV and United seem that bit more approachable as a result.
Jose Mourinho and Manuel Pellegrini must be thinking 'this if fantastic!' because aside from the continuing speculation about the futures of Luis Suarez and Gareth Bale, most of the attention has been focused on whether Wayne Rooney will be a United player once the transfer window closes.
Moyes isn't showing the strains of what is clearly a difficult situation and I can't help wondering if Rooney is being used as a bargaining chip to be played at the last minute to bring another big player into United.
I don't buy all this stuff about 'you don't sell to a rival club'. Since when has that applied? United sold Carlos Tevez to Man City, Arsenal have sold Robin van Persie to United, Ashley Cole to Chelsea, Liverpool sold Fernando Torres to Chelsea.
If United aren't going to sell Rooney to an Arsenal or Chelsea, who are they going to sell him to? PSG, Real Madrid? Aren't they rivals too in terms of the Champions League?
Staggered
In the grand scheme of things Moyes has won the only game that matters so far, the Community Shield, and I'm sure he'll be encouraged by what he's seen from his players so far.
Danny Welbeck was named man-of-the-match in England's friendly win over Scotland in midweek and Tom Cleverley made a solid contribution as well.
I was absolutely staggered to see United third-favourites for the Premier League title because all of their younger players - and there are plenty of them - have a year's more experience under their belts and I think they'll be better equipped to win the title than they were last season, when they won by 11 points.
I know you have to factor in Sir Alex's departure but I still see United as favourites because in Van Persie they have a world-class goal-scorer.
You can certainly argue that Sergio Aguero fits the bill for City but how successful will Romelu Lukaku be at Chelsea? There's a big difference between scoring 17 league goals for a West Brom side with no real expectation than playing for a club where there is a huge burden of expectation.
We'll have to see, I guess, and Chelsea may well rely on Fernando Torres or Demba Ba again. Either way I think that, all things considered, United have the squad to come out on top.
City are the biggest spenders so far this summer but they spent plenty of money last season, too, and finished second so it's a question of how those new players bed in and adapt to life in the Premier League.
The same question hangs over Pellegrini. I loved watching Malaga play under his management in the Champions League last season but this is a very different job with very different pressures. Without Carlos Tevez and Mario Balotelli, I can see City finishing second again.
Chelsea have a midfield to die for; by my reckoning Juan Mata was almost as good as Gareth Bale was for Spurs last season. Mourinho's side will do well box-to-box but they will need to finish more chances and I'm not sure they will, so I'd have them down to finish third at the moment.
Tough
At the other end of the table everybody will say that Crystal Palace and Hull are favourites for the drop and I would add Sunderland to that list.
Paolo di Canio is volatile and unpredictable as a manager and while they've brought in a raft of players, some of whom like Emanuele Giaccherini have a good pedigree, you can't say that of them all.
There had to be some changes but the jury is out on how successful those changes will be and without Simon Mignolet and Danny Graham (and it looks as though Lee Cattermole is on his way out, too) then they could be in for a tough ride.
The other manager I fear for is Mark Hughes at Stoke because he has a bit to prove after what happened at Queen's Park Rangers. He's a top guy and I like him a lot but there doesn't seem to have been the money available that there has been in previous seasons.
Jeff's early season wish-list
End the Strictly Come Dancing/WWE fiasco that goes on in the penalty area at every set play: Players wrapping arms around each other and wrestling opponents to the ground has just got to stop. I'd love to see referees clamp down hard on that in the opening weeks of the season rather than turn a blind eye to what is clearly visible to everybody. Award penalties when it happens and it will mean that good movement in the box is rewarded rather than stopped unfairly.
Clubs to show more patience with managers: I heard recently that Martin Allen is already under pressure at Gillingham. How can that be? He got them promoted last season - they won the title and were never out of the top two. How can he possibly be under pressure after two league games at a higher level? So I hope that's wrong and I hope we don't see any dismissals within the first two or three months.
I hope we see as many goals as we have in the last few seasons: Last season's Premier League tally was only three short of the record, so let's hope for games in the vein of West Brom 5-5 Man Utd. Oh, and it would be nice to see Hartlepool score their first league goal of the season soon!
Jeff's Gem of the week
Rickie Lambert: Anybody who watches Southampton will tell you that he is an outstanding striker with a wonderful touch and a great eye for the goal. He's talismanic for Southampton and a lot of people couldn't understand why he was overlooked for England honours for so long. The only possible reason was that his roots were in the lower leagues. On Wednesday I thought his goal struck a blow for lower league football but for everybody in any walk of life who has come from modest beginnings but has the determination to prove what can be achieved with raw ability and hard work. His smile after he scored was just fantastic. I dare Roy Hodgson to leave him out of his squad now - and I don't think he will!