Match analysis
There may have been no new faces in the Manchester United line-up against Swansea but the Premier League champions showed their quality in an emphatic 4-1 win. Adam Bate examines David Moyes' first league game in charge.
Last Updated: 18/08/13 2:34pm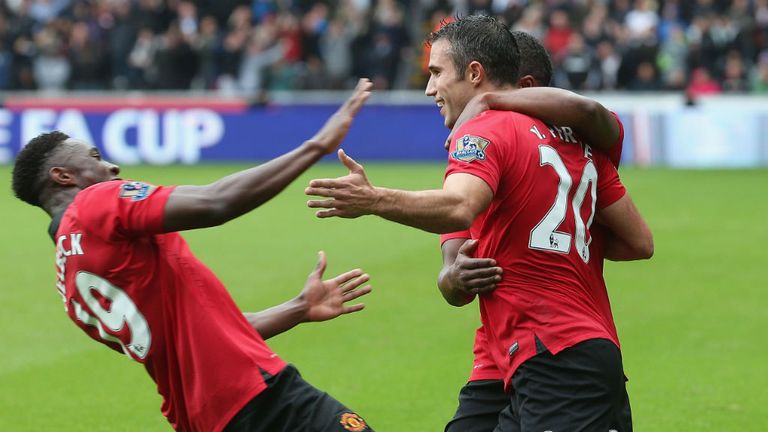 With Manchester City spending big and Chelsea welcoming the returning Jose Mourinho, Manchester United have found themselves installed as third favourites to retain their Premier League title. The Old Trafford faithful might feel a little bemused by that after a 4-1 win over Swansea at the Liberty Stadium ensured it was three points for David Moyes in his first league game in charge.
Robin Van Persie and Danny Welbeck scored a goal apiece before the break - and then duly repeated the feat after the interval. Swansea new boy Wilfried Bony did get a goal for the home side in the second-half but by that stage the points had been sealed with Wayne Rooney coming off the bench to provide a couple of assists. Here we take an in-depth look at the game...
Selection
The focus before kick-off was on Rooney as the forward was named among the Manchester United substitutes. That intrigue aside, Moyes went with a predictable line-up by picking nine of the players who won the FA Community Shield at Wembley last weekend, including Michael Carrick who missed England's game against Scotland on Wednesday through injury. Antonio Valencia replaced Wilfried Zaha on the right, while the suspension of Rafael saw Rio Ferdinand come in to partner Nemanja Vidic as Phil Jones moved to right-back.
Wayne Rooney on bench for #MUFC. Interesting to see what reception he gets

- Daniel Taylor (@DTguardian) August 17, 2013
Swansea's season was already up and running due to their involvement in the Europa League but the two-goal hero from the 4-0 demolition of Malmo was omitted. Ivory Coast international Bony was left on the bench after playing for his country against Mexico in New Jersey in midweek. That decision by Michael Laudrup saw Michu - who had scored in his two previous games against the Premier League champions - play as the lone frontman with Jonjo Shelvey in support. Jose Canas made his league debut in midfield in an otherwise familiar Swans line-up.
Where it was won and lost
In the early stages there was little to suggest United would go into the break two goals up. Swansea began brightly, closing down high up the field and playing their customary passing game. In fact, United didn't get a kick of the ball in the first minute and Ferdinand was only just able to cut out a Shelvey through-ball in the second. "There's only one team playing football at the moment," noted Sky Sports pundit Gary Neville in the 14th minute.
But when you have Robin van Persie, you have the difference maker. His presence once again proved that dominance and fluidity are not prerequisites for victory. And while Victor Anichebe battled manfully for Moyes last season at Everton, it's a different story when the Dutchman can bail you out like this. His opening goal turned the game and the fact that he added to it means he now has nine goals in his last eight Premier League appearances.
Laudrup will be frustrated by how the opener came about as slack defending saw Chico sucked towards the ball, while Angel Rangel played Van Persie onside from the right-back position. It still required remarkable vision from Ryan Giggs to loft the pass over the defence rather than play the anticipated short pass and Van Persie was able to do the rest with a powerful finish on his weaker right foot.
Searching for evidence of Moyes' influence is a tricky business when the champions are so experienced and the wait for the Scot's first signing goes on. But given the way that Leighton Baines was such an important part of Everton's attacking play over recent seasons, it was interesting to note the performance of Patrice Evra. The French left-back played in an advanced role reminiscent of Baines, with his average position being more akin to that of Valencia than Jones on the opposite flank. It was effective as Evra provided the cross that led to Welbeck's first goal and United's second to double the lead late in the first half.
Dream H/T score line for Moyes, even if #mufc were patchy/laboured at different stages.He'll just want 2 get this 1 out of way with win tho

- James Ducker (@DuckerTheTimes) August 17, 2013
Laudrup changed things around at half-time in an attempt to get back into it but given that United have won 133 of the 136 Premier League games in which they've had a lead of two goals or more at the break, it was a forlorn hope. The belated arrival of Bony in favour of Leon Britton did provide Michu with some support and there were some encouraging signs for Swansea in the way the two forwards interacted. A cushioned header from Bony almost set-up his team-mate before he was able to mark his Premier League debut with a goal himself thanks to a composed finish.
However, by that point we'd been treated to the introduction of Rooney - given a generous reception by the travelling support. Any fears of an inhibited performance by the purportedly wantaway forward soon dissipated. Not only did he provide the quick lay-off to find Van Persie in the build-up to the third goal, he also followed it up with the driving run that bought his colleague the split second he needed. Rooney's overlap caused Ashley Williams to back off slightly and Van Persie did the rest.
After Bony pulled one back with his goal, Rooney had a second assist. But the game's final goal was all about Welbeck. The statistic that the England forward scored just one Premier League goal last season seems to have entered popular culture over the summer and it must grate with the man himself. For while Welbeck's overall contributions continues to be praised there is no disputing the fact that he needs to score more goals. Two here means that the 2012/13 tally has been doubled on the opening day and if the first was the sort of tap-in he must deliver more regularly, the second was an exquisite chip that highlighted his class.
Two assists for Rooney. Two brilliant goals from Van Persie. Two - yes, two - goals from Welbeck. Moyes may be on the look-out for a midfielder but it's worth remembering that it was the sheer goalscoring power of Manchester United that fired them to the title last time out. If the evidence of Saturday is anything to go by then there's every chance of a repeat - no matter what the bookmakers say.
Swansea v Man Utd
Swansea
Man Utd
Chances Created
13
9
Big Chances Created
2
1
Goals
1
4
Laudrup view
"For the first half an hour everything went as planned. We did what we should do and passed the ball around. I think they had one shot on target and suddenly you saw that difference. A very difficult finish from Van Persie and then the second one we made a couple of mistakes there. Two goals in two minutes - it's too difficult to come back from there. I made changes at half-time and we had a few chances. But again, you saw the class of Van Persie. The third goal is outstanding and then you know it is finished. In the end you just have to say the difference was in the finishing."
Moyes view
"Swansea had a lot of the ball but I think that any team who comes down here will find that they pass it very well. But we limited them to very few opportunities and although we probably scored a little bit against the run of play it was a brilliant goal. The goals we scored were quality goals. It was that little bit of difference and we've got that. We could have played a little bit better in the game but overall I'm more than happy with winning the game 4-1."
Jamie's view
"It's been a perfect day for David Moyes. I think the performance of Van Persie - we all knew what Van Persie could do. But Moyes will be even more delighted by Danny Welbeck today. He challenged him to get more goals in pre-season and he's delivered. All the question marks about whether he could handle the pressure, he's proved that today. It's a great performance. Swansea were just a little bit flat. Not quite at the level we are used to seeing them play. It didn't feel like they had that incisive aspect to them. The goals took the sting out of them."
It's natural that the summer focus should be on the likes of Luis Suarez, Wayne Rooney and Gareth Bale as the transfer speculation continues. But this was a timely reminder who the Premier League's main man still is. No prizes for guessing the Sky Sports man of the match award went to Robin van Persie. His opener changed the course of the game and his second goal sealed it. Van Persie received a 9/10 mark for his performance but his new manager might well feel it was rather better than that. "He has been the difference," said Gary Neville. "A special player."