Football Expert & Columnist
John Terry and Rio Ferdinand: still key for their clubs, says Jamie Carragher
John Terry and Rio Ferdinand will play key roles for their title-chasing teams, says Jamie Carragher.
Last Updated: 26/08/13 7:43am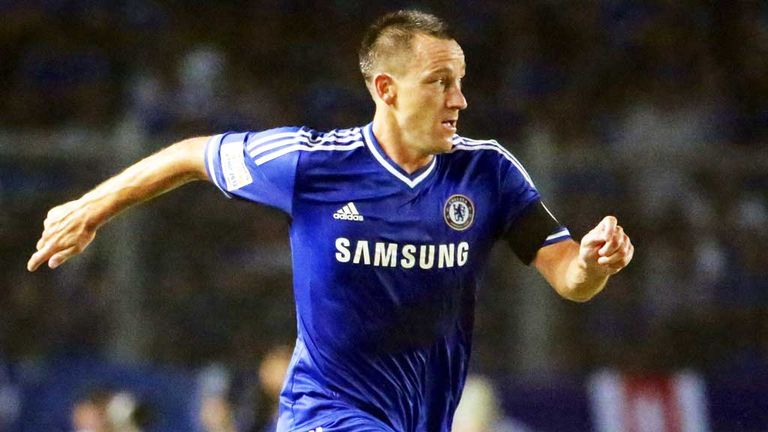 He has the shirt at the moment and you would expect it to be him and one of Gary Cahill and David Luiz in the massive games because of his dominance and aggression.
People might argue that John has lost some of his legs but he is a great leader, and a great reader of the game, while he is also very good on the ball, something that he doesn't get enough credit for.
I think he is as good technically as Rio, but just doesn't have Ferdinand's pace.
Rio, meanwhile, had one of his greatest seasons at United last year and even though there is lots of centre-half competition with Phil Jones, Chris Smalling and Jonny Evans, his experience will be vital, especially with David Moyes being new to the club.
United have to manage him properly because of his back injury but if they are fit, Ferdinand and Nemanja Vidic are as a good a partnership as any in the Premier League and should play together often, just as they did at Swansea on Saturday.
Remarkable
Ferdinand and Vidic will play a big part in Man United's push for the title but the main man will probably be Robin van Persie again; he was a standout player last season and looked like he had never been away with his performance against Swansea. He was on fire.
People have raised question marks about United's manager but I have no doubts at all that he will be a success; he didn't win a trophy at Everton but the consistency his team showed in the Premier League season after season was absolutely remarkable.
The midfield is not a big issue for me either; there has been talk about it for a long, long time but United have still won titles and the fact they won the league by 11 points last year suggests they aren't particularly short in that area!
I'm sure Moyes would like to get Marouane Fellaini but let's not forget that they already have Michael Carrick, who was fantastic last season.
He has always been an excellent passer of the ball and being at United and playing under real pressure has brought his game on leaps and bounds.
Carrick will be one of the first names on United's team sheet and I think you can say the same about Eden Hazard at Chelsea; he was good last year but I think he will even better this time having had a season to settle in.
Injuries
I think Chelsea could probably do with another midfielder, though.
They have Frank Lampard but Ramires likes to bomb forward and I'm not sure how much Jon Obi-Mikel is going to figure under Jose Mourinho so perhaps they could do with a Claude Makelele type.
But the centre-forward area is the key; I fancy Chelsea to win the title but if they don't sign a striker and go with only Fernando Torres, Demba Ba and Romelu Lukaku, I would probably change my mind slightly and pick one of the Manchester clubs.
Torres was fantastic at Liverpool for the most part, but injuries haven't helped him at Stamford Bridge and I don't think the Chelsea team is set-up to get the best out of him, whereas the Liverpool team he played in was.
He has been at Chelsea for a long time now and while he did okay under Rafa Benitez and scored goals in cup competitions, he doesn't look like he is going to be the man in the Premier League - but Wayne Rooney could be.
People talk about strikers' strengths and weaknesses but Rooney's greatest strength is that he is a good striker and I'm sure he would fit in at Chelsea with the quality players he would have alongside him.
We'll see if Rooney plays for United against Chelsea on Monday Night Football and I can't wait to watch the game; I would have been excited seeing it on my sofa at home but getting to analyse the teams in the studio before and after the match will be great.
Make sure you join us!