Champions League draw: Arsenal, Man United, Man City, Chelsea and Celtic groups assessed
Jamie Redknapp, Dwight Yorke and Charlie Nicholas assess the British sides' Champions League draws.
Last Updated: 30/08/13 9:49am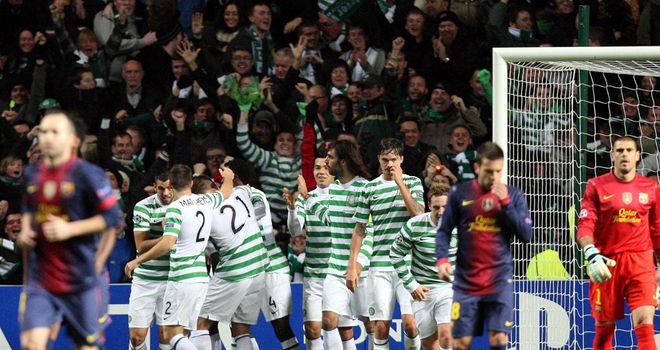 Premier League champions Manchester United will be satisifed with their three opponents after avoiding any big guns in Group A, while their neighbours Manchester City must face Champions League holders Bayern Munich in Group D.
Jose Mourinho's Chelsea will have to overcome Schalke to top Group E, while Arsenal face last season's runners-up Borussia Dortmund in a tricky Group F.
However, Celtic have been handed the toughest draw of the lot with Barcelona, AC Milan and Ajax in a blockbuster Group H.
Sky Sports experts Jamie Redknapp, Charlie Nicholas and Dwight Yorke were on hand to assesses the chances of the British sides. Here's what they told Sky Sports News...
Group H - Barcelona, AC Milan, Ajax, Celtic
Charlie Nicholas: I think it's fabulous for Celtic. They've beaten Barcelona, they've beaten AC Milan and they've beaten Ajax in the past. There were easier draws for Celtic but to get three really good sides, with the history that's in this group, is unbelievable. This is pure Hollywood.
Redknapp: It's dream stuff. You've got Messi, Balotelli... enjoy that. The atmosphere Celtic have created over the last few years at home has been incredible and I can't wait to watch Group H - it's going to be something to behold. You can't discount Celtic, though, because of their home record. They might need a little bit of luck with the draw and get to play Barcelona home last, when Barcelona are already qualified - little details like that need to go your way - but make no mistake: Milan and Ajax will not be looking forward to coming to Parkhead. It's going to be a tough place to come. This is going to be enjoyable all the way.
Dwight Yorke: I'm sure Celtic are going to take a lot of confidence from what they achieved last season, beating Barcelona at home. We know Parkhead is a fantastic stadium and Celtic have a fantastic fanbase - the atmosphere is electrifying. Come the group stages they are going to give themselves every chance. Going away from home, if they can pick up points that would be great, but 'take care of business at home' would be the message I'd expect from Neil Lennon.
Group A - Manchester United, Shakhtar Donetsk, Bayer Leverkusen, Real Sociedad
Yorke: I'm sure at Manchester United everyone will be relishing this opportunity. David Moyes will be extremely happy with that draw. It's all about getting through to the knock out stage as quickly as possible, getting points on the board and I'm sure that's what Moyes will be looking at. There will be some exciting games there and the German teams are always tough to play against but I'm expecting United to advance from that group.
Redknapp: It's a tough group. I'm looking forward to seeing my old mate Sami Hyypia, who is doing a really good job at Bayer Leverkusen coming back as well. Sociedad are a really good football team and seem to be progressing nicely. A couple of years ago Shakhtar would have been a really difficult draw but they've lost Fernandinho, Willian and Henrikh Mkhitaryan - important players who have left. So they're not the force they were a year or so ago.
Nicholas: This could have been a bit kinder. You want Shakhtar away pretty early on because that's a dangerous one. Sociedad have got a lot of young talented kids but it will be a football contest, given the way they like to play. So it's a tough draw for United but a good one.
Group D - Bayern Munich, CSKA Moscow, Man City, Viktoria Plzen
Redknapp: Considering City are in pot C and what they had to go up against last year, this is a great group for them. They had Dortmund and Real Madrid and Ajax last year and that's as tough as it comes. But I'd be amazed if they don't get out of this group. They have the quality players and they've improved. They have to get out of that. There'll be no excuses this time because they'll never get a better chance while they're in pot C. This has fallen kindly for them.
Nicholas: They've been waiting for a bit of luck in this competition and not been convincing at times but this is a no excuse situation for Manuel Pellegrini. He must get through this - and he should. They need Vincent Kompany fit soon though because last season their defending was their Achilles heel. They've got bags of talent going forward but are still vulnerable and lack experience in this competition.
Yorke: I agree 100%. City are relatively new in this comeptiton. They had two years under Roberto Mancini without really progressing or making anything happen. This is a great opportunity for them to progress from the group stage, though, and if they don't there are some serious questions that need to be asked. The one thing to look at is the travel arrangements but it is straightforward to players now: you get on the plane and it is all prepared for you - there's no excuses. Yes, it's a four, five hour journey to Moscow but that's nothing to these players. The one question is if they get Munich early can they put up a resilient performance and show what they're capable of?
Group E - Chelsea, Schalke, Basel, Steaua Bucharest
Redknapp: I don't think they could have had a better draw if Jose had done it himself; it's absolutely perfect for them. Schalke have got to the quarter-finals in two out of the last three years while Chelsea beat Basel in the semis of the Europa League last season, although Basel did beat Spurs so they have some quality. With Steaua the only problem is geographically it's a long trip for them. But that's a really, really good draw for Chelsea.
Nicholas: All the dangers that were spinning around Chelsea never came into it and Chelsea have got a comfortable group. They've got a touch.
Yorke: Chelsea will look at these teams and fancy their chances. The draw has been very kind to them and Jose and the players will be delighted with that. Even though they are good teams you expect Chelsea to advance quite easily. Jose can get the best out of them and the Champions League will be something he'll want to achieve with them this year. I expect them to advance through the group stages and be a threat. No one will like playing against them.
Group F - Arsenal, Marseille, Borussia Dortmund, Napoli
Nicholas: It's terrifying! It scares me! We always beat Marseille home and away but then I'm thinking 'oh no' when we get Dortmund. Two seasons ago we got a draw there, but this isn't the Arsenal team of two years ago and we need to add to it. But Napoli is a horror, too. They have Gonzalo Higuain; I said Arsenal missed a trick when they didn't buy him and will he come back and haunt them? We know their manager Rafa Benitez can go there and do well; Napoli played at the Emirates in pre-season where it ended up a draw but they gave Arsenal a tough time. Napoli have added good bodies and this is a very, very difficult draw for Arsenal as it stands right now. Higuain is a goal scorer and that's what Arsenal struggle with.
Redknapp: Arsene Wenger always seems to manage to do it but this will be one of his best Champions League efforts if he can get Arsenal out of this group.
Yorke: Arsene Wenger knows he needs to strengthen his team. Mathieu Flamini joining will be a good addition to his squad and I'm expecting a few more signings before the market closes. But I think Arsenal will have enough in their locker, if they can get one or two more players added to their squad, and I expect them to qualify as well.