Fair fit Fellaini
Marouane Fellaini was not the star name many Manchester United fans were hankering after but Alex Dunn argues the transfer make senses and that the Belgian will add a new dimension to David Moyes' squad at Old Trafford
By Alex Dunn - @skysportsaldunn
Last Updated: 05/09/13 8:59am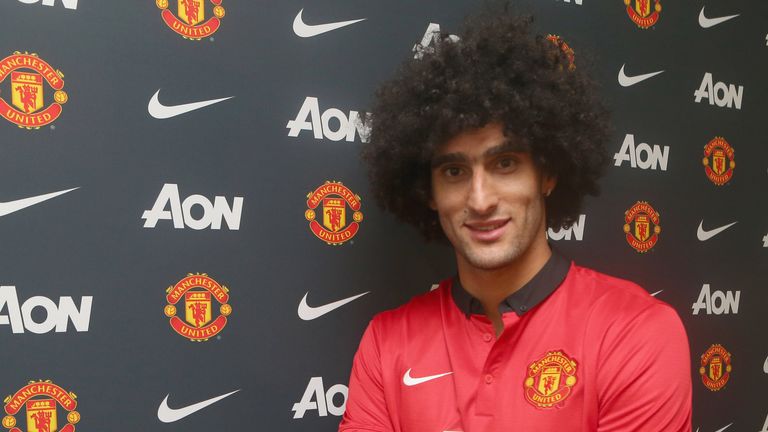 In a Manchester restaurant late on Monday evening a group of United supporters were overheard loudly lamenting the club's transfer policy amid a myriad of failed bids for that elusive box-to-box midfielder. Dessert was ruined as news filtered through of an attempt to sign Ander Herrera having faltered, while for one diner coffee has never tasted more bittersweet than when the yellow ticker confirmed that Marouane Fellaini had become the club's fourth most expensive signing ever at £27.5million, some £4million over his release clause that expired on July 31. When the bill arrived another was heard to mutter 'the food here is terrible - and such small portions'.
That story borrowed heavily from Annie Hall and there is a pervading sense that another Woody Allen quote, 'confidence is what you have before you understand the problem' best describes a summer transfer window overseen by David Moyes and vice-chairman Ed Woodward. From calamitous to disastrous to plain incompetent the epitaphs have not made pretty reading. The spectres of Sir Alex and David Gill are proving as haunting to their successors as Don Revie's was to Brian Clough back in 1974.
Fellaini's signature has been interpreted by many to be almost an afterthought. Moyes settling for a Bully Tankard when if he'd gambled he might have woken up on Tuesday morning with a spanking new speedboat on his drive. Super, smashing, not so great. Moyes has conceded he's operating in a different market these days and at times he's had the look of the lottery winner not quite sure of the etiquette in Harrods. It's a point perhaps best illuminated by Michael Calvin in his book The Nowhere Men, via an interview with Moyes' head of technical scouting at Everton, James Smith: "If Manchester City waste twenty million, which they've actually done at times, it doesn't really matter in the big scheme of things. So twenty on Jo, twenty on Roque Santa Cruz. If Everton waste £20million we'll wait a long time to get anything like that again. David Moyes spends the money likes it's his own."
It's a philosophy that tends to be appreciated in boardrooms and would explain a reluctance to meet Herrera's buyout clause set at £30.5million by Athletic Bilbao.
Purported failed bids for Thiago Alcantara, Cesc Fabregas, Leighton Baines, Fabio Coentrao, Sami Khedira, Gareth Bale, Luka Modric, Wesley Sneijder and Herrera may give the impression of a manager operating with wanton abandon but it stretches credulity to breaking point to suggest Moyes is picking targets by sticking a pin in his Rothmans. Say what you like about the Scot but his professionalism is unimpeachable. The research that went into potential signings at Everton was exhaustive to the nth degree, according to Calvin: "Moyes has produced what he calls an 'MOT Test', where players are judged against a checklist of up to 12 criteria for each position. The optimum aim is to have up to 50 reports on a primary transfer target, written by between ten and twelve scouts'. To his detractors his whispered moniker of Dithering Dave is well earned but as Arsene Wenger is always quick to attest, it's better to buy right than to buy big.
United supporters may have preferred Mesut Ozil to Fellaini but there's not much call for speedboats in Manchester.
Ferguson may have ruled the club with an iron fist in an iron glove but his relationship with his players was fatherly at times, albeit with adoption papers always close to hand. The trust he held in his senior players is well documented and yet Moyes' bond with his former charges is seen as a slight rather than strength. Fellaini has become shorthand for 'safe', but at £27.5million is safe not a good thing?
Had Herrera, who if reports are to be believed will be targeted again in January, been snared on deadline day the mood would have been jubilant. That he is a fine player is not in question but in Moyes' bedding-in-period, does a 24-year-old Spanish schemer without full senior international honours and alien to the frenetic pace of the Premier League and English culture really represent a more measured purchase than Fellaini?
Moyes and Fellaini may be well acquainted but the Belgian knows not to expect kid gloves in Manchester: "He is a decent man, a great manager, but believe me he can be tough. If you want to win something, to create a good team you have to be hard sometimes with the players - football is like this.
"I remember when I was banned after the Stoke game, he gave everyone the day off - everyone: The players, the entire staff - but I came to the training camp to do a training session with him. It was just me and him, and it is not easy to go into the camp to face him like that.
"He put me through a tough session... it was a full-on session, running, shooting, passing, everything and very intense, and afterwards I was upset. I said afterwards, 'Arggh, this is bad', but I am happy when he looked after me, so I understand."
Adrian Durham remains sceptical in the Daily Mail: 'Let me start with a question: would Sir Alex Ferguson have signed Marouane Fellaini? No doubt Fergie made some dubious signings in his time, but I just don't think he would see the Belgian as United quality. I'll leave you to ponder it.'
Disregarding the fact his own paper said Ferguson was readying a bid in February, the general consensus seems to be Fellaini, who is considering trademarking 'awkward' a la Bale and his crap goal celebration, may do a job at United but is not a player capable of elevating them in any way whatsoever.

In terms of aesthetics it's a fair point but given football is not solely about artistic endeavours, the fact he's a beast of a man rather than a poet of a player is unlikely to lead to a point deduction for United, despite the protestations of the purists. However backhanded Ferguson's praise of Fellaini was after Everton beat United on the opening day of last season the fact it exists at all says a lot. "Fellaini is a handful. He is a big, tall, gangly lad and they just lumped the ball forward to him. That's all they did. They worked from that base all the time and they got a goal from him, so it's justified." For those United fans that pine for the nastiness that has lay dormant in their midfield since Roy Keane bid his farewells, Fellaini is not dissimilar to another old favourite Norman Whiteside in this respect.
A common assumption is that Fellaini is too cumbersome and squanders possession too readily to be effective at the highest level but this season, when used by Roberto Martinez in his preferred position as a holding midfielder, his passing accuracy eclipses both Michael Carrick and Tom Cleverley. Indeed, against Norwich on the opening day Fellaini attempted his most ever passes in an Everton shirt at 81 with 91 per cent accuracy, up from a 79.29 average in 2012/13.
Premier League 2013/14
Player
Games
Successful passes
Failed passes
Pass accuracy
Marouane Fellaini
3
196
24
89.09%
Tom Cleverley
3
182
26
87.50%
Michael Carrick
3
174
29
85.71%
Fellaini has said: "Sometimes I look at myself and ask, 'What is my best position?' I think it's a defensive midfielder, that's the best one. The manager (Moyes) might like it sometimes when I play up front because I can cause trouble for the defenders, but for me my best position defensive midfield - stopping the opposition and then looking to impose myself on a game."
The absence of Shinji Kagawa from United's line-up has proved worrying for many supporters and the signing of Fellaini is only likely to exacerbate such frustration given he's almost an exact diametric opposite of the Japanese midfielder. Where Moyes chooses to employ Fellaini will be fascinating given he spent last season as the world's hardest No.10 behind either Nikica Jelavic or Victor Anichebe. The fear is that the predilection Moyes showed at times at Everton to go direct will be even more tempting now United have a clear target to hit. However, for Fellaini to regularly be in the position to knock down for Robin van Persie it would likely mean Wayne Rooney cast as the fall guy, which seems unlikely given the extent the club has gone to to keep him.
Rather than look at Fellaini's prowess in the air as a potential long ball trap to fall into, why not embrace it as a potential get out of jail free card? A lack of invention was the cry of despair at Liverpool on Sunday, but this claim conveniently forgot that this was the quintessential United performance at Anfield. It wasn't great but then they rarely are. In terms of effectiveness, had United hit Fellaini in the box on Sunday in the last 20 minutes there are few players in the Premier League who'd panic Daniel Agger and Kolo Toure as much as the new boy.
Premier League 2012/13
Player
Games
Goals
Shots
Assists
Chances created
Aerial duels won
Michael Carrick
36
1
12
4
37
17
Marouane Fellaini
31
11
65
5
40
151
Tom Cleverley
22
2
14
2
19
4
There's no question Fellaini splits opinion and while a lack of Champions League experience leaves a question mark over his ability to mix it in Europe's premier club competition there's little disputing his effectiveness on a domestic level. A lack of goals from the centre of United's midfield was a conundrum Sir Alex failed to solve in his final years at Old Trafford and this is an area where Fellaini should be able to add real value. He bagged 11 in the league last term, compared to the three Carrick and Cleverley shared. That he attempted 65 shots compared to 12 and 14 respectively says much about his advanced role at Everton but as a punchier presence, as opposed to the neat and tidy but all too often peripheral Cleverley, he should complement Carrick nicely. Carrick's game management remains a joy to behold and his intelligence and ability to know when to hold will be key as Fellaini looks to find his feet in the next few months.
Fellaini may be neither the name nor type of player to provoke the scenes of jubilation seen in north London upon Ozil's capture, but in terms of Moyes' first major signing don't bet against him proving to be as savvy a buy as it is safe over the next few years.