Barcelona's Gerard Pique picks his ultimate starting XI...
The Barcelona defender picks his best starting XI and there's plenty of talent to choose from...
Last Updated: 13/09/13 12:18pm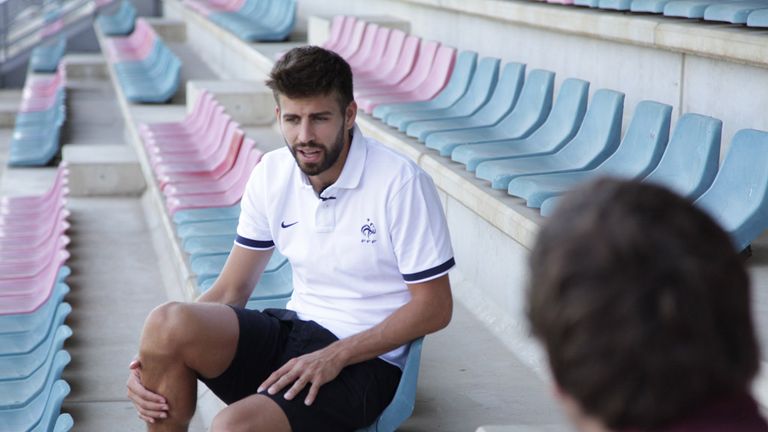 The Spain defender has featured for two of the world's biggest clubs - Barcelona and Manchester United - and has claimed an impressive haul of trophies during his time in the game.
He's won the World Cup, the European Championship, the Champions League (three times), La Liga (four times), and the Premier League - and he's also bagged himself Shakira as girlfriend. Not a bad effort for a 26-year-old...
This is Pique's #One2Eleven...
GOALKEEPER - Victor Valdes
I think he's one of the best I've seen because he's really good with his feet and at playing from behind. We need this at Barcelona because we like to play from the defence, not throwing long balls. At the same time he makes saves at the most important moments; for example, in the final of the Champions League, he was always there and he was one of the key players when we won in 2009 and 2011 against Manchester United.
RIGHT-BACK - Dani Alves
He knows how to defend, but at the same time he's really good going forward. He sometimes makes it difficult for a centre-back because he leaves the defence and goes forward to attack, but you know that when you play for a club like Barcelona we like to play really offensive and sometimes we don't have players to defend and you have to deal with it.
CENTRE-BACKS - Rio Ferdinand and Carlos Puyol
This is tough because at Manchester United I played with Rio and Nemanja Vidic - who I think are one of the best pair of centre-backs I've seen. In the national team I play with Sergio Ramos and at Barcelona I play with Puyol.
If I have to choose two... Puyol because he's like a brother to me and I've learnt a lot from him, he's an example of how to be a captain and how to be a centre-back.
Then Rio because he likes to be offensive, too. He likes to play the ball from the the defence and I really like him as a player. He really likes to make jokes and in a dressing room you need to be fun, we had a really good dressing room with Patrice Evra and Nani also.
LEFT-BACK - Eric Abidal
He was one of the best defending left-backs I've seen when he was here. He is tall, so when we had corners against us he would really help and he can go forward, too.
MIDFIELD - Sergio Busquets, Xavi and Andres Iniesta
In midfield we are playing with three, so I think one of them has to be defensive. It's tough to choose between Michael Carrick and Sergio Busquets, but I'll go with Busquets. I think he understands the game really well and we need this in Barcelona because when Dani Alves and Jordi Alba go forward you need a midfield player that will stay with the centre-backs.
I have no doubts over the other two midfielders. I will go with Xavi and Andres Iniesta. I think they are absolutely brilliant, magnificent. They know how to play this game, it's all about having the ball all the time, controlling the game and the possession of the ball and I think that they are two of the most important players that we have at Barcelona right now. They've helped us win so many titles over the years.
ATTACK - Lionel Messi, Wayne Rooney and Cristiano Ronaldo:
I think I'll go with Messi - he's the best in the world, no doubt about it. Leo came here when he was 13-years-old; he was really shy, he didn't want to talk to anyone. Even now he's the best the player in the world he's still the same. It's amazing because noramlly when you're the best and feel better than the others your character changes. I'm really proud to be in a team with him, to be with the best player is amazing.
Then also up front I have to go with Wazza and Cristiano Ronaldo.
Wayne Rooney is one of the most aggressive players, he can score goals, he can defend, he can pressure, he can do everything and was always a really good player for the team. He wants to play for Manchester United now, but one day if he wants to leave, the door is open in every team in the world. I think he could play here in Barcelona, or at Real, because he's a top player.
And then Cristiano Ronaldo. We know he's one of the best two with Messi. I think they are fighting all the time to be the best. He can play on the wing, he can play as a striker. He's really complete, tall and strong and he can do whatever he wants, he's a machine. I want him in the team, too.