Fifty years on
On September 14th 1963, George Best made his debut for Manchester United. Football was never quite the same again as 'El Beatle' made his mark on Britain and the world. Sky Sports looks back on that debut and the mayhem that followed the Northern Irishman throughout his eventful life
Last Updated: 13/09/13 2:29pm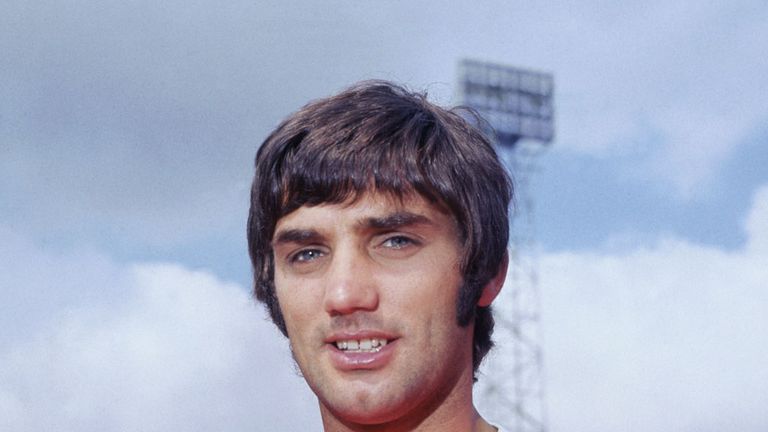 At around 10am 50 years ago on Saturday, David Sadler jumped into a taxi cab in Chorlton in the suburbs of Manchester alongside a 17-year-old stripling of a lad who was about to embark on a journey which would bedazzle the world of football.
That boy was George Best.
Imagine the excited chatter as the pair, who shared a bedroom in the council house digs of Mrs Mary Fullaway, shook the sleep from their heads and made their way to the Davyhulme golf club where Manchester United's players regularly enjoyed their pre-match meal at around midday on Saturday.
Three hours later Best had pulled on a United first team shirt for the first time and was trotting out at Old Trafford for his first division debut against West Bromwich Albion, a match which United won 1-0.
Sadler, a precocious centre forward who was also 17 and who later played in midfield and central defence, scored the winning goal in that game but cannot remember a thing about it.
He can remember, however, the manner in which Best announced himself on the wing, handing a lesson in Northern Irish trickery to his opposing fullback, a stocky and experienced Welsh international named Graham Williams.
Sadler recalled: "Graham was a smashing guy, but he was almost as broad as he was tall and he was a real toughie. George didn't score that day or run up the line like Roy of the Rovers but it was clear to everyone that we had something here which was out of the ordinary.
"I didn't realise then he would be the best player I ever played with.
"But if George was nervous, it was not apparent in the build-up to kick-off. Nobby Stiles was pacing up and down in nothing but his football boots in the changing room while the rest of us were busy using the toilet facilities. It was nerve-racking. But with George it was as though he was going for a stroll in the park rather than playing football in front of 60,000 at Old Trafford.
"I remember that, but I can't remember if I scored the goal with my boot or my head, probably it went in off my backside."
Former United midfielder Pat Crerand also played in that match and was also taken by the chasing Best meted out to the unfortunate Williams. The next summer Crerand, with a handful of United players, ran in to Williams in a bar in Majorca.
"Williams came up to me and said 'Will you introduce me to George, I've only ever seen him from the back?"' said Crerand. "You have to remember George was just a bag of bones then, he looked like some waif who had not been fed for a couple of months. But he had tremendous courage and knew he had a special ability. That's why we are still talking about him 50 years later."
For Sadler the West Brom match will be another occasion to treasure fond memories of sharing his formative years with the man who went on to court fame and scandal on and off the field.
"We used to go through matches in our heads together at Mrs Fullaway's," Sadler said. "We were literally living the dream, both 17. I'd come up from Kent and he had come across from Ireland and we were doing what every teenager wanted to do. I'd made my debut a few weeks earlier and mortals like me were scared to death running out in front of 60,000. It never scared George. He would be outside chatting to his pals or his family before kick-off. The trainer often had to go and drag him into the changing room 25 minutes before the match began."
Strangely, after starring on his debut, Best was dropped to the reserves before scoring his first senior goal in his second appearance in a 5-1 win over Burnley on December, 28, 1963.
Yet one of Sadler's fondest memories of Best came later that season when they were part of the United side which won the 1964 FA Youth Cup, the sixth under the management of Jimmy Murphy and the first since the 1958 Munich air disaster.
Sadler scored a hat-trick in the final.
"You'd think I'd be the star man after scoring three, wouldn't you?" said Sadler. "Well I wasn't. All three were tapped in from three yards after George had beaten defenders here, there and everywhere and passed the ball to me. The fact I was centre forward at United for a while was due entirely to George."
Best timeline
1946: Born May 22, Belfast.
1963: Leaves school and turns professional with Manchester United. Travels from Belfast with Eric McMordie, who went on to play for Middlesbrough, to Old Trafford. The pair return to Northern Ireland because they are homesick but United manager Matt Busby travels after him and persuades Best to come back to Manchester. Makes First Division debut on September 14 against West Brom at Old Trafford.
1964: Makes Northern Ireland debut, seven months after making his first-team debut, against Wales in Swansea.
1965: Helps United win their first league championship in eight years.
1966: Mesmerises Benfica, regarded as one of the finest teams in Europe, by scoring twice in the opening 10 minutes as United become the first team to inflict a European defeat on the Portuguese side in the Stadium of Light. United win 5-1 and Best is hailed as 'El Beatle' by the fans. One supporter runs on the pitch at the end with a knife wanting a lock of Best's hair.
1967: United win league championship.
1968: Manchester United become the first English team to win the European Cup, Best scoring in a 4-1 extra-time triumph over Benfica at Wembley. Picks up the English and European Footballer of the Year awards.
1970: Scores six goals in an FA Cup fifth-round tie at Northampton. Sent off playing for Northern Ireland against Scotland in Belfast for throwing mud at referee.
1971: Withdraws from the Northern Ireland squad after threats on his life. Scores a hat-trick against Cyprus in Belfast.
1972: Announces retirement.
1973: Makes short comeback after making peace with new United boss Tommy Docherty before again retiring after another bust-up.
1974: Plays for Jewish Guild of Johannesburg but his short spell in South Africa is characterised by his heavy drinking and gambling lifestyle. Dunstable Town manager, his former Manchester United team-mate Barry Fry, persuades him to turn out for his club in a friendly.
1975: Plays for Stockport on loan, making three league appearances and scoring two goals, before becoming one of the leading lights of the newly-formed North American Soccer League with the Los Angeles Aztecs and joining Cork Celtic.
1976: Joins Fulham, making 42 appearances with eight goals.
1977: Makes the last of 37 international appearances for Northern Ireland against Holland in Belfast.
1978: Joins Fort Lauderdale Strikers in America but a wrangle over his registration between the American club and Fulham leads to FIFA imposing a worldwide ban on him. Marries first wife Angie Macdonald James in Las Vegas.
1979: Plays for brief spell with Hibernian in Scotland.
1980: Signs for San Jose Earthquakes and begins treatment for alcoholism.
1981: Scores what he later described as his favourite goal in a 3-2 win over former club Fort Lauderdale. Son Calum Milan Best is born.
1983: Plays five times for Bournemouth before finally retiring.
1984: Jailed for drink-driving offence.
1988: A testimonial organised by friends attracts 20,000 people in Belfast and raises £75,000 to help stave off bankruptcy.
1990: Causes storm of protest after appearing drunk and swearing on BBC TV's Terry Wogan chat show. Best claimed TV executives "plied" him with champagne before the performance.
1995: Marries Alex Pursey.
1996: Announces he would be interested in succeeding Jack Charlton as Republic of Ireland manager but FAI appoint Millwall boss Mick McCarthy.
1998: Joins Sky Sports as football pundit.
2001: December - Reveals he is on standby for a liver transplant.
2002: July 30 - Goes into hospital for transplant.
December 8 - Awarded a Lifetime Achievement Award at the BBC Sports Personality of the Year.
2003: August - Announced he was selling his trophies, including his 1968 European Footballer of the Year award, to raise money to buy a Greek home.
2004: February - Banned from driving for 20 months after pleading guilty to drink-driving.
April - Divorced from wife Alex.
2005: July - Cleared over allegations of indecently assaulting a teenage girl.
October 1 - Doctors at the private Cromwell Hospital in west London reveal Best is in intensive care with kidney problems. Condition improves over the next few weeks.
November 18 - Suffers severe setback in his recovery as he contracts a new infection and is put on a life support machine.
November 25 - Dies in hospital, aged 59.