Football Expert & Columnist
Jamie Carragher praises Pablo Zabaleta ahead of Manchester derby
Which players will be key in Man City's pursuit of the title? Jamie Carragher nominates Pablo Zabaleta...
Last Updated: 19/09/13 5:10pm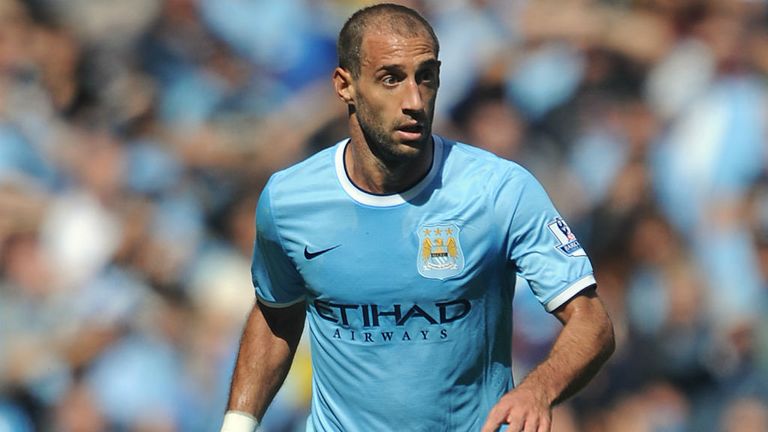 Sergio Aguero and Yaya Toure are key but if they are missing you have more people to replace them with, whereas if Kompany is out you don't really see City being able to call upon someone of his quality as cover.
I think you saw that last season when he had a period out of the team through injury and if he has a long spell out this year it could be a similar story, even though City have signed the experienced Martin Demichelis.
But another of City's most important players is certainly Pablo Zabaleta; he was in the PFA Team of the Year last season and got my vote for that because there are no frills with him and he just gets on with the game.
He does everything with the minimum of fuss and has kept Micah Richards, a quicker, stronger and more athletic player, out of the right-back spot for the majority of time he has been at the club because he is such a competitor.
Zabaleta never stops running and never starts complaining and is the type of guy that every professional footballer wants to play alongside; he is like Gary Neville - but better!
Quiet
City haven't hit the ground running this season - but that's not a complete surprise.
There were fantastic in the first game against Newcastle, which they won 4-0, but they have got a new manager and four or five new players and it is going to take them time to find their feet.
City lost to Cardiff a few weeks back and then had to go to Stoke - which is never easy and is especially tough for people who have never experienced it before - so they have had it tough and the new boys have been pretty quiet.
Fernandinho, along with Yaya Toure, was outstanding versus Newcastle on Monday Night Football and Jesus Navas gave them pace and width, too
But since then there has been a bit of a lull, though lots of teams have been like that with the international games disrupting some of the rhythm.
I hope there is a rhythm to Sunday's Manchester derby and it lives up to the billing that the United-Chelsea game on Monday Night Football didn't.
People have said David Moyes was cautious when he took United to Liverpool, but he went 4-4-2; things didn't really happen for them on that day at Anfield but it was not as if they went out there thinking negatively.
Going out to win games has been United's style and that won't change under Moyes, but if we get an early goal on Sunday that could make the game even more exciting.
We saw how lively things got when Swansea took the lead almost straightaway against Liverpool on Monday and a similar situation could really light things up at the Etihad.
Physical
It's intriguing to compare City and United's squads, too.
David De Gea has improved a lot since he joined Man United a couple of seasons ago, bulking up and getting used to the demands of the Premier League, but I would still rather have City's Joe Hart as my 'keeper because he is a great physical specimen.
However, if I was asked to pick between the strike forces of City (Aguero, Edin Dzeko, Alvaro Negredo and Stevan Jovetic) and United (Wayne Rooney, Robin van Persie, Danny Welbeck and Javier Hernandez), I would go for Moyes' options.
There's not a lot in it but all four of United's strikers are proven in the Premier League - some, of course, to a bigger extent than others - whether that's starting games or coming off the bench to make an impact, but a few of City's forwards still need to show they can cut it in England.
Selecting the best striker amongst those eight names is tough and you could argue that it is Rooney, who played extremely well in the Champions League against Bayer Leverkusen on Tuesday night and can operate in the hole or right up top.
But I would say at this precise moment it is Van Persie, who has had a few great years stretching back to his time at Arsenal and was probably the deciding factor in United winning the title last year.