Ed Chamberlin looks forward to the Manchester derby and Arsenal v Stoke
Ed Chamberlin looks forward to David Moyes and Manuel Pellegrini making their derby debuts.
Last Updated: 20/09/13 1:26pm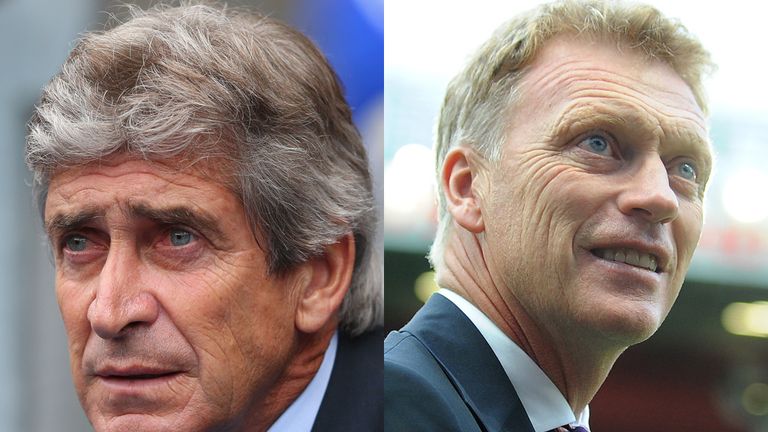 It's guaranteed to be better than the offering at St Mary's last Sunday. The stalemate between Southampton and West Ham was a major anti-climax. Saints seem to have made a problem for themselves with the signing of Dani Osvaldo.
Mauricio Pochettino seems intent on playing both Osvaldo and Rickie Lambert in the starting XI, which has upset the 4-3-3 system that was working so well. However, it's early days and I'm sure a solution will be found.
Monday's show was quite a contrast as we got an excellent game at Swansea, largely thanks to Jonjo Shelvey, and had a couple of interesting debates in the studio. Gary Neville and Jamie Carragher discussing the cultural differences when it comes to defending was absolutely fascinating.
They explained how in this country central defenders adopt a safety first policy to keep things tight at the back, while in Europe and South America centre backs are eager to step out, be more aggressive and take more risks.
Gary explained how Cristiano Ronaldo told him that when Gerard Piqué first arrived at Manchester United he was going to be one of the best defenders in the world. G Nev told Ronaldo he was mad. From a tough start in Manchester, Piqué has done pretty well!
This came to a head because of a couple of errors David Luiz made in Chelsea's defeat at Everton. Yet this is a player who captains Brazil, is prepared to take risks and can have a major influence on a game. Is that approach the right way or the old school English method of safety first? The debate will continue.
The other lively discussion was over who was the better midfielder: Paul Scholes, Steven Gerrard or Frank Lampard. We needed to extend the show for another hour for that one.
Giroud health
On the pitch this weekend our first game is Arsenal against Stoke. Mark Hughes has got his team playing well but they face a tough test at the Emirates as Arsenal are on a real roll. It sums up our game when only a few weeks ago the club were meant to be in a crisis and fans were calling for Wenger's head, yet now they're going well in the Champions League, have signed one of the world's best players and are down to 8/1 with Sky Bet to win the Premier League.
Jamie Carragher was right when he signalled out Olivier Giroud for praise. Giroud had an impossible act to follow at Arsenal. He arrived at Arsenal as a direct replacement for Robin van Persie, who had just scored 30 Premier League goals in a season and been voted Player of the Year in England.
Giroud was on a hiding to nothing but after some early criticism has quietly gone about his business and is now starting to get the recognition he deserves. Giroud has started to make the Arsenal fans sit up with his involvement in play and subtle touch on the ball. His near post finish in the north London derby was exquisite.
He then became just the eighth player in Premier League history to score in the first four games of a season. Ozil and Wilshere will get the column inches but with their limited resources up front, Giroud holds the key to Arsenal's season.
For all their brilliance, with Aaron Ramsey again to the fore, there were still signs of vulnerability against Sunderland and big tests are still to come when their back five are up against top class opposition. Until Arsenal have beaten a Napoli, United, City or Chelsea all the old questions still remain.
Derby day
After the game at Arsenal all eyes will be on the Etihad for the 166th Manchester derby. It's been an autumn of debuts for David Moyes but this time it's also the first taste of this derby for his opposite number Manuel Pellegrini.
It will be strange not having Sir Alex Ferguson involved on the touchline as this is the first derby since October 1986 that Sir Alex has not been Manchester United manager. That day Ron Atkinson's side drew 1-1 against Jimmy Frizzel's City at Maine Road - Frank Stapleton opened the scoring before Mick McCarthy equalised. Atkinson lasted just three more games before being sacked.
What a welcome sight it must have been for City fans this week to see Vincent Kompany leading the team out at Viktoria Plzen. He's such an important figure at the club and City have been a noticeably better side with him in it, winning 58% of those Premier League games compared to 47% without him.
An equally pleasing sight for United fans was Wayne Rooney scoring twice in in Tuesday's Champions League win to become only the fourth player to score 200 goals for Man Utd - Sir Bobby Charlton (249), Denis Law (237) and Jack Rowley (211) are the others. Rooney's 200th came in his 406th appearance - a strike rate of nearly a goal every two games goals. Impressive.
The away side won both games last season. In fact the visitors have won five of the last six meetings in all competitions including the 2011 Community Shield when United won 3-2 and were allocated the 'away' dressing room.
At this early stage of the season both teams, and particularly their managers, will be desperate not to lose. It will be intriguing, intense and tight and is such a tough game to call. We start at 12.30pm on Sky Sports 1. Hope you can join us.