Carrick the key
Manchester United's midfield has been bolstered by the arrival of Marouane Fellaini this summer and it could allow Michael Carrick to become more influential. Pete Hall looks at the impact Carrick could make if allowed greater freedom - starting against City on Sunday.
Last Updated: 21/09/13 2:49pm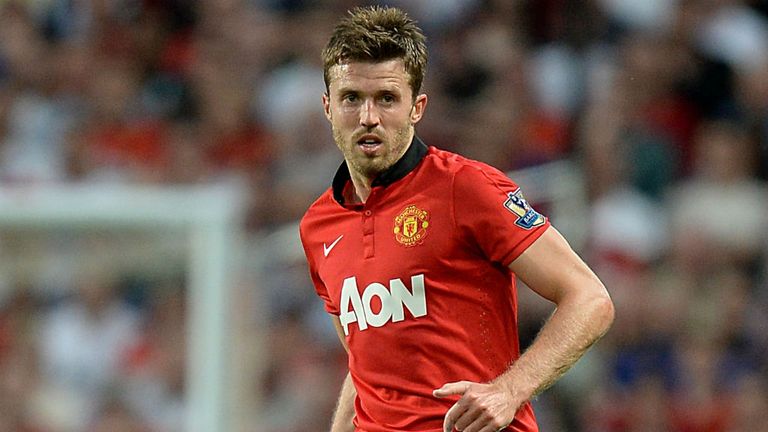 The arrival of Marouane Fellaini hardly got the Manchester United faithful's pulses racing after a summer being linked with the likes of Cesc Fabregas and Thiago Alacantara came to nothing.
However, after United's victory in their Champions League opener against Bayer Leverkusen on Tuesday night, David Moyes put paid to many theories out there that the acquisition of the Belgian was to fulfil the number 10, trequartista role, instead implementing his physicality at the heart of the Red Devil's engine room.
Ahead of Sunday's already crucial Manchester derby, Moyes seems to have a solid set-up that goes along with his principles.
With Fellaini able to nullify the threat of arguably Manchester City's most potent weapon, Yaya Toure, Michael Carrick will have more freedom than he has ever had before. And, as he did in midweek and against Crystal Palace, he can unlock the rigid City defence and draw first blood in the race for the title.
For the majority of his seven previous seasons at Old Trafford Carrick has had to sit deep and calmly spread the play, rather than bursting into more attacking positions and unleashing a ferocious strike at goal that fans know he is capable of.
With results of paramount importance, he has never had the freedom before, and has had to act as defensive cover - a role he has accomplished with aplomb over the years.
But there has always been something more to his game, something being held back, which he was able to produce in glimpses but never on a regular basis.
Support for the England midfielder has always been hard to find, with Paul Scholes, in the twilight of his career, Carrick's most consistent partner throughout his time at the club.
But now, with £27.5million pound Fellaini able to add adequate cover to the United rearguard, the multi-faceted Carrick can finally make the most of his talents, starting at the Etihad against those noisy neighbours on Sunday.
"He can play different positions, score goals and is effective in different areas of the field," Moyes said on Fellaini's arrival, but the 25-year-old is likely to be an altogether more specific role on Sunday.
With Fernandinho as the deep-lying playmaker, Manuel Pellegrini will be relying on the powerful Toure to cause United problems with his late arrival in the box, a threat which Carrick would normally have been entrusted to stifle.
However, Fellaini's height and stature make him the prime candidate to go toe-to-toe with the Ivorian - a mouth-watering clash that could be as explosive as the Roy Keane and Patrick Vieira battles of yesteryear.
This frees up Carrick to play in a slightly more advanced position, and be the instigator of United's attack, potentially linking up with an in-form Wayne Rooney and the talismanic Robin van Persie to devastating effect.
In United's comfortable victory over Crystal Palace, Carrick made a staggering 11 interceptions, all further forward than he is used to, positions where his plethora of passing attributes could be utilised.
When you consider that Arsenal only made eight interceptions as a team in their victory over Sunderland, Carrick's energy in preventing attacks before they happened is all the more impressive.
Moyes' men produced what many believed was their finest display of the season in their victory over Sami Hyypia's side on Tuesday night, with Fellaini and Carrick instrumental in the fluency of the Red Devils' play.
Both made 84 passes, with many of Carrick's much further up the pitch, causing a beleaguered Leverkusen backline all sorts of problems all evening.
If Carrick can get into similar positions in Sunday's derby, then he can have the same effect on Pellegrini's side, and Fernandinho will have his work cut out to stop the experienced Carrick picking out his men in key areas.
"It's Carrick you know, hard to believe it's not Scholes," often reverberates around the Old Trafford terraces, with fans knowing full well Carrick is capable of.
And in the latter stages of his career, still in prime condition, the 32-year-old can have a new lease of life under Moyes, starting with masterminding the downfall of their arch rivals on Sunday to put United on course for what many believe is an unlikely Premier League title retention.