Gary Neville: Man City set standard after beating Man United 4-1
Gary Neville says that Manchester City have set the standard after beating Manchester United 4-1.
By Gary Neville
Last Updated: 23/09/13 1:16pm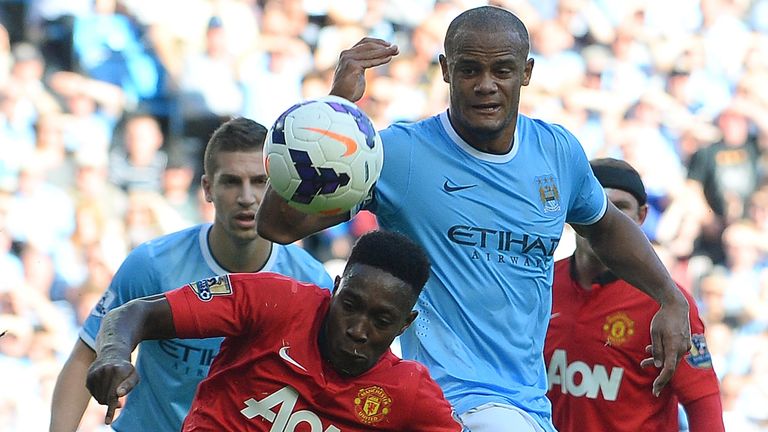 City were magnificent as they totally outplayed the reigning Premier League Champions at the Etihad Stadium. Sergio Aguero scored twice, with Yaya Toure and Samir Nasri also getting on the scoresheet.
Click here to read our match report
The win takes City to third in the table, two points behind joint leaders Arsenal and Tottenham, while United languish in eighth - and Sky Sports expert Neville says this was the first serious statement of intent from one of this season's title contenders.
"I think generally the quality so far this season has been poor," said Gary Neville on Sky Sports.
"What we have seen today is a performance worthy of the Premier League and to be fair, I think Manchester City have set the standard for everybody else.
"I don't think you can even say that United were bad - they just got driven back by Toure, by Vincent Kompany. It was just a brilliant performance from City."
Kompany class
Jamie Carragher was also impressed with City's performance and was left stunned by the performance of their skipper Vincent Kompany.
"City have made a massive statement today," said Carragher. "We have been talking all season about the big teams at the top and what is expected of them.
"No one has really set down a marker and this is the first performance where everyone is going to take notice - they have totally destroyed the champions.
"We shall see at the end of the season how much these type of results matter but it is a massive statement to make this early.
"As a centre-back myself, watching that performance I was just in awe. Kompany gave a performance defensively and attackingly - he was involved in some of the goals. I don't think I have seen a centre-back perform like that. He was not playing against Mickey Mouse players - that was England's front two."
Kompany was certainly impressive, but Neville opted to give the man-of-the-match award to Yaya Toure.
And he explained that his decision was based ont he midfielder's strong start to the match.
"I went with Toure as man of the match because when the game was really tough in that first 30 minutes, he took the game away from United," added the Sky Sports pundit.
"I thought in the first half he was the best player on the pitch for me. Vincent Kompany grew and grew in the game - the more United got possession the better he got but Toure's performance in the first half was sensational."
Neville was also surprised that United manager David Moyes did not make any changes at half-time.
"I thought he would have done something at half-time to change the impetus of the game," added Neville.
"Maybe see Valencia go to right back and Nani go on the outside, or even Kagawa coming in off the front and changing either one of the front players or the wide left. It warranted a change."