Forlorn hope?
Javier Hernandez remains a popular figure at Old Trafford so there was some sympathy when he expressed frustration at his lack of first-team opportunities last week. But Adam Bate fears the striker is a victim of a changing game - with the goal poacher forced to live on the periphery...
By Adam Bate - Follow @GhostGoal
Last Updated: 14/10/13 10:02am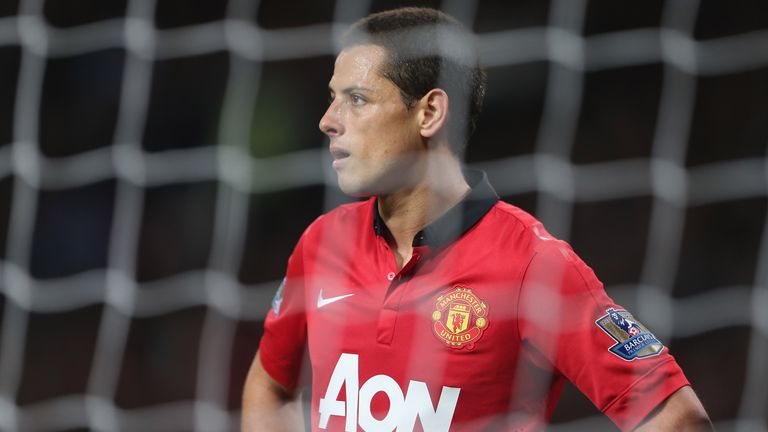 "I am going on four years here at Manchester United and, like I have always said, I am happy to be able to play for one of the best clubs in the world. I am happy, doing my best every single day to earn more minutes on the pitch. All of us want to be able to contribute our part so this team can win championships. I strive for that, I am working towards that - earning a spot as a starter. I know my performance on the pitch will allow me to achieve that goal some day either here or elsewhere for any other club. I just need to be given more opportunities to showcase what I can do."
You can understand the frustration. Javier Hernandez was a surprise hit for Manchester United in his debut season after an £8million move from Guadalajara in the summer of 2010. The man from Mexico possessed an extraordinary turn of pace and that oft-written about, seldom explained quality of the poacher's instinct. It yielded him 20 goals in that first campaign, a Premier League winners' medal and a starting berth in the 2011 Champions League final. Big things were predicted.
Since then the goals have continued... When afforded minutes on the field. An important caveat that, given there were only 948 of them in the Premier League last season. In old money that equates to ten-and-a-half matches to those strikers who would regard the mere sight of their number on the substitute board as a personal affront to their manhood. Hernandez was still one of just 27 players to reach double figures last year with a significantly superior goals-per-minute record to any of them. He's entitled to wonder what more he could do to get those precious starts.
Man Utd strikers - PL 2012/13
Player
Apps
Goals
Goals per 90 mins
Javier Hernandez
22
10
0.95
Robin van Persie
38
26
0.75
Wayne Rooney
27
12
0.53
Danny Welbeck
27
1
0.07
Former Manchester United manager Sir Alex Ferguson has been uncharacteristically apologetic throughout, frequently going on record to praise the efforts of such a reliable goalscorer and admitting he has to explain to the player the reasons for his continued omission. The Scot gave every indication that he wanted to play Hernandez but simply felt unable to do so. "If you look at the goals he has scored in terms of games he has played, he has a brilliant record," said Ferguson in March. "He will always have that because he is a fantastic penalty-box player."
A fantastic penalty-box player. And herein lies the problem. In a modern game that demands more, the perception remains that Chicharito is no more than a poacher. The ubiquitous 4-2-3-1 formation brings a need for a target in the centre or at least someone capable of bringing others into play. At United, that creates an either/or situation for Hernandez with Robin van Persie. As Wayne Rooney has infamously discovered, it's a battle that few players can hope to win.
When Hernandez has been paired with Van Persie in a 4-4-2 formation, both men have delivered. In their eight Premier League starts as a duo, the Little Pea netted five times. RVP bagged six. As a result, the 25-year-old could hardly be accused of holding back his more illustrious partner. Perhaps his pace even forced opponents to defend deeper, creating more space for Van Persie to utilise. Certainly, the team's results were not damaged by the presence of two strikers. Nineteen points from eight games is better than United's average return in a season in which they strolled to the title. Indeed, it would have been seven wins from their last seven starts together but for West Brom's extraordinary recovery to draw 5-5 in Ferguson's final game in charge.
Of course, that exhibition game is indicative of the less pressurised environment in which Hernandez has been handed his opportunities in recent times. None of his nine league starts came against top-six opposition and the last time the player was on the field to hear the Champions League music blare out was alongside Scott Wootton and Nick Powell in a dead-rubber home defeat to CFR Cluj in December. When the big games come around, it has been the defensive qualities of Rooney or Danny Welbeck that the manager has preferred. They are the players able to perform a dual role for the team by closing down opponents and dropping into the midfield.

Man Utd strikers - PL 2012/13
Player
Chances created
Chances created per 90 mins
Successful passes
Successful passes per 90 mins
Wayne Rooney
49
2.18
1026
46
Danny Welbeck
22
1.54
441
31
Robin van Persie
70
2.02
820
24
Javier Hernandez
14
1.33
220
21
Welbeck was the man entrusted with a starting role home and away against Real Madrid last season, scoring in the Bernabeu then playing the support role to Van Persie at Old Trafford by occupying Xabi Alonso before bursting forwards to join in the counter-attacks. As Ferguson pointed out towards the end of last season: "His value to the club is there because I know he can do a job for me in any of those positions. It's a fantastic asset when you have a player who is as adaptable as that."
Hernandez is not that player. In fact, the scarcity of his involvement in build-up play is remarkable. Ruud Gullit once pointed out to Sky Sports viewers the curious way in which notorious poacher extraordinaire Pippo Inzaghi would invariably run away from the ball until it reached the 18-yard box. It is alien to advocates of the Dutch school - consider how players in the Johan Cruyff inspired Barcelona team often move towards the man in possession to receive a pass - but it is natural for Hernandez. He is at his best when looking to latch onto the final ball, a pass over the top or that low cross into the area. A finisher of the move in the literal sense.
That is reflected in Hernandez's touch map for last season. Almost 25 per cent of the striker's activity came in a central position in the attacking third, far more than any other United forward. And the trend continues. In his only Premier League start of the current campaign, the home defeat to West Brom, Hernandez touched the ball inside his own half just once. This lack of build-up work means that on average there are gaps of well over four minutes between his passes - finding a team-mate just 21 times per 90 minutes.
Perhaps it is not the most damning of statistics, but given that finding the right blend between players is vital for a football team, the reluctance to trust Hernandez alongside Van Persie when the big games come around is perfectly understandable. Despite being something of a No.10 in his younger days, the powerful Dutchman prefers to loiter around the box these days himself. And dominating the ball against the best opponents with two out-and-out strikers is impractical.
His attitude is not in question. Hernandez is working at his game and there is an argument that he is not quite as one-dimensional as his critics would suggest. "He reminds me of an old-fashioned type centre-forward," says United team-mate Jonny Evans. "People don't realise he is quite a strong lad with a great jump." Ferguson has also noted that Hernandez works hard on his strength conditioning in order to adapt to the physical demands of English football.
But with Wayne Rooney's renewed desire to play as a centre forward, it seems Hernandez must content himself with a bit-part role at Manchester United or seek a move elsewhere. The problem for the man with the best strike rate in the Premier League last year is that leaving behind Old Trafford doesn't necessarily mean leaving behind his problems. The goal poacher is hoping for his big chance. But the game has changed. And for that reason, his hope could prove a forlorn one.