David Moyes can silence doubters with decent run of home games
David Moyes can silence the doubters by making the most of Utd's four home games, says Jeff Stelling.
Last Updated: 21/10/13 10:36am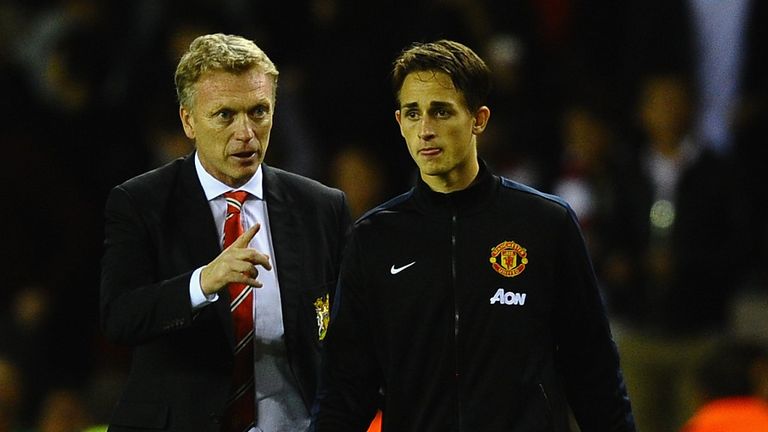 By now all of the managers will know whether their international players have come through unscathed or whether the World Cup qualifying campaign has cost them key players for weeks to come.
David Moyes should feel more encouraged than most after Robin van Persie's hat-trick for Holland on Friday, while Wayne Rooney was terrific in both England games, as was Danny Welbeck.
Saturday's game against Southampton marks the start of an important period for United who, lest we forget, are currently ninth.
This will be their first home game since they lost to West Brom - and they haven't lost back-to-back home games in the Premier League for 11 years.
It's also the first of four home games on the bounce for them, followed by fixtures against Real Sociedad in the Champions League, Stoke in the Premier League and Norwich in the Capital One Cup.
Doubters
Moyes has had some detractors so far this season and this run of home games represents a great chance to silence any doubters at Old Trafford.
He's already got Rooney back to his best, which is a major achievement, and everyone is now talking about the teenager Adnan Januzaj - Moyes wasn't afraid to put him in the team and it paid off.
So rather than dwelling on negatives, critical Manchester United fans should consider how very different the season could look at the beginning of November.
On the flip-side of the coin, of course, is the fact that United are up against a Southampton side that is flying in fourth after keeping clean sheets in the last five games.
Unfortunately for them, the World Cup qualifying campaign has cost them the services of Artur Boruc and I for one was mightily pleased he wasn't fit to play against England because he's been immense this season - although Wojciech Szczesny did have a decent game at Wembley.
It looks as though Kelvin Davis, who is a good goalkeeper, will be back for Southampton but it's an enforced change they wouldn't have wanted to make.
In contrast to United, City's next four games are all away from home - West Ham, CSKA Moscow, Chelsea and Newcastle.
When you consider that they conceded three at Cardiff and lost, and as many again in defeat at Aston Villa, a trip to West Ham will be a test for them - particularly after West Ham produced a staggering performance to win at White Hart Lane.
That result is bound to have done their confidence bags of good and City shouldn't think that victory at West Ham is a foregone conclusion.
Of all their new signings, I think only Alvaro Negredo has really made an impact so far this season and a few more of them need to stand up.
Talismanic
Come 5pm on Saturday I expect Arsenal to be top of the table but it will be interesting to see how they fare against Norwich given that Mesut Ozil has picked up an injury at a time when they are without Theo Walcott or Alex Oxlade-Chamberlain.
The impetus they've gained since Ozil arrived should be enough to see them through a game that on the face of it, they should win, but his absence is slightly worrying bearing in mind they've got Borussia Dortmund at home on Tuesday, which is a big, big Champions League game for them.
Ozil has quickly become a talismanic figure and Arsenal can't afford to pick up too many more injuries at this stage of the season.
Arsenal have got so much momentum that they will probably still be too good for Norwich, who have got a rotten record at the Emirates recently, having let in 15 goals in their last four visits.
Chris Hughton's side is currently in the bottom three but I believe they are in a false position because of the seven Premier League games that they've played at the moment, six of them have been against sides who when they played them were in the top half of the table.
Chelsea were on the rack at times at Carrow Road in their last Premier League game and needed two goals in the last five minutes - one of them an absolute worldy from Willian - to take the points.
For me Chelsea still have some way to go to prove themselves.
Yes, they were good in the second half against Tottenham but while they were decent against Steaua Bucharest in the Champions League that was a game you'd expect them to win.
Chelsea are traditionally strong at home and should beat Cardiff this weekend but I'm still not absolutely convinced by them. Next week's game against Manchester City might give us a clearer sign of how much progress they are making.
Jeff's Gem of the Week
Swindon's 4-0 win at Rotherham gets the nod this week. Rotherham have been fantastic in the division so far but I would not have wanted to be in the home dressing room with Steve Evans after that result! I had one eye on the game and Swindon were absolutely under the kosh but once they scored they were suddenly a completely new side. Their home form has been so good - not just this season, but last season as well - that if they could just start to turn in some away performances of this sort of ilk as well - then they won't be far away from the play-offs at worst.