Football Expert & Columnist
Man United and Man City: Graeme Souness previews Champions League ties
Graeme Souness expects Man City to win in Moscow, but is struggling to call Man Utd's clash.
Last Updated: 29/10/13 12:12pm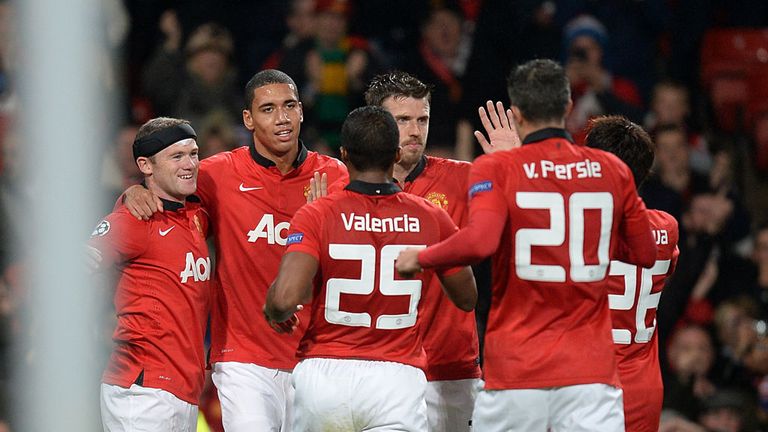 Of all the matches involving the British sides this week, this is the hardest one to call.
I say that because you don't know what Manchester United are this season. They are so unpredictable, they're failing to score the goals they normally score and they're leaking more goals than they usually concede.
Their goal difference in the Premier League is +1 after eight games, which tells you everything you need to know about their season so far. Under Sir Alex Ferguson they were a free-scoring side who out-gunned teams with regularity - but now that isn't happening and that's why they are not near the top of the league.
It feels like their season hasn't started yet. I thought they played really well in their Champions League game against Bayer Leverkusen and I thought that might have kick-started their domestic campaign. I thought they'd get a lot of belief and confidence from that performance, but they've not really got going.
As I've said before, I think Fergie squeezed, cajoled and bullied that set of players last year to force every last drop out of them and they ended up winning the Premier League quite easily. Yet I think it was the weakest group he'd had in years and years.
So the pressure is mounting on them and these are difficult times at Manchester United. David Moyes is relying on some of those big players - guys who in previous seasons have been classed as leaders and winners - to stand up and be counted. He really needs them right now.
However, I watched Real Sociedad a couple of weeks ago and they're not playing with great confidence either, so this is a chance for them to get a good result and kick-start their season.
It's so hard to call which Manchester United are going to turn up. Will it be the team that bashed up Bayer Leverkusen? Will it be the team that was sloppy in the Premier League?
For that reason, I really can't call this one.
CSKA Moscow v Manchester City
I believe Manchester City will go to Moscow and win on Wednesday night.
Going to play in Russia is not a hardship because of the way the top teams travel nowadays. Yes, it's not ideal to sit on a plane for four hours, but that's just part of being in the Champions League and it's not really a big problem for them. Psychologically it's part of the deal.
Everything will be arranged for the players and all of the aggravation will be taken out of it. They will travel first class; they'll go on a charter so they won't be hanging around the airport; they will probably have a police escort from the airport to the hotel so that will be kept as simple as possible; they'll stay in the best hotels; and I imagine they'll have their own chef in the kitchen.
The biggest problem is that they'll be sleeping on a different pillow and a different mattress, but the pain is taken out of these trips for the players today.
The main issue they will have to face in this game will be the state of the pitch, which has been unplayable at times this season due to heavy rain - but if you want to win trophies then you have to adapt and accept things aren't exactly how you want them.
I believe Manchester City have big players who can deal with that. I watched them against West Ham on Saturday and I thought they looked fabulous at times.
I feel Alvaro Negredo is the best partner for Sergio Aguero - Edin Dzeko is still a bit hit and miss for me - and I suspect those two will start. I love watching Aguero and I think Negredo complements him very well.
With those two in attack, I think Manchester City will have far too much quality for CSKA Moscow.