Kammy on referees opening up, Sunderland and Robin Van Persie
Kammy says refs should open up, fans should lay off Robin van Persie - and applauds Sunderland.
Last Updated: 17/11/13 12:10pm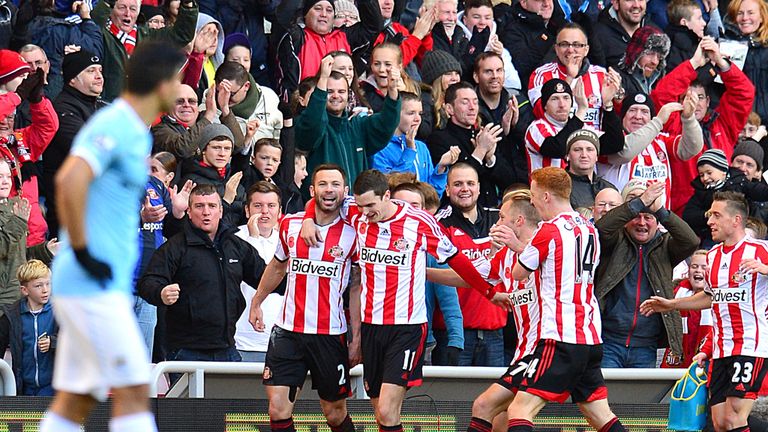 Time to get answers over dodgy calls
KAMMY SAYS: It wasn't a penalty at Chelsea or Swansea. It's just amazing. I was in the gantry at Stamford Bridge and even Chelsea fans were honest enough to admit it wasn't a penalty. If it wasn't a penalty from the gantry, it certainly wasn't from five yards. It wasn't a shoulder charge and Steven Reid was just running straight. However, we wouldn't have a programme on Sunday morning if they didn't keep making mistakes!
Stoke's penalty was also a mistake (with Wayne Routledge's 'handball'). It's so hard to get a penalty for a handball this season. Handballs inside a box deliberate? The law needs to be looked at. Over 90% of them are not deliberate and these decisions are being made by one individual. The referees should explain their decisions. Andre Marriner at Chelsea should have been asked - just the same as Jose Mourinho and Steve Clarke were - "You made a decision that flabbergasted everybody in the ground, how did you award the penalty?" They could come on live on Sky Sports.
Nobody would castigate them if they admitted to changing their opinion on reviewing the incident. We're all human but it seems to be as soon as they make a mistake they go underground. They stick together and wait until the next round of games and carry on until something else happens. They're a massive part of football and it's like they're saying: 'we're refs and we don't have to explain ourselves to individuals, clubs, fans' and that's what annoying to lots of people. They could say 'I can't change the result but given the circumstances, that wouldn't have happened'. It doesn't make it right but it would appease people.
Van Persie is not the bad guy being portrayed
KAMMY SAYS: Everybody I spoke to after the win at Dortmund were saying Arsenal would win at Old Trafford. The David Moyes team talk would have involved saying 'if you allow them to pass, they will destroy you and the first thing is we have to work'. It wasn't a quality performance but workmanlike. It's probably the worst I've seen Olivier Giroud, Aaron Ramsey and Mesut Özil play this season. That's down to the opposition not allowing them to play, though, and they did their homework right.
I know Arsenal fans are upset at Robin van Persie celebrating. Arsenal will always be a part of his life, but people have to remember that football is different. If you're working for HSBC and you leave for Barclays you immediately become part of the new company. Some people might think that if a club has brought you up and you move then you should show them some respect and not celebrate and not show any emotion.
When I left Portsmouth and went to Swindon, I scored two in one game straight away and the crowd were unmerciful! Van Persie has shown respect to Arsenal throughout the years, so when can that stop? When can you accept he's a United player? It's probably now because of the celebration. He wouldn't have anything but good stuff to say about Arsenal and he'll know and the fans will know deep down that he did a hell of a lot of good to that club. But he's a Man United player and that's it. I played for 11 clubs and while you're at a club, you perform. But when you score, you can lose your emotions. I fully understand the Arsenal fans but don't be too hard on Van Persie for celebrating!
Liverpool were great but Fulham are in a dogfight for survival
KAMMY SAYS: Fulham are in free-fall but don't take anything away from Liverpool. Even in the second half they kept going as if it was 0-0 and showed a lot of desire - they can only beat what's put in front of them.
Fulham don't look like a side ready to roll up their sleeves and scrap and Martin Jol has to address that. He's got battlers like Scott Parker and Steve Sidwell and he needs them more than ever to start the fight back - if he's allowed to continue in the job that is. Needing stability and looking at what Jol's done before, he deserves to carry on until it looks ridiculous. Nobody expected them to win at Liverpool but it's the manner of the defeat which is the problem.
Jol will know his fate is in the lap of the gods. But looking at the club's owner Shahid Khan, his NFL club Jacksonville Jaguars have a worse record than Fulham and he hasn't pulled the trigger there so perhaps he may survive!
Dimitar Berbatov is a wonderful player and it's been a masterstroke to give him the captain's armband to see if that gave him the spark to defend more. If you're looking for players to battle and scrap then you don't pick him but the Premier League is different. If Fulham are dominating the ball and getting it to him then he can change a game in a second. For that I would always have him on the pitch but you then have to make allowances. You have 10 players defending - closing down people is not his game. People are now looking for excuses at Fulham, but it's not just Berbatov not performing.
Spurs may have been unlucky but Newcastle's Tim Krul was an inspiration
KAMMY SAYS: What a performance by Krul in goal! You see those unbeatable performances every so often. You get a bit of luck as well where the ball hits you in the face or defenders make a miraculous clearance but you can only dream of playing a game like that and it makes you feel invincible. That is his day in the sun! Andre Villas-Boas's Tottenham players couldn't have done any more and they could easily have won 5-1. I'm sure Alan Pardew will be hoping Krul will have a few more days in the sun!
Poyet reviving Sunderland with great man management skills
KAMMY SAYS: A clean sheet against free-scoring Man City? Let's give Sunderland all the credit they deserve. Gus Poyet has always wanted teams to play and entertain. It was the same at Brighton, but he's gone to Sunderland in totally different circumstances. He wants his players playing, but it's also about organisation, clean sheets and maintaining their Premier League status. Plus he's having to deal with what's been left him. When managers get results in those situations, you know they're good.
Look at the way he's dealt with Lee Cattermole [who was frozen out by former boss Paolo di Canio]. Instead of castigating him, he's said 'I'll educate him'. When I was at Leeds, the first thing Howard Wilkinson said about tackling was that he'd fine me if I went to ground and I didn't get the ball. I got one booking that season and Vinnie Jones never got sent off! That makes you think. It's saying 'I admire your commitment but you're not doing you or your team any favours by getting sent off'.
All hail England's top flight
KAMMY SAYS: Bayern Munich don't go to the bottom teams and end up getting beat. That's the standard in the Bundesliga but not in the Premier League. What ever team you play there's always a chance they can beat you. It's without doubt, the most open Premier League ever. I defy anybody to pick a winner. On Saturday night you would have had Mourinho bemoaming the fact that they got a point.
But what a magnificent point for Chelsea considering the other results. With Arsenal, Tottenham and Man City losing their games, that point for Chelsea may turn out to be really significant. By Sunday evening, that point had become massive.
I watch all sorts of football - in Spain, Germany, everywhere - and I don't think you get anywhere near this. The games are exciting and what a weekend we've just had. Saturday was action packed and controversial and then you get Sunday's unexpected events. It gets everybody talking football and you can't beat that.
That's Kammy's view but what did YOU make of the Premier League weekend? Let us know using the feedback form below...