Striking stats
With every goal counting in the tightest Premier League in years, the performances of the division's star strikers will surely prove key. Sam Drury takes a look at the forwards with four goals or more and delves a little deeper to find out who is really delivering this season...
Last Updated: 14/11/13 1:02pm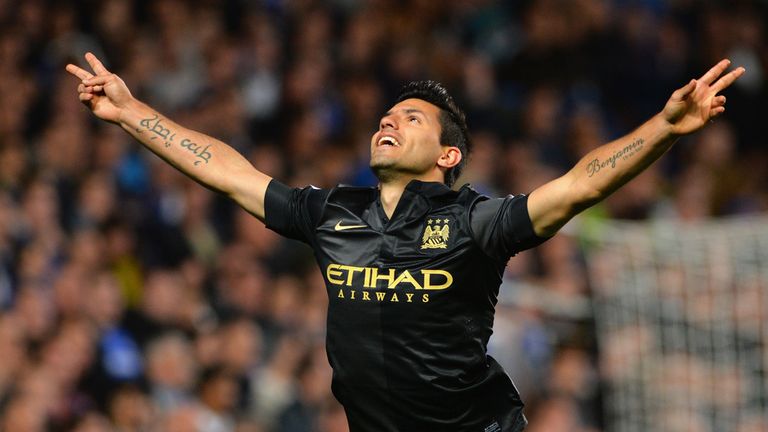 Much of the talk so far this campaign has been of strike partnerships with the deadly duos of Daniel Sturridge and Luis Suarez, Robin van Persie and Wayne Rooney and Sergio Aguero and Alvaro Negredo helping to fill many a column inch on an almost daily basis.
Whether they are benefiting from the re-emergence of the strike partnership or not, each of them has some impressive statistics individually this term, to date. They are not alone, however, with the likes of Romelu Lukaku, Loic Remy and Olivier Giroud all putting in high quality performances, often whilst ploughing a lone furrow up front.
So how do this season's top front men match up?
Top Premier Strikers 13/14
Goals
Assists
Sergio Aguero
8
4
Daniel Sturridge
8
2
Luis Suarez
8
1
Robin van Persie
7
2
Loic Remy
7
1
Olivier Giroud
5
4
Wayne Rooney
5
4
Romelu Lukaku
5
1
Rickie Lambert
4
3
Roberto Soldado
4
2
Alvaro Negredo
4
2
Wilfried Bony
4
1
Christian Benteke
4
0
We're often reminded that the only statistic that really matters is goals, and leading the way on that front are Aguero and Liverpool's SAS, Sturridge and Suarez, with eight goals apiece.
Of the three though, it is the Manchester City man who leads the way for assists having laid on four goals for his team-mates meaning he has also been involved in a higher number of goals than any other striker this season. Sturridge's two assists put him second on that list and his partnership with Suarez is exemplified by the fact that the only assists the pair have made have been to set up the other.
Rooney and Giroud have both racked up five goals and four assists each put them level with Aguero at the top of the goals created column.
The roles they play will no doubt have helped them in this respect. Rooney often playing in a withdrawn role and looking to thread passes through to his onrushing team-mates, while Arsenal's quick passing around the penalty area and the Frenchman's deft touch ensure that Giroud is just as likely to set up a goal as he is to find the back of the net himself.
Aston Villa's Christian Benteke brings up the rear with a reasonable return of four goals yet to be complemented by a single assist.
On the whole though, there seems to be little to separate the league's top forwards when looking at the basic, albeit crucial, numbers.
Strikers - Efficiency
Mins/ Goal
Big Chances Missed
Luis Suarez
67.38
2
Loic Remy
93.57
2
Sergio Aguero
96.12
7
A remarkable return of eight goals in six games for Suarez since returning from his ban puts him at the top of the minutes per goal table. Brendan Rodgers will be hoping the Uruguayan can continue to score at such a rate for Liverpool until May and if he does the Reds' chances of a Champions League place will be boosted significantly.
Next up is Remy with the Newcastle loanee's excellent form for Alan Pardew's side reflected by his rate of a goal every 93.57 minutes. The pacy Frenchman has been the key man for the Magpies having scored just shy of half of their 15 league goals. If they continue to be as reliant on the former Marseille player, the St James' Park faithful will need him to continue to score with such regularity.
Aguero completes the top three, who are clear of their nearest challengers by over 20 minutes in this field, and his return could be even greater had the Argentinian not spurned seven clear cut chances already in 2013/14, more than any other Premier League player.
Sturridge and Benteke have also been guilty of wasting some of the simpler chances that have come their way each having missed six.
Spurs fans may also be concerned by the fact that £26m striker Roberto Soldado has only converted four times, three of those from the penalty spot. In addition, the theory that he has lacked the service is tested by the fact he has missed as many clear cut chances as he's scored, four, with three of those scored being the aforementioned penalties. His record of a goal every 221 minutes is also the worst of any frontman with four or more goals.
As with Aguero, Sturridge and Benteke, that he continues to be in the right place when the chances arrive is an encouraging sign for the Tottenham forward.
Strikers - Shooting
Shot Conversion Rate
Shooting Accuracy
Romelu Lukaku
35.71
71.43
Loic Remy
35
60
Sergio Aguero
29.63
66.67
With no Chelsea strikers currently at Stamford Bridge making the list, it is up to Lukaku, on loan at Everton, to fly the flag for the Blues of both Merseyside and west London. His shot conversion rate (SCR) of 35.71% is the best of the league's top strikers and is undoubtedly helped by the fact that the 20-year-old Belgian tests the goalkeeper with almost three quarters of his efforts on goal.
Frenchman Remy has a shooting accuracy of 60% putting him fourth on that list but his SCR of 35% is second only to Lukaku. Taking the stats together shows that whilst Lukaku hits the target more often, Remy is more likely to find the net on the occasions when he does likewise.
Once more it is Aguero who rounds off the top three with the third best SCR of the league's frontmen and the stats show he hits the target with two of every three shots, ranking second on that list.
Alternatively, Arsenal may top the table and be scoring freely enough but Giroud has the lowest shooting accuracy of the strikers on the list with 40%. This is sure to be affecting his SCR of just 16.67% - only Rickie Lambert with 14.29% has scored with a lower percentage of his attempts on goal.
Strikers - Overall play
Touches
Chances Created from Open Play
Wayne Rooney
690
14
Olivier Giroud
523
17
Daniel Sturridge
491
11
Where Giroud does excel though is in his involvement in general play and creating chances for the players around him. He has touched the ball over 500 times in the games he has played and created 17 chances in open play.
Only Aguero with 19 has created more and Rooney, way out in front with 690 touches of the ball, is the only player to have been involved more in general play for his team.
Sturridge has also played his part outside the box as well as in it with 491 touches creating 11 chances in the process. It should also be pointed out that despite enjoying less time on the pitch than anyone on the list, bar Wilfried Bony, Suarez has the fourth most touches of the ball with 447 - an indication of his all-action style.
That Bony has played the fewest minutes is likely responsible for the fact he has had fewer touches than any other striker. But the likes of Remy, Negredo and to some extent Lukaku appear to be less involved in the build-up play if you take into account the relatively low number of times they have touched the ball this season.
In terms of chances created, Van Persie is perhaps surprisingly cut adrift at the bottom of the list having only provided one opportunity for his side in open play. The majority of the chances he has created have come from his set-piece delivery.
However, creating a chance doesn't guarantee assisting a goal as proven by Benteke having teed up 16 chances in open play without registering an assist. Whilst Lambert and Suarez have also aided their teams' creativity with 16 and 15 chances created in open play, respectively.
That Aguero and Suarez rank so high up in almost all categories probably comes as little shock but the impressive figures recorded by Remy may surprise some, despite his seven goals.
The Newcastle forward's statistics show that unlike a large amount of strikers in modern football, he rarely worries himself with getting involved in the earlier stages of an attack. However, when it gets to the sharp end he has proved himself to be more than adept at finishing moves off.
He hits the target more often than not and by working the keeper has found the net with more than a third of his shots.
If he continues in the same vein until the end of the season Newcastle could be in for a good year but extending Remy's stay in Tyneside might become increasingly difficult.
Just like managers, what supporters want from their strikers can vary from club to club.
If goals no matter how they come are what's needed, Sturridge and Van Persie seem to fit the bill. Lukaku and Remy have been the most clinical with the chances that come have their way whilst Rooney and Giroud are the men seemingly most capable of linking with their team-mates, providing as well as scoring.
For the all-round package though, two men from South America appear head and shoulders above the rest. Aguero and Suarez regularly make the headlines. The stats simply confirm that they deserve no less.