Happy birthday
Man United's Ryan Giggs turns 40 years old, marking the next chapter in the most phenomenal playing career of modern times. To celebrate, Sky Sports has looked back through the archive to pick out the memorable moments and get the views of Sir Alex, Moyes and the man himself...
By Peter Fraser - Follow me on Twitter @SkySportsPeteF
Last Updated: 29/11/13 11:16am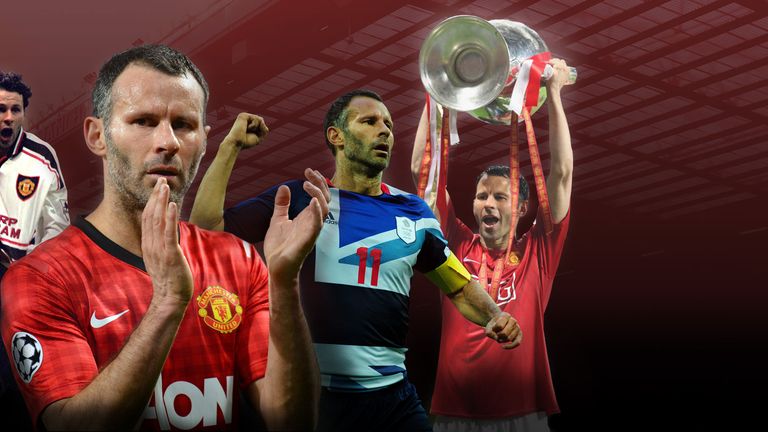 Ryan Giggs' records are the stuff of legend. Thirteen Premier League titles, two European Cups amid four final appearances, four FA Cups and three League Cups. At the same time, he has enjoyed a staggering number of 953 games for his one and only professional club.
One of David Moyes' first tasks after replacing Sir Alex Ferguson as Manchester United manager this summer was to offer Giggs a first-team coaching role, despite the iconic Welshman still continuing his playing career. This helped ensure someone on the Old Trafford coaching staff still had an undisputable bond to the club.
Many believe it will be the initial step towards Giggs one day taking over as United manager in his own right. However, for now, he is combining roles - observing from the bench on occasion, sometimes in the stand, but also on the pitch, where he has done so much damage to opposition teams down the years.
That Giggs is still producing pieces of brilliance on the field is all the more impressive given he will celebrate his 40th birthday this Friday. And reaching that landmark is just one of many memorable dates in a stunning career. Here, we remember some of Giggs' more unique moments.
Memory Lane...
MAY 4, 1991 - MANCHESTER UNITED 1 MANCHESTER CITY 0
Giggs' first ever United goal has more than an element of doubt about it. The Welshman is not sure he got a touch on the ball before City defender Colin Hendry. Look at the record books, however, and it says the then teenager settled this derby on his full United debut. The rest is history.
SEPTEMBER 19, 1992 - TOTTENHAM 1 MANCHESTER UNITED 1
The first sighting of Giggs' mazy dribbling skills. Gallops past Tottenham's Jason Cundy and Dean Austin, then tales the ball round goalkeeper Ian Walker before finding the net from the tightest of angles. Giggs said: "I thought I had pushed the ball too far so I had to keep the shot hard and low."
NOVEMBER 17, 1993 - WALES 1 ROMANIA 2
The nearest Giggs came to reaching a major tournament with his beloved Wales. Needing a win to qualify, Paul Bodin wastes a penalty to put them in front and Giggs ultimately misses out. Goals from Gheorghe Hagi and Florin Raducioiu either side of a Dean Saunders effort beat Wales.
FEBRUARY 5, 1994 - QPR 2 MANCHESTER UNITED 3
Another from the scrapbook of great goals. After whipping the ball away from Ray Wilkins, Giggs embarks on a forward charge the Rangers defence was unable to resist before firing left-footed past Jan Stejskal. Andrei Kanchelskis and Eric Cantona were the scorers of United's earlier goals.
APRIL 14, 1999 - ARSENAL 1 MANCHESTER UNITED 2
The goal that defined Giggs' career. Down to 10 men following Roy Keane's dismissal and kept in the match only by a late Peter Schmeichel penalty save, United earn their place in the FA Cup final after Giggs seizes on a loose ball inside his own half and roars forward. Lee Dixon is the last man beaten before his shot flies past David Seaman.
FEBRUARY 25, 2003 - JUVENTUS 0 MANCHESTER UNITED 3
After bearing the brunt of intense criticism earlier in the season, Giggs provides a reminder of his class on one of United's great European nights. In this game in Italy in the second group stage of the Champions League, the pick of his brace was a right-footed effort beyond Gianluigi Buffon.
SEPTEMBER 20, 2009 - MANCHESTER UNITED 4 MANCHESTER CITY 3
By now less reliant on pace and more on ice-cold instinct. In the sixth minute of injury time in a frenetic derby, Giggs could have done anything when presented with the ball on the edge of the box. He made the right choice - providing Michael Owen with a perfectly weighted pass for the winner.
APRIL 26, 2011 - SCHALKE 0 MANCHESTER UNITED 2
United were finding it difficult to turn their superiority into goals in this Champions League semi-final first leg. But Giggs managed it midway through the second half to set up an easy win. United eventually went on to the final but would lose to the mighty Barcelona at Wembley.
AUGUST 4, 2012 - GREAT BRITAIN 1 SOUTH KOREA 1 (4-5 on penalties)
The night when Giggs tastes a rare moment of penalty shootout agony. Aaron Ramsey misses a penalty that would have put Team GB ahead and Daniel Sturridge fails with one in a shootout as captain Giggs bows out at the quarter-final stage of the Olympics in what was his only international tournament. Giggs had scored against United Arab Emirates earlier in the competition.
FEBRUARY 23, 2013 - QPR 0 MANCHESTER UNITED 2
Destined to be overshadowed by Rafael's blockbuster, Giggs set the seal on another victory when he calmly beat Julio Cesar on United's unstoppable march to a 20th title. It was Giggs' 13th Premier League trophy as United ultimately finished a massive 11 points clear at the top.
MARCH 5, 2013 - MANCHESTER UNITED 1 REAL MADRID 2
Makes his 1,000th senior competitive appearance for United, Wales and Team GB combined on what turns out to be a bittersweet evening at Old Trafford as United controversially crash out of Champions League against Real Madrid. The second leg was marred by a harsh red card for Nani, with a Cristiano Ronaldo strike going on to send Jose Mourinho's side into the quarter-finals.
What They Say...
Giggs on reaching his 40th birthday...
"When I was in the first team, you are looking at Brucey (Steve Bruce) and Robbo (Bryan Robson), who were 33, 34, and you were thinking, 'that is ancient', so I do not know what the young players are thinking of me. They are all saying, 'it's your birthday this week' and I am going, 'yeah, yeah, it is a big one; I am 35'. They are looking at me, and then obviously they get the truth out that I am 40 and they are sort of shaking their head and I am thinking, 'yeah, it is old'."
Former United manager Sir Alex Ferguson lavished praise on Giggs last season...
"Ryan is an exceptional human being. He has never carried any weight, has never suffered a serious injury and never misses a training session. He is still at the head of the pack during pre-season. He just has this insatiable appetite to continue playing."
Current Old Trafford boss David Moyes gives his take on Giggs...
"Ryan knows he is not going to play in all the games at his age and he accepts that. He has made the first step into coaching and sometimes once you do that it becomes easy to decide you have had enough of playing. But Ryan does not look as if he is at that point yet, so who knows? He does not look like a 40-year-old man."
Ex-team-mate Gary Pallister on the time he first saw Giggs in action as a teenager in the club's youth ranks...
"The gaffer (Ferguson) said Ryan was going to be a star. I thought, 'that's a big statement, he's only a 15-year-old kid'. But there he was, this spindly-looking lad running amok up and down the left-hand side playing against opponents who were 16 or 17. He was absolutely terrific. I still love watching him play."
Dennis Schofield, a Manchester City scout who first spotted an eight-year-old Giggs only to see him join derby rivals United...
"It makes me so proud whenever I see Ryan playing. I first saw him when I was working as a milkman and also doing work as a scout for Manchester City. I was driving in my milkfloat and all these kids were coming out of the local school in their kit. I parked up and watched them. This lad, an outside left, stood out. I thought 'flipping heck, he's good'. He was like a gazelle."
What is your favourite Ryan Giggs memory? Have your say below