Is Rafael the key?
It has been a difficult start to the season for Manchester United as they find themselves languishing down in eighth spot at the start of December. But could the return to fitness of Rafael open up more possibilities for David Moyes and his style to flourish? Adam Bate investigates...
By Adam Bate - Follow @GhostGoal
Last Updated: 03/12/13 9:29am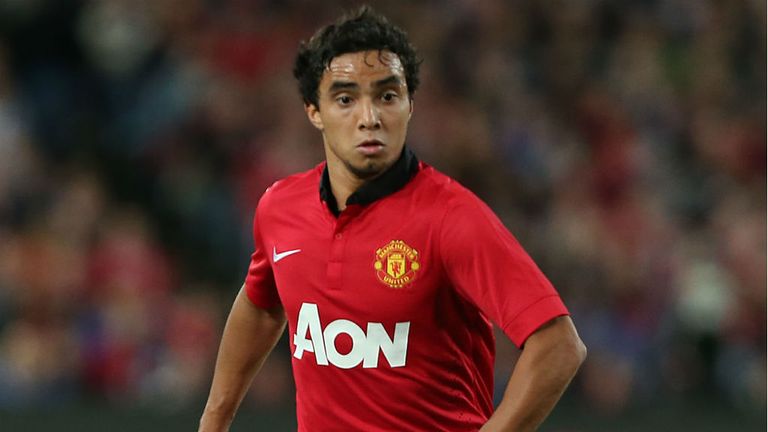 Understanding a coach's philosophy is a tricky business. You never know how dependent they are upon the players available. But whether it is Brendan Rodgers signing Joe Allen for Liverpool or David Moyes taking Marouane Fellaini with him to Manchester United, it is amazing how often coaches look to replicate earlier success by employing the same personnel. Moyes was unable to do that with Leighton Baines in the summer but the subsequent performances of Patrice Evra have the fingerprints of the manager's methods all over them.
As tactical expert Michael Cox wrote in The Guardian: "The most obvious feature of David Moyes's coaching philosophy is his emphasis upon width - asking his central midfielders to spread the play, and encouraging the full-backs forward to create overloads with the wide midfielders." It's a style of play that the Scot honed throughout his 11-year reign at Everton, developing a more aggressively attacking approach in recent years.
"When I took over, the team didn't have the calibre to play the football we do now," Moyes told the Daily Mail last year. "Then you can evolve and get better, with defenders who are more comfortable on the ball or more attacking full-backs. Now the level of player I have allows me to play in a different way. I can send Baines further on because I can trust my centre-backs more."
With players of the stature of Nemanja Vidic and Rio Ferdinand at Manchester United, as well as the likes of Jonny Evans, Chris Smalling and Phil Jones, it is fair to assume that Moyes was an excited man at the prospect of unleashing his full-backs. Indeed, the importance he places on trusting his central defenders might explain why he relied heavily on his most experienced duo during his early matches in charge - pairing Vidic and Ferdinand six times before the end of September.
The result has been that Evra, in particular, has come to the fore. No United player has created more chances from open play this season than Evra with the Frenchman's tally of 17 also the joint highest of any full-back in the Premier League. It reflects the increased importance of full-backs in the Moyes system. In fact, United are attempting more crosses per game than any top-flight team, up from fifth last season. Meanwhile, the number of through-balls and short passes per game are down, reaffirming this shift in emphasis.
There is a debate to be had regarding the wisdom of this tactic. Recent research by StatsBomb revealed that Manchester United create a higher percentage of their opportunities from deep positions on either flank than anyone else. "United, at 22 per cent, are the only team to create more than 19 per cent of their chances from these zones, which is not a great claim to fame as this zone has a low probability of key passes resulting in goals," writes Colin Trainor. Regardless of the merits of the tactic, it does mean that the full-backs are key.
Evra was always comfortable going forward but he has become a more prominent creative force this season. Indeed, he is already just five short of last season's figure of 22 chances created from open play in the Premier League. Intriguingly, despite the tendency for United's left wingers such as Shinji Kagawa to cut inside and right-wing options like Antonio Valencia to provide width, that's the same number of chances Rafael created from right-back last term. It offers the tantalising prospect of the Brazilian also thriving under his new boss. In fact, there is some early evidence in his favour.
Rafael has played eight games for Manchester United this season. The Red Devils have won six of them and drawn the other two. As a result, the 23-year-old is entitled to wonder what all the fuss is about. Unfortunately, despite the team currently being on a 12-match unbeaten run in all competitions, results in his absence have not been quite so impressive and the defending champions are down in eighth spot in the Premier League table. Put simply, United have failed to win the majority of their matches (seven out of 13) without Rafael this season.
The identity of Rafael's replacements might elucidate some of the issues. Aside from a solitary appearance by his own twin brother, Fabio, the options for Moyes at right-back are Smalling and Jones. Both players have been described as "natural centre-backs" by former United boss Sir Alex Ferguson, an indication that advancing down the flank is perhaps not a perfect fit for their talents.
Smalling produced an accomplished display in the emphatic victory over Bayer Leverkusen but either side of that win his limitations at full-back have been in evidence. The England man had the poorest passing accuracy of any United outfield starter against Tottenham, while a pass completion rate of 65.1 per cent was the worst of any on either side in the previous 2-2 draw at Cardiff.
This would not be the defining statistic if it were accompanied by a steady stream of crosses from the right flank. But despite spending the vast majority of the campaign occupying an advanced position akin to that of Evra on the left, Smalling has not only completed just two crosses this season but he has only attempted nine. It is an unimpressive return for 488 minutes of Premier League action - highlighted not only by Evra's productivity down the left but also by the fact that Rafael has an identical crossing record from just 221 minutes of game time.
Of course, Rafael's qualities at right-back are no secret. "Rafael was developing into a really, really good player, but he made mistakes," wrote Ferguson in his recent autobiography. "Some players can never stop making mistakes, it's hereditary, but others learn by them. Rafael was sent off against Bayern Munich and then improved his disciplinary record dramatically. He's such a competitive boy, quick and aggressive, and he believes in himself. He has a really positive attitude to the game."
That adventure to Rafael's game can have a positive effect on his team-mates. "His energy at right-back is really good," explains fellow United defender Evans. "He really sets the tone. He is one of the best right-backs in the world." But injuries have robbed Moyes of this asset. A hamstring injury in August affected the player's preparations for the season and, more recently, ankle ligament issues have been a problem too. Rafael only returned to the bench for the weekend trip to Spurs.
With United's most natural right-back available again, this could prove a critical period in the club's season. For while some might question the merits of the stylistic tinkering of Ferguson's successor, Moyes can be better judged on his own vision rather than the stop-gap measures implemented to date. Perhaps it is only when Rafael is fit and on form, that we will truly see the new manager's plans for his team take shape.