Martinez upgrade?
The stark realisation for Manchester United fans is that their Everton counterparts seem much happier without David Moyes. Even more so after their 1-0 win at Old Trafford, writes Nick Miller
By Nick Miller - @NickMiller79
Last Updated: 05/12/13 10:19am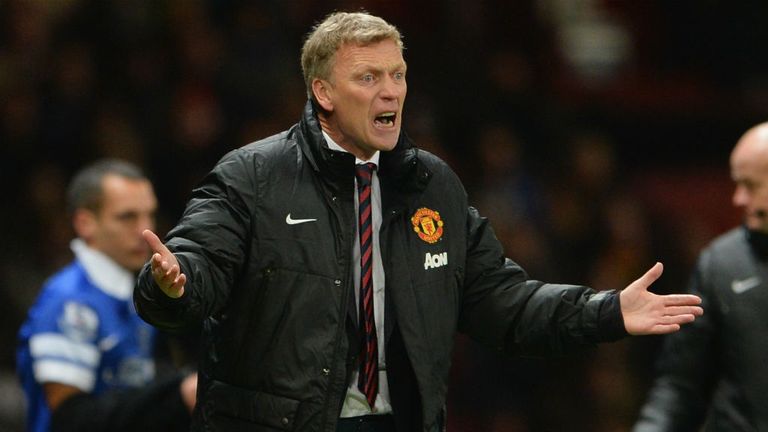 "We will need to play some great football and win an awful lot of games now."
David Moyes's post-match press conference lasted, according to some journalists who happened to bring their stopwatches along, two minutes and eight seconds. Before the game, Moyes was happier to talk at more length, and he asked Everton fans for a nice reception, politely reminding them that he built much of the team that is doing rather well under Roberto Martinez.
What he got was chants describing him as being 'full of s***' and predictions that he would be sacked on the morrow. He couldn't really even take credit for Everton's win - their front six consisted of three new arrivals and one youngster who he wouldn't put into the first team.
If a manager is to be credited for the substitutions that wins games, then surely he should be criticised for the ones that lose games. Moyes quite rightly received props for introducing Adnan Januzaj who won their game at Sunderland earlier this season, but he should get...whatever the opposite of props is after Antonio Valencia's dithering ultimately cost United this game.
Moyes had brought Januzaj on to provide a little more penetration down the right, but instead of replacing Valencia, who had been on that right wing, he took off Rafael (not the most unreasonable move in itself, since he is just returning from injury) and put the Ecuadorian winger into an unfamiliar right-back position. He should have been covering when Bryan Oviedo ambled in unimpeded at the far post to score the only goal of what was a gripping encounter, Valencia instead opting to stand still and watch the action unfold. And that's not necessarily his fault - while he should undoubtedly have been paying attention, that is not his position, and those are not his instincts.
Everton are not a better team than Manchester United, despite their respective current league positions. What they undoubtedly are is a more exciting team at present. United look tired, frustrated, limp, uninspired, listless...pick your favourite negative adjective, use it as much as you will. As one watched the sparky Kevin Mirallas, the absurdly promising Ross Barkley, the simply colossal Romelu Lukaku (when was the last time you saw Nemanja Vidic properly bullied by a striker?) against Valencia, Ryan Giggs, Danny Welbeck and the enormously disappointing Shinji Kagawa, wondering which team you'd rather watch every week isn't a particularly tricky call. That decision was much closer last season, and there's been one significant change in the intervening period.
One might say that it is unfair to compare Moyes with Sir Alex Ferguson (to which one might quite reasonably counter 'He shouldn't have taken the job then', but we digress), but what was notable about the closing stages of this game, after Everton had taken the lead, was that United barely looked like scoring. Under Ferguson there would have been a siege, everything thrown at the opposition goal as a relentless tide poured forwards. It might not always have worked, but there was usually at least some blood in their efforts. Not this time - they didn't even have an effort on target, and barely an incursion into the attacking third of the field. It was almost surreal, a shrug of an attempt to salvage a draw.
If one was so inclined, one could even draw plenty from the speed at which the stands seemed to empty after Everton's goal. While there are several reasons for football fans to be apathetic these days, Manchester United should be the last team you walk out on when they're 1-0 down with five minutes plus stoppage time remaining. As it was, red seats were exposed at an alarming rate - it was as if the fans either knew no equaliser was coming, strongly suspected or just didn't care. The latter might be their problem rather than Moyes', but it is a feeling not helped by how utterly uninspiring United are at present.
Moyes noted after the game that United were unlucky, and there were a few goalmouth scrambles that could have gone in and produced a different result. Which is true, but this is Manchester United - they should not have to rely on goalmouth scrambles. They should not be outplayed by Everton, at home.
Moyes will be given time, of course, but the inevitable conclusion one has to draw after seeing not only this game, but the season thus far, is that Everton are better since he left, and United are worse since he arrived. There cannot be many Everton fans who think their team have done anything but trade up with Martinez, and something is quite seriously awry when a club their side loses their manager to the biggest team in the country and feels better off.
Manchester United have dropped 20 points in their 14 games this season. They dropped 25 in the whole of last season. They are now 12 points behind Arsenal. You might not think the Gunners will hold on, but you'd have to be optimistic to the point of delusion to think United are the team that will overhaul them.
This article first appeared on Football365.