Gary Neville: Manchester United lacking "fury" of years gone by
Gary Neville says Man Utd's title dreams are probably over after failing to play with enough "fury" this season.
Last Updated: 10/12/13 8:57am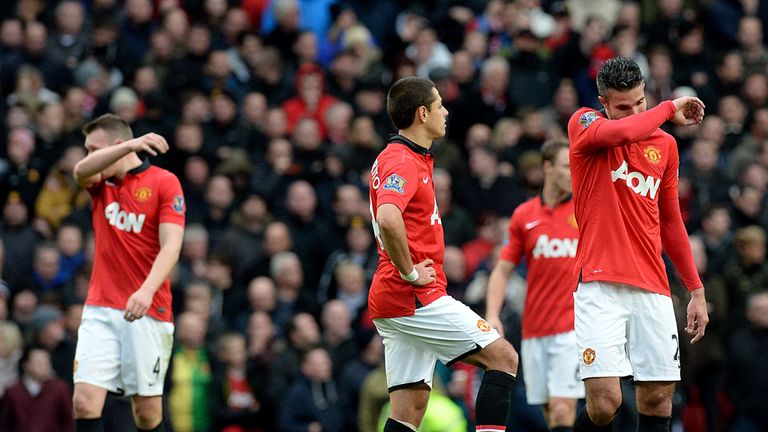 The Sky Sports pundit says David Moyes should be more concerned about winning football matches than championships after losing 1-0 at home to both Everton and Newcastle; the first time in 11 years they have lost back-to-back games at Old Trafford.
Saturday's defeat was their third in the Premier League this season - they were also beaten 2-1 by West Brom in September - and they now trail table-toppers Arsenal by 13 points.
And when asked on Monday Night Football if the title was beyond his former club, Neville said: "I think it could be.
"To say that as a United fan is hard because in years gone by you'd say anything was retrievable, but at this moment in time they're not in that mindset of even thinking about the title.
"They're thinking probably 'let's get our next win', not about winning their next title. If they won the title it would be the greatest championship they have ever won, it really would.
"But I don't see it because I think at this moment in time they've really got to consolidate, get themselves together, get that belief back, start to pick up points and not even think about the championship."
Size
Neville believes Moyes, who took over from Sir Alex Ferguson in the summer, is quickly learning about the size, scale and history of the club he has taken charge of and has backed him to adapt.
But he encouraged the team to be more adventurous - United played the fewest forward passes of any Premier League team this weekend - and he wants to see the players take more risks in the late stages of matches, particularly at home.
He added: "They have to play passes forward, drive forward and make hard runs. At the moment they are drifting through matches.
"I couldn't turn around and say they are shocking defensively because I don't think they are. I couldn't turn around and say they are shocking structurally.
"The risk in the game isn't there and the biggest thing for me is they are not creating that fury in the last 10 or 15 minutes of matches.
"What I expect at Old Trafford when there's 20 minutes to go and you're drawing or it's a defeat is mayhem; football carnage.
"I expect five players in the box for every single cross, I expect goalkeepers to go up for corners, I expect there to be madness on the pitch.
"You might lose 2-0, but you might win 3-1. I expect that. I watched the West Brom game, the Everton game and the Newcastle game and nothing is happening in the last period of matches.
"That is a belief and confidence thing."
Comparison
Neville says replacing Ferguson, who won 13 league titles in 26 years at Old Trafford, was always going to be difficult and Moyes will have to cope with constant comparisons to his predecessor.
However, Marouane Fellaini is the only major addition to a squad that won the Premier League by 11 points last season and Neville believes the players must look at themselves and make improvements.
He said: "If I was still in the dressing room as a player I think I would be thinking 'did I really rely that much upon my manager?' The 24 players who are in that dressing room now will be thinking to themselves 'we've got to get ourselves going'.
"They can't just blame it on the fact they've not got their manager there anymore. They're the ones that are out on the pitch.
"It's the same team that Sir Alex Ferguson picked - Fellaini wasn't out there on Saturday - and it's just not good enough at the moment. They really are struggling in a lot of areas.
"The big thing for me is the goals. The goals have shut down - and if you go into more detail they are not passing the ball forward, the crossing is poor and there isn't that fury at the end of games."