Building for success
"It gave us so much confidence as players who were trying to grow" - As Manchester United prepare to face Stoke, Louis Saha remembers the importance of the 2006 League Cup win in a new generation of glory
By Peter Fraser - Follow me on Twitter @SkySportsPeteF
Last Updated: 17/12/13 5:20pm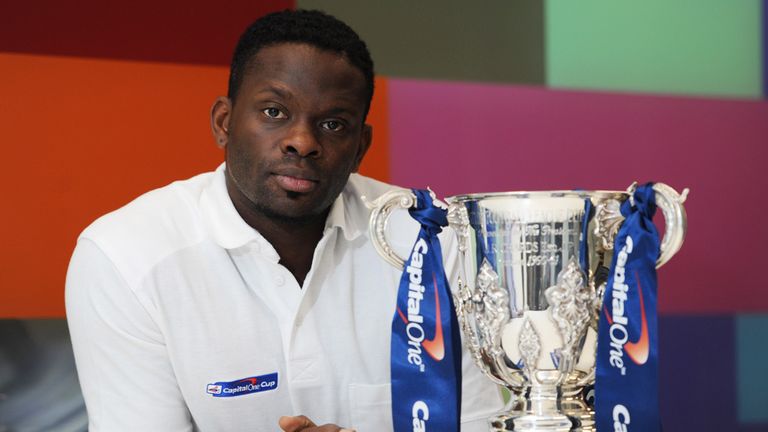 "Of all the centre-forwards we employed, when you talk about their talents (two-footed, good in the air, spring, speed, power), Saha would be one of the best. He posed a perpetual threat. But then came the injuries." Those are the words of Sir Alex Ferguson in his recent autobiography. It perfectly encapsulates the Manchester United career of Louis Saha.
The Frenchman scored 42 goals for United in all competitions but the injuries - hamstring strains, calf muscle complaints and knee problems - which blighted his playing days meant he was never able to truly fulfil that ability which had so impressed Ferguson. Having arrived at United for more than £12million from Fulham in the January of 2004, the Frenchman would leave for Everton in 2008 after just 76 starts and only flashes of brilliance.
"Louis, who lived about 50 yards from me, and was a lovely lad, had to be 150 per cent to play," Ferguson explained. "It was agony for us. And it was not a case of him being out for weeks; it tended to be months. The reason for selling him was that no matter how talented he was, I could never plan around him, could never say, 'this is my team for the next two or three years'. Saha was young enough to be viewed in that way, as a cornerstone player, but the uncertainty caused by his constant non-availability rendered it impossible to look far down the line."
Those words from Ferguson provide a complete insight into a mind-set; his gift to constantly look to reinvent teams beyond the present and not standstill, which many consider to have been the Scot's greatest managerial strength before his famous retirement at the end of last season. And the League Cup final in the February of 2006 was a microcosm of that process.
United had not won a trophy in almost two years since beating Millwall in the 2004 FA Cup final. They had lost the 2005 FA Cup final to Arsenal in a penalty shootout, suffered defeat by Liverpool in the 2003 League Cup final, and had also not won the Premier League since 2003 having been usurped by the mite of Arsenal's Invincibles and then the power of Jose Mourinho's Roman Abramovich-financed Chelsea. That relatively sparse collection of trophies over a couple of years was a major underachievement in the Ferguson era of United. But, behind the scenes, the iconic manager was thinking, planning, and one step ahead of his rivals.
The Old Trafford club were in transition. David Beckham had left in 2003, Roy Keane had departed in 2005 and Ruud van Nistelrooy was in the embers of his United career before leaving in the summer of 2006 - all having fallen out with Ferguson. That 2006 League Cup final, against Wigan Athletic at Cardiff's Millennium Stadium, was therefore a glimpse of the future.
The final itself was a forgettable match. United hammered, and at times tormented, a vastly inferior Wigan team to romp to a 4-0 victory. However, of more significance on the day were the goalscorers; a 20-year-old Wayne Rooney netted twice on his way to a man of the match award and a first winners medal of his professional career, another 20-year-old - Cristiano Ronaldo - was also on target, while tournament top scorer Saha - starting in place of unused substitute Van Nistelrooy having already netted five times on United's road to Cardiff - also had his name on the scoresheet.
At the same time, Gary Neville was captain and won his first trophy as a United skipper. Rio Ferdinand, meanwhile, had already lifted the Premier League with United but beating Wigan saw the centre-back win a cup final for the first time in his career. That League Cup final was then a time which saw a new combination of a United squad - different personalities, skills and group dynamic - develop a winning feeling. Knowing how to win competitions is a key attribute and progresses that sense of confidence which is so important in sport. That League Cup final was a success which sowed the seeds for a United generation.
The building process of that particular group of players, inspired by Rooney and Ronaldo while balanced on the experience of Neville and Ferdinand, would win the 2006/07 Premier League title and would famously go on to peak in the glorious double of the domestic league and UEFA Champions League in 2007/08. Saha would cruelly miss the Champions League final, when Chelsea were beaten on penalties in the rain in Moscow, having suffered a hamstring injury against Bolton Wanderers in the March of that season. Gary Neville was also absent from the playing squad in Russia after a season ravaged by injury. But Rooney and Ronaldo played key roles. Ronaldo, especially, would fail with a penalty in the shootout - which ultimately did not prove costly - however, he had scored United's opening goal, which Frank Lampard had equalised.
For all his disappointment at missing that European Cup final, Saha recognises the influence the League Cup win of two years previous had in setting up the conquering of Europe at the Luzhniki Stadium. The striker, who has retired earlier in 2013 but was 27 years old at the time of the 2006 League Cup final, told Sky Sports: "It was very important for the young lads to get involved in that final against Wigan and feel like they were participating. The feeling of winning is something which is very important for the future. It was something which really changed me as a player and did so much good for Cristiano and Rooney. It gave us so much confidence as players who were trying to grow. I remember that everyone was really motivated, because it had been a long time since we had reached a final and won it - so it was good for young players like me, Ronaldo and Rooney to get involved." As David Moyes attempts to start his own United legacy, he could perhaps take note ahead of Wednesday's Capital One Cup quarter-final at Stoke City.
Saha had scored United's second goal against Wigan, bundling home a Neville cross after Rooney had opened the scoring. Rooney went on to score another with Ronaldo having already made it 3-0. Rooney may have won the man of the match award but it was a close decision between the England international and Ronaldo, who had spent the game humiliating his Wigan opponents with a dizzying array of step-overs and nutmegs. It was a set of skills which saw the 2013 Ballon d'Or-elect labelled a show-pony in his early years but Saha, as revealed last week by Thierry Henry - who claimed French compatriot Saha would regularly arrive for international duty and rave about club-mate Ronaldo - never had any uncertainty about the young Portuguese's ability.
Saha explained of Ronaldo: "You know how you can tell some players are talented? You can tell from day-to-day at the training ground. They do not hide. They are always working and are early for training and stay after training has finished. You see they have such massive focus on the job. He was 17 or 18 when he came to United and I just said, 'listen, guys, believe me, this guy is a monster'. It did not take long to prove that I was right.
"He was brilliant, because he was so difficult to mark. Those kind of players are unpredictable and can do whatever they want. Sometimes you think he is going left and he goes right. Sometimes you think he is going to cross and he shoots. It is very hard to read, even for a striker. But he was such a great player. I could tell straight away he was going to be a great player. Cristiano also used to try a lot of his tricks on me in training. But I was not a fair player; I put him on the floor [laughing]!"
That Saha had started the 2006 League Cup final ahead of Van Nistelrooy was somewhat of a surprise despite it being clear the Dutchman was already close to the end of his time at United. It told its own story that Van Nistelrooy trudged back down the Millennium Stadium tunnel rather than staying and celebrating in a lap of honour with his team-mates, who were wearing tribute t-shirts to club-mate Alan Smith after he had suffered a horrific broken leg and dislocated ankle in an FA Cup defeat at Liverpool in the previous week.
Saha himself had only been eased back into United's team in the November of 2005 following another injury layoff but he had also earned the trust of Ferguson through his goals en route to the final, with Sky Sports pundit Jamie Redknapp saying at the time as United paraded the League Cup in Wales: "Louis Saha has been the leading scorer in this tournament for Manchester United. He has got six goals and he [Ferguson] wanted to give him his chance. Fair play. He has looked after him in this tournament. We are not talking about some young kid who is unproven. Louis Saha cost several million pounds from Fulham so he deserved that chance."
And Saha explained: "When I came back from injury, I got involved with the League Cup again and had to score goals. Ruud was the main striker in the Premier League and the Champions League. It came to a situation where everyone could play in a competition of some kind. When we arrived at the final, Sir Alex put me in the team, because I had scored so many goals in the previous rounds - so maybe it was more out of respect than anything. I was coming back from an injury so I was just pleased to be on the field. Scoring goals was something important for a striker, so I was happy. But I just wanted to play and prove I could help the team. I did that in the League Cup but I wanted to do it in the Premier League."
Saha would get his chance in the Premier League and went on to score 17 more goals in the top flight for United in his remaining season-and-a-half at Old Trafford after the League Cup final. However, his time was then up after that injury against Bolton, which proved to be his last game for United. Despite special personalised training routines, Ferguson was well aware he could no longer attempt to rely on Saha.
"I knew when I had, I do not know what it was, about my 20th injury, just before the Champions League final," joked Saha about the time when he realised his United career was over. "I knew it was too much for me so I said that I wanted to go. I found it really hard to leave but it was time for me to go."
It was a tough decision but not one which holds any grudge. Ferguson would appear to feel sorry for Saha and his battle against injuries, as the former United boss said of the striker: "He was assailed by guilt. He thought he was letting us down. He would send me apologetic texts to that effect."
Likewise, Saha himself maintains full respect for his ex-boss, as he said of Ferguson: "When I first arrived at United, he was such a legend. You think that he is someone you are not going to approach and not going to talk to but he was completely the opposite. He was very warm and very easy to talk with. He was demanding at the same time but demanding in a nice way. He made you be responsible as men, not just as footballers. His honesty as well, when he was not happy with something, he would tell you. When it was time for me to leave, he said to me honestly, 'I really like your style but I think it is time for you to go' and that was it."
Saha's United career may have an element of personal melancholy but it is impossible to ignore the importance of that League Cup win in 2006 and the Frenchman's role in helping United back towards glory as a result. Ferguson used the League Cup to think ahead and Moyes could be well advised to do likewise.
Louis Saha was talking to Sky Sports on behalf of Capital One, the credit card company and sponsors of The League Cup. Round 5 of the Capital One Cup takes place from the 17th December.