Football 2013 review
We reflect on another memorable year which saw Sir Alex Ferguson call it a day and Luis Suarez star.
By Peter Fraser - Follow me on Twitter @SkySportsPeteF
Last Updated: 29/12/13 6:39pm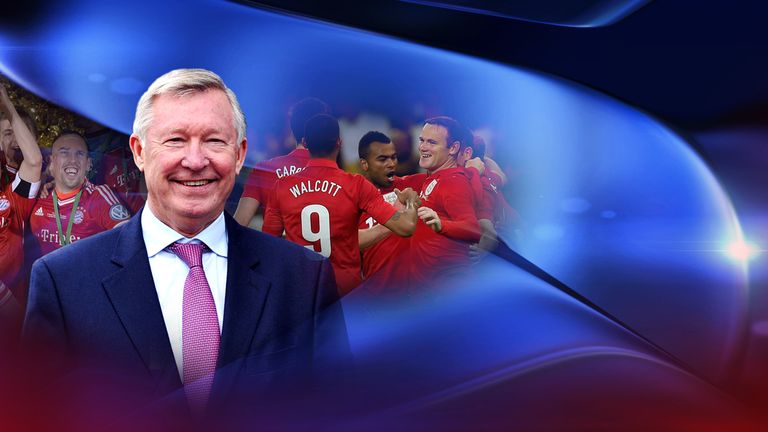 Ross Barkley has also been labelled England's rising star ahead of the World Cup while Bayern Munich have won pretty much everything in sight and, let us not forget, David Beckham also hung up his boots.
Here, we remember another action-packed year in the Beautiful Game...
Player of the year: Luis Suarez
For both the right and the wrong reasons, it has been impossible to ignore Luis Suarez in 2013. The Liverpool striker, at the time of writing, has scored 19 Premier League goals this season and that is after only returning from suspension at the end of September. Suarez's run of form means his league goalscoring for 2013 stands at a phenomenal 29 and his double against Cardiff City in December ensured he became the first player to score 10 times in a calendar month in Premier League history. His mesmerising footballing talent, the intelligence of his movement and the ruthlessly clinical nature of his finishing, means he is considered the best player in the world on current form and he recently signed a mega-money new contract at Anfield to reflect that status. But he has also never been far from controversy. The Uruguayan spent the summer attempting to force a transfer and that was having been banned for 10 games in April for biting Branislav Ivanovic (of which more later).
Young player of the year: Ross Barkley
Manchester United's Adnan Januzaj and Southampton's Luke Shaw are both worthy of mention but Everton's Ross Barkley has been the standout protégée. The attacking midfielder has become the latest player to be compared to Paul Gascoigne for his style on the field and has even overtaken the likes of Jack Wilshere as England's bright hope for the future. Such is the variety and range of Barkley's talent, which was underlined by his free-kick winner at Swansea City, combined with the clamour for in-form players, the 20-year-old must be close to England's starting XI for next summer's World Cup. Merseyside-born Barkley is another success story for Everton's youth Academy, like Wayne Rooney, and is a certainty to add to his current three England caps. He is thriving under club boss Roberto Martinez after just a fringe role under David Moyes and is a major reason why hopes are high for a UEFA Champions League place.
Moment of the year: Sir Alex Ferguson retires
Never mind the moment of the year, this would probably be the moment of the decade or perhaps even the moment of the past quarter-of-a-Century. It would always have taken an event of major significance to mean David Beckham's decision to hang up his boots was not the standout retirement on any calendar year but Sir Alex Ferguson achieved this when he announced he would be leaving his role as manager of Manchester United. The Scot, English club football's most successful manager - the Godfather of the Premier League, called time on his 26-and-a-half-year reign at Old Trafford at the end of last season after it had been announced at the beginning of May. When that final confirmation came after rumours during the day, it was a moment which brought the football world to a standstill. It ended Ferguson's United dynasty with a 13th Premier League title along with two European Cups, five FA Cups, four League Cups and a European Cup Winners' Cup. Everyone knew it would be tough to be the next man in the United manager's office and the difficulties of David Moyes have emphasised Ferguson's brilliance in the minds of all football fans... unless your name is Roy Keane. Wigan Athletic winning the FA Cup and Bradford City reaching the League Cup final were also brilliant achievements.
Best story: Gareth Bale's world record transfer
Love them or loathe them, transfer sagas always make the top headlines. And what more could you ask for than Britain's superstar player moving to the globe's biggest club in a world record deal. After months of rumours, speculation and none-too-subtle hints from clubs and player, Gareth Bale moved from Tottenham Hotspur to Real Madrid on the final day of the summer transfer window in a huge €100m (£86m) deal. Watching the Wales international address the Bernabeu in his pigeon Spanish at his unveiling was slightly surreal but what cannot be disputed is his undoubted footballing ability. Bale has scored nine goals in 17 appearances in all competitions for Real, including a perfect hat-trick against Real Valladolid, as he has settled in style in Spain's capital. The Premier League's loss is the Primera Liga's gain. Conversely, Jose Mourinho coming back to England from Spain was also a brilliant story from 2013.
Shock of the year: Luis Suarez bites Branislav Ivanovic
The sub-header pretty much says it all. For all his goalscoring brilliance, Liverpool's Luis Suarez again caused outrage with his scandalous behaviour when, in a Premier League game against Chelsea in April, the striker took a bite out of opposition defender Branislav Ivanovic. Suarez escaped immediate punishment in the match, adding insult to injury by scoring an injury-time equaliser in a 2-2 draw, but was later given by a 10-game ban by a Football Association independent regulatory commission. It was far from his first offence in a career which has included more past misdemeanours than it would be possible to list in 150 words and it is a reason why the South American will never be truly taken to the hearts of football lovers. The slow motion replays of Suarez biting Ivanovic made the incident all the more horrifically inexcusable.
Team of the year: Bayern Munich
Everyone has been raving about the Bundesliga in 2013 and it has been justified given that two of Germany's top-flight clubs contested the Champions League final. But there was of course only one winner in that final and that was Bayern Munich defeating Borussia Dortmund. The European Cup was far from the only trophy Bayern won in the past year when it is combined with the Bundesliga title, the German Cup, the UEFA Super Cup and, most recently, the Club World Cup. Bayern have simply been the best team on the planet in 2013. Spearheaded by star players, such as Manuel Neuer, Philipp Lahm, Franck Ribery and Thomas Muller to name just a few, they ended last season under the management of Jupp Heynckes. But, as is their potential, style of play and status in football, they were even able to attract the manager every other club in the world would have wanted, Pep Guardiola. What is there left for Bayern to achieve in 2014?
Crystal ball: England flop at World Cup
Forgive the doom-mongering but England do not have a hope at the World Cup next summer, with or without Ross Barkley. In Brazil in 2014, having been drawn against Italy, Uruguay and Costa Rica, some pundits have been suggesting Roy Hodgson's men will benefit from the additional motivation of being in a difficult group, avoiding any danger of complacency. But this ignores the fact that by the very nature of a tough draw it means England are playing against teams who are far superior. Amid the heat and humidity of South America, it is easy to envisage England taking just one point at the most and finishing bottom of Group D. Happy New Year, indeed!