The wrong choice?
It's Chelsea versus Manchester United on Super Sunday and that means Jose Mourinho against David Moyes. With United enduring a difficult season, Adam Bate looks at whether the gulf between the two favourites to replace Sir Alex Ferguson is now bigger than ever.
By Adam Bate - Follow @GhostGoal
Last Updated: 18/01/14 7:13am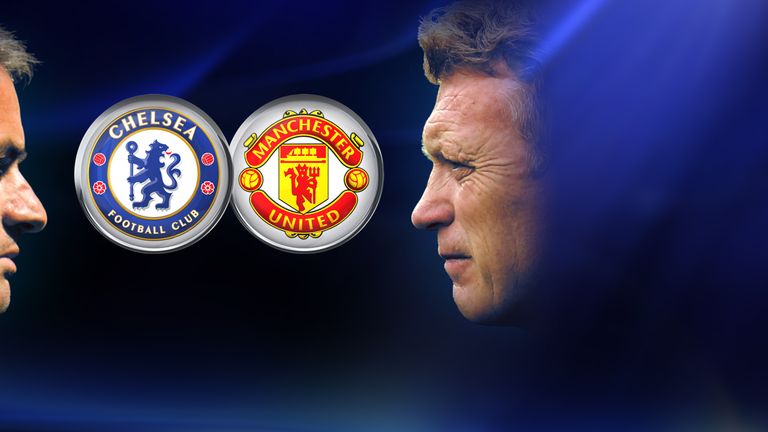 You could forgive Mourinho if his press conference ahead of Sunday's visit of Manchester United took a rather different tone. "United picked David Moyes over me? David? Moyes? The guy from Everton? The fools deserve everything they get." Before storming out high-fiving the press officer and unleashing a maniacal laugh as he exits stage right.
The irony, of course, is that if he were to indulge in such a petulant rant rather than offering the familiar platitudes he would be both justified and also proving his critics right. His tempestuous and abrasive style was apparently deemed ill-suited to United's own statesmanlike perception of themselves. Just all a bit too Latin for the bods at Old Trafford.
Consider the comments of United legend and club director Sir Bobby Charlton. "A United manager wouldn't do that," said Charlton when discussing the Portuguese coach's eye-gouging assault upon Tito Vilanova. "Mourinho is a really good coach but that's as far as I would go really... He pontificates too much for my liking."
Character
Character was the recurring theme of the summer when explaining away the choice of Moyes to succeed Sir Alex Ferguson. Despite Moyes being anointed as the Chosen One - itself a self-conscious reference to the illustrious alternative - Ferguson doesn't devote a great deal of print ink to his successor in his recent autobiography. And the focus of his praise is revealing.
"The Scotsman abroad doesn't lack humour," writes Ferguson by way of an explanation. "David Moyes is not short of wit. In their jobs, though, the Scots are serious about their labours, an invaluable quality. People often said to me, 'I never see you smile during a game.' I would reply, 'I'm not there to smile, I'm there to win the match.'
"David had some of these traits. I knew his family background. His father was a coach at Drumchapel, where I played as a lad. David Moyes senior. They have a good family feel about them. I'm not saying that's a reason to hire someone but you like to see good foundations in someone appointed to such high office."
Heartwarming stuff, no doubt. And Moyes may well be a man of substance, but where is the substance to his claims to the job? No mention of his transfer dealings, tactical acumen, coaching skills or man-management. Contrast this with the references to Mourinho in that same book - "Exceptionally good with players" ... "Meticulous in his planning" ..."Marvellously effective."
In terms of achievements, the gulf between the two favourites for the job was emphatic. Despite being just three months his senior, Mourinho has won the Champions League more times than Moyes has had an interest in the group stage draw - his Everton side finishing 17th in the Premier League in the year that Mourinho first lifted the trophy.
Of course, while three seasons in the cauldron of hostility that is Real Madrid should not be dismissed lightly, there were doubts that Mourinho has the staying power of Moyes, who spent 11 years at Goodison Park. And yet, the current results might feel a high price to pay for high-minded notions of long-term planning.
Indeed, Moyes is breaking all the wrong records so far. Four home league defeats by New Year's Day included a first loss to West Brom at Old Trafford since 1978. An FA Cup defeat at home was United's first ever defeat to Swansea, while the first leg reverse against Sunderland on their own turf ended a run of 20 unbeaten against the Black Cats. Down in seventh, even if the defending champions win their remaining 17 Premier League games they cannot match last season's tally.
Ferguson calls Mourinho a pragmatist but his trophies bring belief in his methods. And besides, there is little fantasy about the way Moyes has United playing. Results can get in the way of the grandest of plans and it is telling that the man with the six-year contract is now framing the debate in very different terms. "We'll just try to win the next game and see what happens," has become the all-too-familiar Moyes mantra.
That can become a problem. There is talk of a transition period and long-term development but that requires long-term thinking too, not a manager so desperate for one pressure-relieving win that he's willing to keep a barely fit Robin van Persie on the pitch in search of three points. "I think if I'd brought him off (against Newcastle) some people would say 'What are you doing? You are 1-0 down and you're taking off your top goalscorer,'" he argued. "I think that answers why I left him on."
Fail on that criteria and you invite immediate criticism. In contrast, Mourinho has remained sanguine in defeat and shown an uncharacteristic determination to emphasise the long game at Chelsea. "I didn't come here because the job was easy, or because I had a team ready to attack the title, or because I was coming here for the best contract of my life," he explains. "It's the worst of my last six years. I'm here because I love the club, I love the project. It's a different project."
We've heard suggestions of a 12-year stay at Stamford Bridge with Mourinho talking up the need to build something new and lasting with this group of young players. The Premier League title might not be a must-achieve objective this season but Mourinho is succeeding in persuading his audience that such is the coach's skill they might just win it by accident.
Gulf
Perhaps that's evidence of the gulf between the two newly-appointed coaches. A 14-point lead last season could become a 12-point deficit for Manchester United if Chelsea get the win at the weekend. That's quite the turnaround and one leaving United fans struggling to retain their calm. And yet, Moyes has an unlikely advocate in the opposite dugout this Sunday.
"The best way is to do it with stability," claims Mourinho. "For the players, if you want to help them grow up, you do that much better with stability - in ideas, philosophy, model of play, style of leadership. This all comes from stability at the highest level - with the owners and board and, after that, the manager. That stability is very important. You look, for example, to Manchester United and everybody feels David will have his time to do his work in a calm way. I think that's fantastic."
Unfortunately for supporters of Manchester United, the current state of affairs is feeling rather more fantastic for Chelsea fans than United ones right now. A home win on Sunday will only add to the growing feeling that the Chosen One was in fact the wrong choice all along - and the identity of Moyes' opposite number could hardly be more apposite.
Sky Sports brings you closer to the sport you love in 2014 with live sporting coverage from the Barclays Premier League, UEFA Champions League, Formula 1, Super League, The Masters, Ryder Cup and much more. Click here to find out more about how you can upgrade to Sky Sports.