Trading places
The reports that Chelsea playmaker Juan Mata has emerged as a £37million target for Manchester United has not been met with universal excitement among the club's fans. Adam Bate looks at how the Spaniard's stock has fallen and wonders how the perception has changed so quickly.
By Adam Bate
Last Updated: 22/01/14 8:23am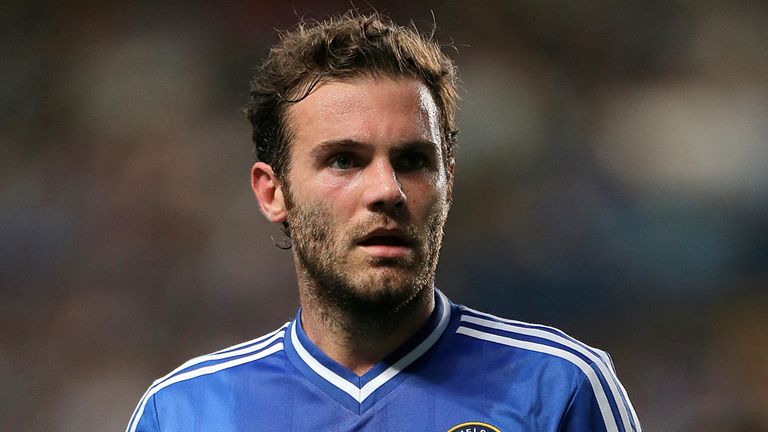 Juan Mata must wonder what is happening. You're named Chelsea's player of the year in back-to-back seasons and in the prime of your career. You've won the Champions League, the European Championship and the World Cup all before your Young Person's Railcard expires. But all of a sudden you're being dismissed by the Twitter generation as a relic and the manager's threatening to bundle you off to mid-table crisis club Manchester United.
While a move to England's most successful club is, of course, no kind of punishment, the perception shift regarding Mata has been a curious one. If not quite cast as a physically decrepit anachronism, the accepted wisdom that the Spaniard is an indulgence is growing. Marginalised at Stamford Bridge, the story goes that it's not just Chelsea ready to move on but the game itself. And to add insult to injury, even old friend Fernando Torres still has a role. No wonder Mourinho has developed a natty line in faux sympathy.
"I think it's not his fault," explained the Chelsea boss. "It's a consequence of the way he is playing in the last (few) years. Since he arrived Chelsea was playing a very defensive football with a low block all the time... Juan has to learn how to play my way. He has to be consistent, more participative when the team lose possession of the ball." The player could hardly feel more out of fashion if he was walking down the King's Road in a French Connection T-shirt and a Superdry hoodie.
The reports of Manchester United's interest had barely hit the printers before former hero Gary Neville was on Monday Night Football questioning the thinking behind the move. "Does he fit with what I would call the typical philosophy of Manchester United? I would say no," said Neville. "The first question, I think, is where are you going to play? Wayne Rooney and Robin van Persie are up top if they are fit so where are you going to play him? Are you going to play him off the left or off the right? They would have to change to accommodate Juan Mata in the way they normally play."
All of which conjures images of Mata curled up in front of the sofa in disbelief - enduring a duvet day with his mobile switched off, a tub of Ben & Jerry's on his lap and a profound sadness in his eyes. There was no comfort to be had in the words of Neville's comrade Jamie Carragher either. "I was a bit perplexed with Mourinho at the start of the season but I think he's been proven right," added the former Liverpool man. "That's got to be a bit of a worry."
Et tu, Jamie. Like the hapless Louis Winthorpe III in the film Trading Places, Mata is entitled to view his plight as the product of someone else's whimsy. A one dollar bet between Roman Abramovich and Jose Mourinho - aka Randolph and Mortimer Duke - that they could not only displace Chelsea's popular playmaker but sell him. And most remarkably of all, even sell the idea of selling him to those same supporters who'd chanted his name with such gusto and adoration.
Intriguingly, much of the Mata debate seems to have been reshaped to focus on what the player cannot do. And so, the sages nod their heads when talk turns to how Oscar's pressing inhibited Andrea Pirlo in the game against Juventus last season. Others enthuse over the high-tempo thrills offered by Eden Hazard. Against this backdrop, it's worth remembering what Mata can do and why he might not be the player United need but will always be the sort of player they should covet.
His 12 Premier League assists last season was more than any other player managed. Only a dozen others scored as many goals. As a result of this twin threat, when goals and assists are combined, only Van Persie, Luis Suarez and Gareth Bale proved more effective. Examine the Opta data on chances created from open play, from set plays, big chances created and second assists: Mata was among the top 10 for each of them. By every criterion imaginable and however deep you look, Mata is a player who makes things happen. Both artist and artisan.
But while he has actually shown admirable adaptability in his time at Chelsea, Mata is at his best as a No 10. And United know from their Shinji Kagawa experience, there is little joy to be had in signing such a player only to stick him on the wing and expect similar results. If £37million is to be spent then not only must be play, but he must play in his most effective role. His underwhelming efforts at Chelsea this season provide good evidence to support that view. Unloved and wrongly used, he'd be running into the arms of Rafa Benitez quicker than Jurgen Klopp could say, "Hug me, Shinji."
Will that mean a shift in emphasis for United? Neville is adamant that the positions of Van Persie and Rooney are sacrosanct and it's true that Sir Alex Ferguson claimed they were the best strike partnership he ever had at his disposal. But United would be foolish to eschew the opportunity to sign a player of Mata's calibre simply because they have two top-class strikers, one of whom is the wrong side of 30 with injury problems and the other has twice angled for an exit. Things change.
After all, if there is one view shared by both his defenders and detractors, it is that David Moyes must take this United in a new direction and, if so, surely there are worse players around which to construct a team? Neville might have name-checked everyone but Mata as the sort of young blood that fits the philosophy but the 25-year-old is only a year older than Tom Cleverley. Like the guy trading in his rusty-chained pushbike for a brand new Harley, 'upgrade' doesn't really do it justice.
After a wasted summer defined by the underwhelming pursuits of Leighton Baines and Marouane Fellaini, this would be a statement signing with a twist. For while Chelsea's willingness to do business would be indicative of how the stock of both Mata and United has fallen, it is also an opportunity for Moyes to excite the Old Trafford crowd and put a positive stamp on the team. To create a new United. His United. And in World Cup year, it could be just the move to make Juan Mata relevant again. Maybe Superdry might still be cool in Manchester?