Gary Neville: Juan Mata could give Manchester United the lift they need
Juan Mata's signing could lift the confidence of everybody at Manchester United, says Gary Neville.
Last Updated: 27/01/14 3:09pm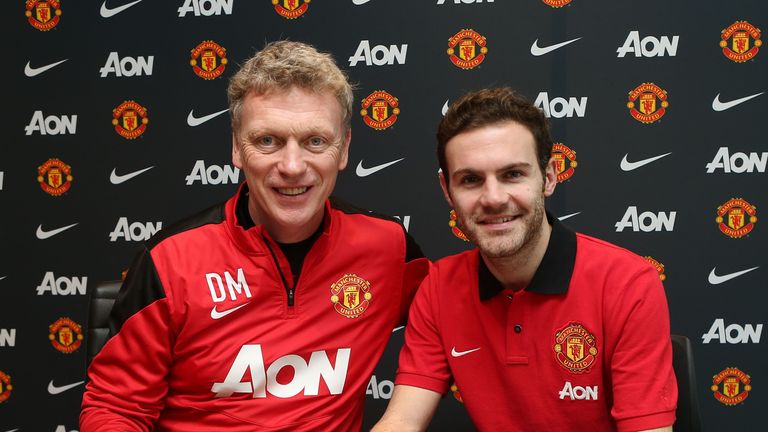 The reigning Premier League champions secured the Spain international's signature on Saturday in a deal worth £37.1million from Chelsea, after the Blues' two-time player of the season failed to secure a regular place in the team under Jose Mourinho.
Sky Sports expert and former United captain Neville told Sky Sports News that Mata's arrival at Old Trafford could offer the lift that David Moyes and his side are desperate for after two cup exits and disappointing league form.
Neville said: "Hopefully Mata will have a big impact on the rest of the players because they seem flat, they've lost their confidence at times; creativity in the final third has been a problem.
"They just need to do more; they are not achieving what they are capable of. They are fantastic players who were champions six months ago, so it doesn't just go overnight but the confidence has dipped and this could be the moment where it lifts everybody at the club.
"I don't think any of the newspapers - whilst they've obviously had a lot of attention on the manager and the club over the last few weeks - none of them are saying that David Moyes' tenure is under threat because they know the football club.
"Football has gone mad with managers in the last couple of years but David Moyes will get a good few years to be able to perform here and do his work and rightly so because it's a tough job.
"I don't think the team has done itself justice at the moment - there is a good group of players here who are capable of a lot more than they are achieving at this moment in time.
"But what Mata will do is provide a great element of creativity and they need that because at the moment they are not creating anywhere near enough in the final third."
Fitting in
Ahead of Brazil 2014, Mata will be looking to get regular first team football under his belt to secure his place in the reigning World Cup holders' squad after only playing 90 minutes in two Premier League games this season.
Where the 25-year-old fits in at United is something Neville finds interesting because he doesn't seem him as a typical United wide player.
He said: "It will be intriguing to see where he fits in. You'd think that Rooney and Van Persie are number one and number two up front so I'd think he's going to play off the side, to the right or left.
"Obviously, Januzaj has been playing right or left in the first parts of the season so I'd imagine that between them Ashley Young, Antonio Valencia and Shinji Kagawa it will be intriguing to see how he fits in but one thing is for certain - he will be in because he's a quality player.
"He's a fantastic player; he's technically excellent, creates goals, scores goals. My comments last week around it were the fact that he's not a typical Manchester United player in as much as Manchester United typically in wide areas have played with wingers.
"Mata is a different type of player who isn't going to be out wide and beating men and putting crosses in. But maybe a bit of change is good."
Contract talks
Meanwhile, Wayne Rooney has been in talks with the club over a new contract which could see him made captain in a bid to prevent the England star from pushing for a move away.
Neville believes the club will be showing their true intent to be the best if Rooney pens a long-term contract after the signing of Mata.
"I don't know about [being captain] but I imagine that if he were to sign a new deal it will be a huge boost," added Neville.
"Everybody over the last few weeks has been drawing attention to the fact that Manchester United are on the decline.
"They've signed Mata, if they can pull Rooney in for the long term I think it would send the right messages out there that this club isn't going to go away, which it obviously isn't."
Juan Mata will be presented as Manchester United's record signing in a news conference on Sky Sports News from 1:30pm. You can also follow coverage in our Sky Sports Today live blog