Football Expert & Columnist
Phil Jones must step up with Nemanja Vidic leaving Man United
Nemanja Vidic's exit can help Phil Jones become Man Utd's key centre-half, says Jamie Carragher.
Last Updated: 07/02/14 12:57pm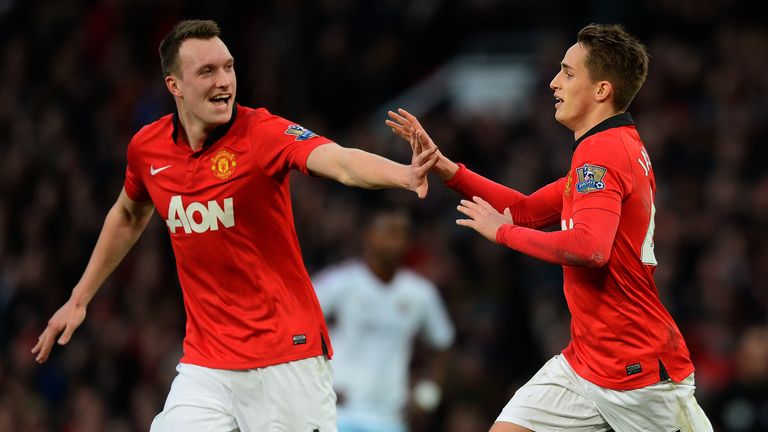 Jones, who was knocked out against Stoke after clashing heads with Jon Walters, has probably not played at centre-half enough for us to say he will become a world-class player in that position, but I certainly think it is his best and favoured position.
With Vidic going once his contract ends and Rio Ferdinand's future at the club unclear, I would really like David Moyes to play Jones at the heart of his back four more often than not between now and the end of the campaign to see what he is made of.
Not only will that help the lad develop but if he comes off and becomes a star, it could save United a fortune in the transfer market or allow them to spend money and strengthen the team in other areas.
Vidic's exit will be felt at United because he has been a mainstay of the team for eight years; he is a defender who likes to dominate in the air and he is a really good leader, but I look at Jones and think there are similarities.
He is a powerful lad - I remember when he dealt really well with Didier Drogba when he made his Premier League debut for Blackburn against Chelsea in 2010 - but he is quicker than Vidic and, having played in midfield a lot, we know can handle the ball no problem.
Jones has not pushed on the way we expected him to, mainly due to injury, but he is at the stage of his career now where he needs to nail down a specific place and not have one or two games here and one or two games there.
Centre-half, for me, should be where he plays and Chris Smalling must be thinking the same thing, because not too long ago people were talking about Jones and Smalling being not only United's defensive pairing going forward but England's as well.
These lads - and Jonny Evans, too - have been helped by playing alongside Vidic and Ferdinand but now there is a chance for them to show Moyes their quality and cement first-team places.
How well they do between now and the summer could decide whether they are joined by a big-money defensive signing next year - and where their long-term futures lie.
Deserted
Fulham, meanwhile, are bottom of the league and while that may come as a surprise to some people, I thought they might struggle this season after a poor end to the previous campaign.
They lost six of their last eight Premier League games last year and that has carried on, with results costing Martin Jol his job and, now under Rene Meulensteen, they are four points from safety.
Fulham always relied on their home form in the past but that has deserted them and they have the worst record on their own turf in the league this year, while they are also letting in too many goals, so that has to change very quickly.
I've really enjoyed watching them in the Premier League as they play good football and I'm sure lots of neutrals would like to see them stay up. I think the signing of Lewis Holtby on loan from Tottenham is a good one, as he has energy, quality and knows the division.
I don't know too much about the striker from Olympiakos, Kostas Mitroglou, and £12million is a lot of money for a club in Fulham's position to spend on one player, but I can see why they brought someone in up top and let Dimitar Berbatov go.
It is very difficult to play two up front with Berbatov because he is not always the most defensively aware and a lot of time Fulham had to pack their midfield to deal with that, but with someone who has more energy and the ability to track back, perhaps Fulham can now go in with two strikers.
Mitroglou's arrival shows that the owner, Shahid Khan, is behind Meulensteen and another bonus for the manager is that he has great knowledge to tap into with Ray Wilkins and Alan Curbishley at the club.
I know what a great man Ray is from working with him at Sky, while Alan did well as manager at Charlton and West Ham, so that may give Fuham an edge during the run-in and lift them out of trouble.